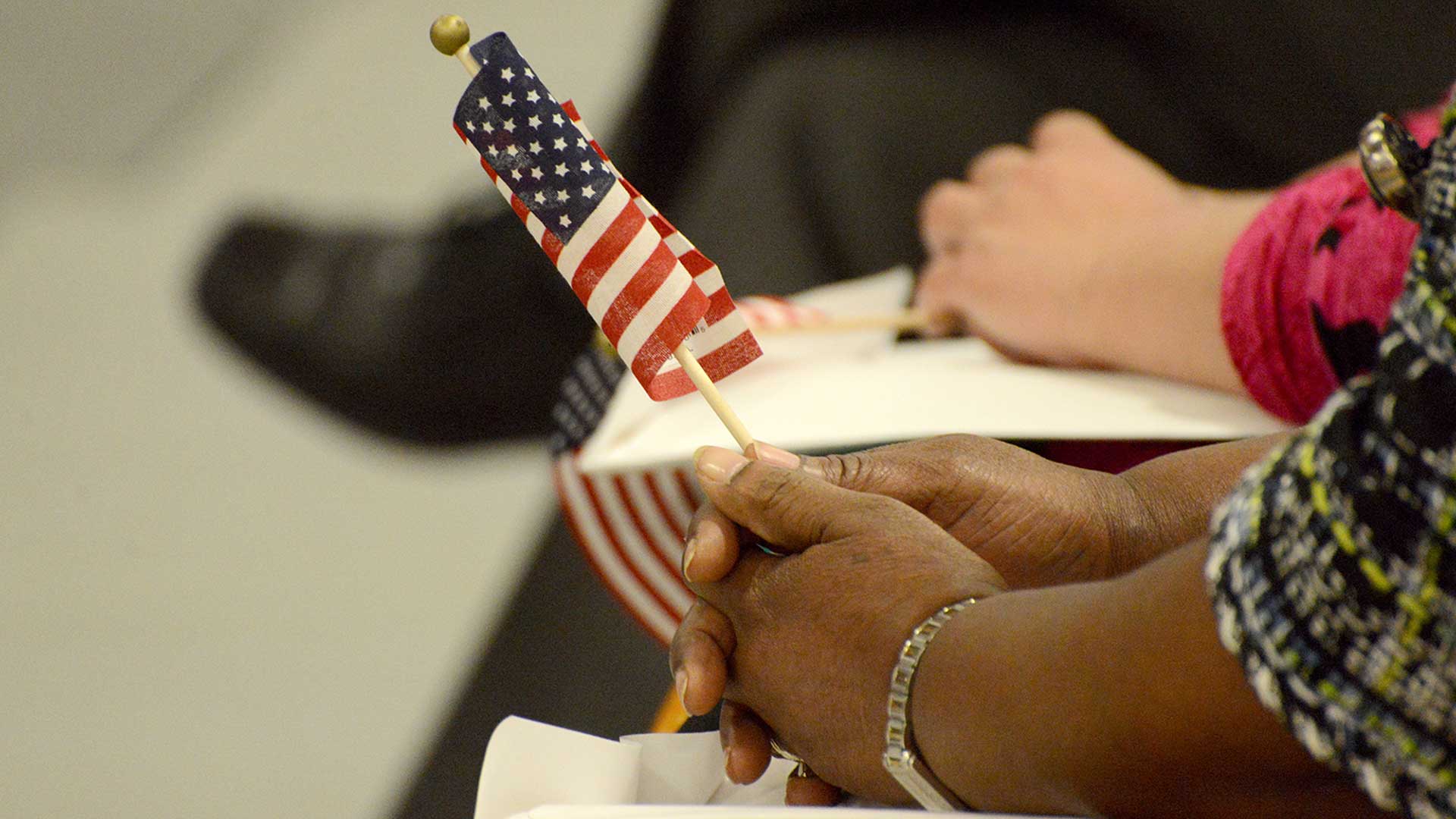 A backlog at USCIS means has meant many immigrants who planned to be first-time voters in this year's election won't get that chance.
University of Findlay/Creative Commons
The election is less than a week away and many Arizonans have already voted. But some immigrants who'd planned on being first-time voters won't be able to head to the polls next week.
A record 10% of eligible voters are naturalized U.S. citizens this year. But hundreds of thousands more are still being left out thanks to a burgeoning backlog at U.S. Citizenship and Immigration Services (USCIS) made worse by pandemic closures and funding shortfalls this summer.
Agency data showed some 700,000 naturalization applications were still pending around the country by March 31. That included over 10,000 in Arizona. Then, the pandemic forced a near standstill in the agency's in-person operations until June.
USCIS data analyzed by watchdog organization Boundless in September predicted almost 300,000 people around the country and almost 5,000 in Arizona were still waiting to be processed. Boundless said that was unlikely to happen ahead of state registration deadlines.
Nathan Smith came to Arizona on a skilled work visa from Australia and has been in the citizenship process for years. Now he works for a medical technology firm in Tucson, and said some his colleagues did get their citizenship in time to vote.
He has both permanent resident and citizenship applications pending, but neither is coming through in time for the election.
"There was certainly a hope that this year would be the year that this process would be over. And certainly in time to vote. But coronavirus happened then in March and CIS kind of shut down and nothing's happened since."
In an email, USCIS spokesperson Dan Hetlage said a record 834,000 naturalizations were processed in 2019, and upon opening in June, the agency had carried out 110,000 swearing-in ceremonies.
"During the COVID-19 pandemic, USCIS' innovative workforce developed alternate formats for shorter naturalization ceremonies that incorporate social distancing, including curbside and drive-up ceremonies that allow applicants to stay in their cars as they take the Oath of Allegiance," he said.
Hetlage said in the wake of the pandemic, the agency was prioritizing rescheduling interviews and would follow federal health protocols for operations moving forward.
But the agency hasn't released data on the number of applications that are still pending. For Smith, the process was supposed to begin at the end of March with a biometrics appointment at USCIS. That was canceled because of COVID-19 and never rescheduled. Now, he said even the temporary status papers he was given in the meantime are expiring.
Victor Aronow, an immigration attorney in Phoenix, said Smith's case is not unique.
"The people who have been sitting on their green cards for years and years and years don't seem to be making any headway at all with their citizenship applications. They're sort of in a limbo," he said.

Read more coverage of national, Arizona, and local elections at our 2020 elections portal,
Your Vote 2020
.