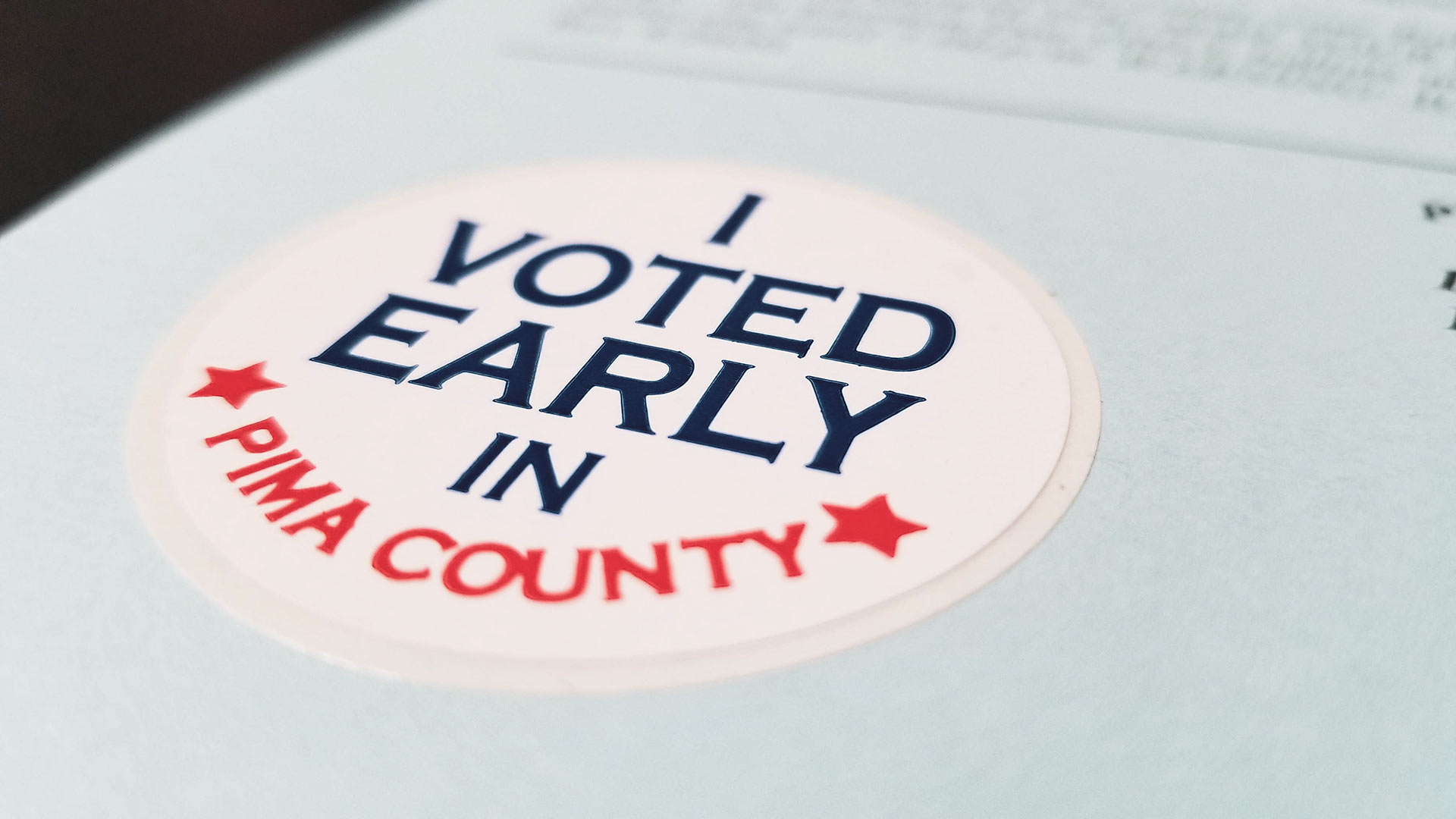 An early voting sticker included in a 2020 election ballot envelope for Pima County.
AC Swedbergh/AZPM
Officers with the Tucson Police Department will no longer be working at early voting sites within Tucson city limits.
Instead, they will patrol nearby so they can quickly respond to any problems, according to a statement from the department.
Before the change, the Pima County Recorder's Office arranged for officers to be at polling locations.
On Wednesday, a coalition of 11 groups including the League of Women Voters, All Voting is Local, Phoenix Indian Center, and Voter Protection Corps sent a letter to Pima County Recorder F. Ann Rodriguez and Pima County Elections Director Brad Nelson complaining about the officers.
The letter said, "Many people, especially those belonging to historically marginalized communities, find the presence of police officers at polling locations intimidating."
A spokesperson for Tucson Mayor Regina Romero said the office received complaints. Romero issued a statement about the change in policy.
"It's important that we balance providing a safe voting experience with ensuring voters do not feel intimidated by an overt police presence. Unlike the Recorder's plan, TPD's approach strikes this balance and is consistent with practices and guidance from the Arizona Secretary of State, other County Recorders, and respected voting rights organizations," wrote Romero.
A statement from the Tucson Police Department said the department is following the lead of Maricopa County. The statement also said it doesn't want to deter any voters "who might be intimidated by a more overt law enforcement presence. Our highest priority is to ensure all Tucson residents have the ability to freely participate in the election."
Tucson City Council Member Steve Kozachik told AZPM that he has not heard complaints of voter intimidation brought about by the police presence.
"I've had people calling asking for a police presence ever since that first 'debate' when Trump called on his people to show up and ensure there wasn't any fraud. So just the opposite - people have asked for them to be there in order to feel safe," Kozachik said
Early voting in Pima County, and across the state, ends Oct. 30.

Read more coverage of national, Arizona, and local elections at our 2020 elections portal,
Your Vote 2020
.