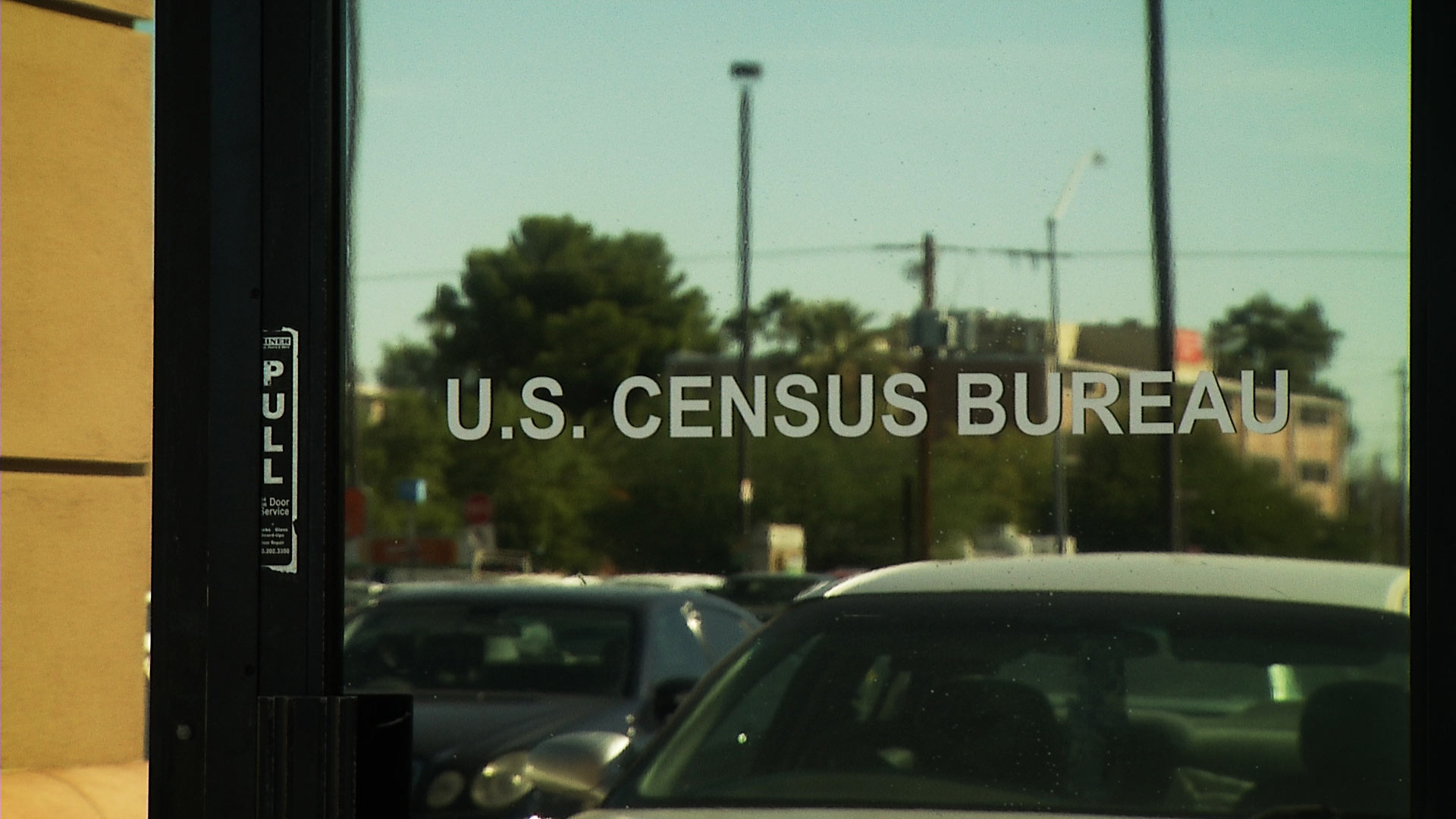 The entrance to the U.S. Census Bureau's office in Tucson.
Jeff Landers/AZPM Staff
The 2020 census count is officially over, and in the face of widespread concern over an inaccurate count, bureau officials say they 99.9% of households nationwide were accounted for.
"A very good census, if not an accurate census, was conducted during an unbelievably trying time for our nation," said Tim Olson, associate director for field operations for the U.S. Census Bureau.
In states which lagged in self-response, like Arizona, Olson said the bureau sent people to knock on doors — a process referred to as non-response follow-up. Over a third of Arizonans were counted this way.
While bureau officials are celebrating a virtually complete count, data experts say it's more complicated.
"Even in a good census year — and this was not one of those — data collected during this phase are less accurate than answers on a self-response," said Terri Ann Lowenthal, a census expert who advises the Funders' Census Initiative on a Monday call with mayors across the country.
If follow-up canvassers don't make contact with a household, Lowenthal said they often resort to less accurate methods of counting, such as relying on a neighbor or landlord.
On the same call, Mesa Mayor John Giles said he worried the count had become politicized, and could have left undocumented immigrants and other marginalized communities afraid of participating.
President Donald Trump has pushed to exclude undocumented immigrants from the census count, despite the Constitution mandating a count of all persons in the country. The U.S. Supreme Court is scheduled to consider the case Nov. 30.
The 2020 census may go down as one of the most litigated in history. The administration had previously pushed for a question about citizenship on the questionnaire but was rebuffed by the Supreme Court, which ruled the administration's reasoning for adding the question was invalid. Experts had warned it could depress response.
Field operations ceased last week after the Supreme Court blocked two lower court rulings that had ordered the count to continue through Oct. 31 to ensure the most accurate census possible. Those rulings resulted from lawsuits filed after the bureau announced in August it would end operations by Sept. 31, rather than allowing more time to account for delays caused by the COVID-19 pandemic.
The Census Bureau faces a statutory deadline to turn the results over to the president by Dec. 31. The results will guide billions of dollars of federal funding over the next decade and influence political representation through the redrawing of congressional and state legislative districts.