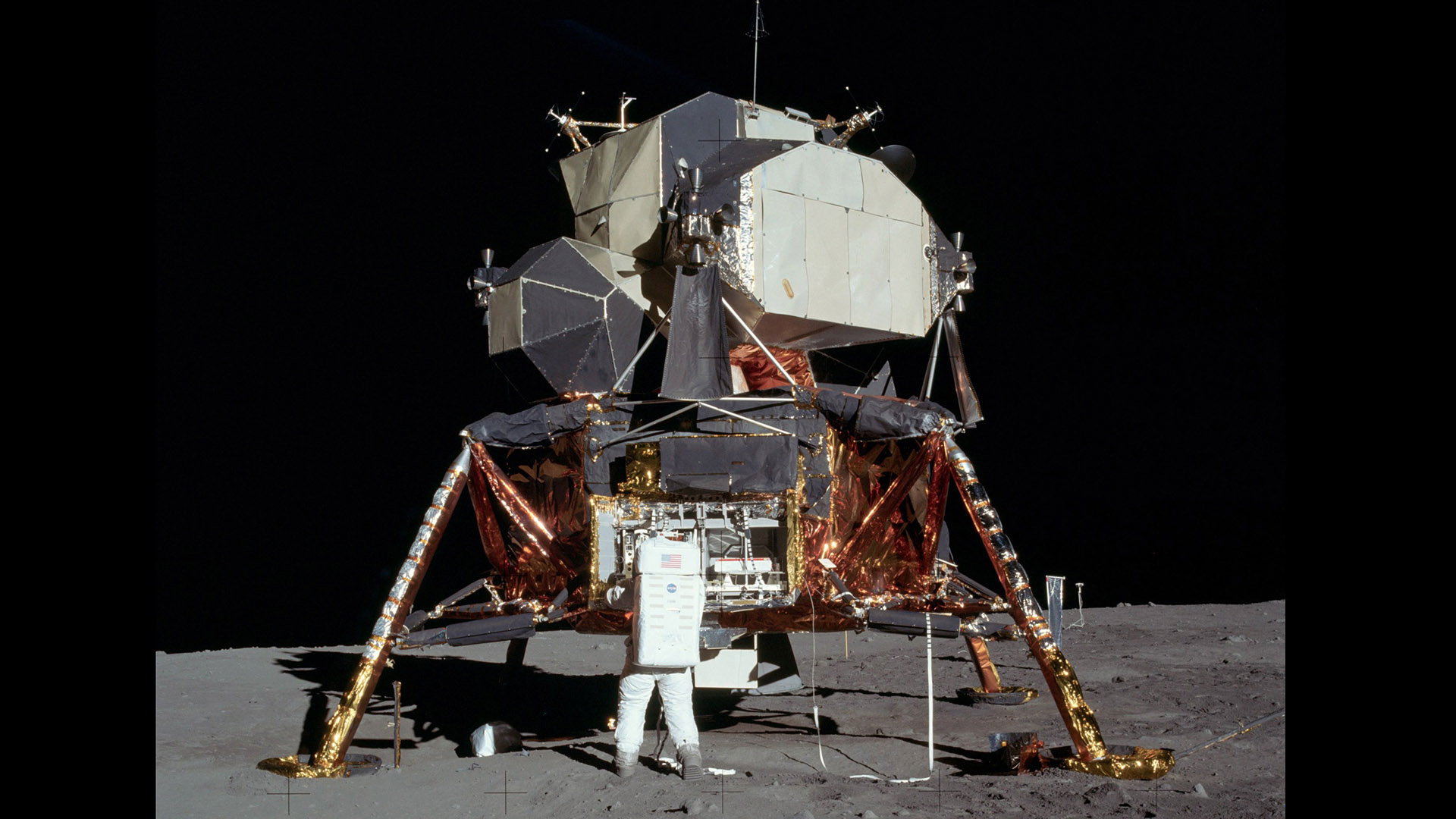 Astronaut Edwin "Buzz" Aldrin works on the moon's surface during the Apollo 11 moonwalk, July 20, 1969.
NASA.gov
In the moments before Apollo 11 astronauts Neil Armstrong and Buzz Aldrin landed on the moon, University of Arizona lunar scientist Bob Strom sat in an office at the Mission Control Center in Houston. He watched the drama unfold on television, as did much of the world.
"I tell you, I was so nervous when they were coming down for the landing," Strom recalled. "And I don't know if this was on television, but they showed a countdown, how much fuel they had left, and I thought, 'Oh my God they'll never make it.' "
Strom retired from the UA and now lives overseas. But he was among the UA Lunar and Planetary Laboratory's space scientists who examined detailed photos of the Apollo 11 landing site for months before the mission actually began. When the lunar lander touched down on the moon's Sea of Tranquility, Strom remembers there was some confusion and concern about where exactly it ended up.
"We were very surprised when they didn't land at the chosen landing site," said Strom. "They came in too fast, and they were having computer problems."
It took only a few moments before mission controllers could verify Armstrong and Aldrin were safe to remain on the surface for at least a short period of time. Then, everyone had to concentrate on the sudden new reality of astronauts living and working on the moon.
Dozens of lunar scientists, including Strom, who anticipated the wonder of footprints on the moon, would have to wait.
"(NASA) understood that there was a lot of science to be done, but the main thing was the safety of the astronauts," he remembered. "That came before anything else."
NASA's Apollo program and the University of Arizona's Lunar and Planetary Laboratory grew up side by side. Astronomer Gerard Kuiper founded the laboratory in 1960, two years after the federal government established NASA.

Kuiper, his students and other researchers on the Tucson campus succeeded in creating a detailed lunar map in 1963, largely based on observations from telescopes on Mount Lemmon. The result was a "Rectified Lunar Atlas," which formed the framework for the development of the Apollo landing sites. Astronauts came to Arizona for briefings on the scientific aspect of their upcoming missions.
Bob Strom recalled how the Apollo crews were told about the significance of collecting the first moon rocks.
"It was very important to the science when they collected those rocks that we knew exactly, I mean exactly, where they came from," he said.
Armstrong and Aldrin spent just over two hours walking on the lunar surface, and they followed the moonwalk plan item by item. That meant leaving much of the soil and rock sampling until the very end. But Strom said the astronauts brought almost 50 pounds of material back to Earth, and Apollo 11 started of a new era of planetary research.
"We'd never done this," said Strom. "This was a technology that we'd never had. We had to develop this technology, and we did, and by gosh, we did it. And that amazes me more than anything else."
See Kuiper's Rectified Lunar Atlas.