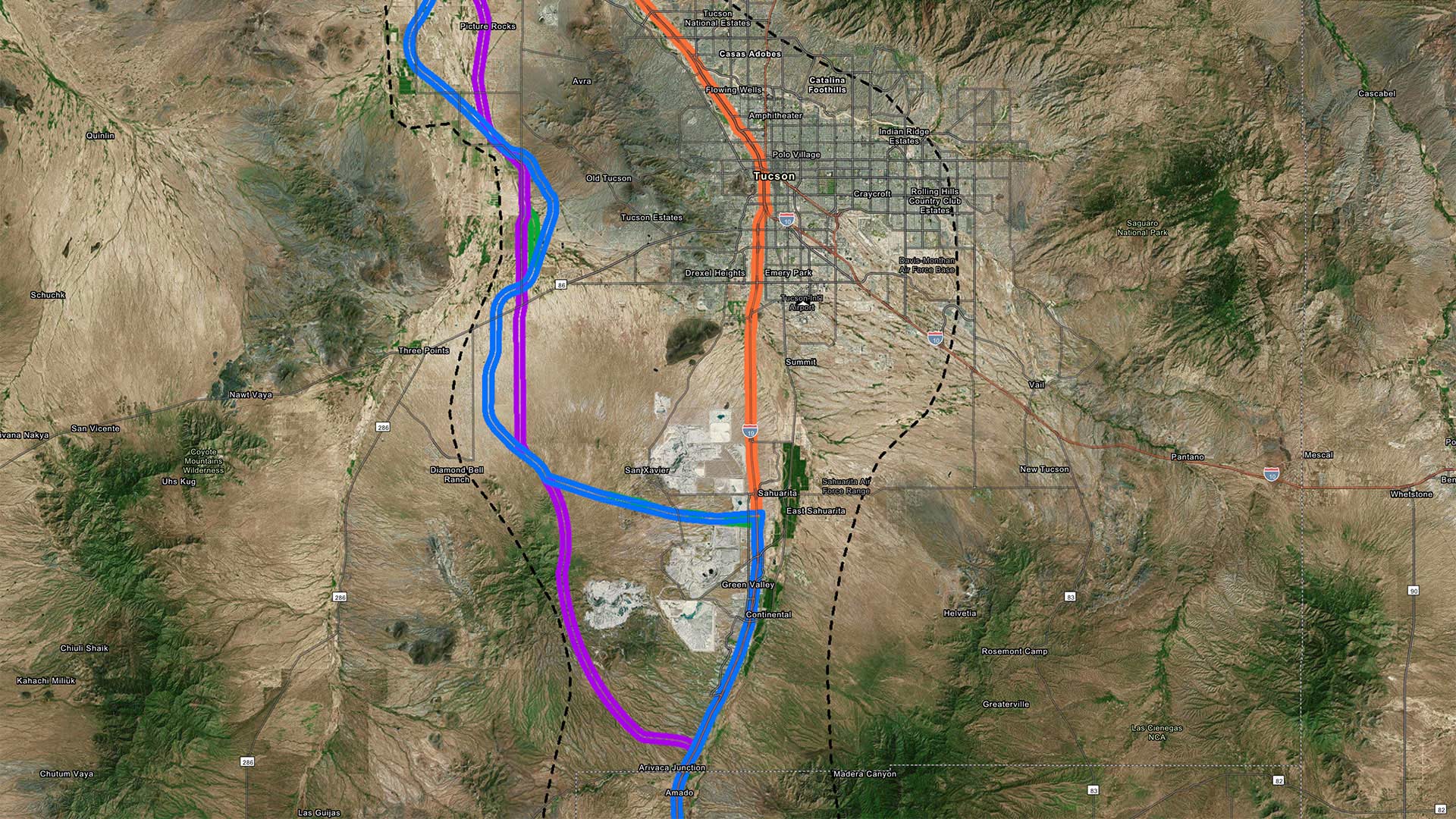 The Arizona Department of Transportation has released its environmental impact statement of the I-11 corridor. ADOT's preferred alternative is shown in blue.
Courtesy ADOT
The Arizona Department of Transportation has released its first-stage environmental review of a proposed new interstate from the border to north of Phoenix. The agency wants the public to weigh in on the controversial proposal, and is holding public meetings in Tucson and Marana this week.
Three years ago, the state transportation department began evaluating the possibility of a new interstate highway, called I-11, which would connect traffic from the Mexican border to the Nevada border. In 2015 a federal act identified the route as a high-priority corridor eligible for federal funding.
State transportation spokesperson Laura Douglas says her agency and the federal highway administration have determined there will be a need for other transportation options as the so-called "Sun Corridor" continues to grow.
"We're looking at different transportation options in order to move people and goods more efficiently, and that's where we're looking at I-11 in terms of better movement of personal vehicles and commercial vehicles," Douglas says.
After evaluating numerous alternatives, in early April the Arizona Department of Transportation released the environmental impact statement on its recommended path if the project were to be developed. ADOT's preferred route would follow I-19 from Nogales to Sahuarita, then split west, skirt south of San Xavier, then run north in the desert between Three Points and Old Tucson. It would continue up through Avra Valley, west of I-10 until rejoining it around Casa Grande.
"The proposed alternative is a really bad idea," says Carolyn Campbell, executive director of the Coalition for Sonoran Desert Protection, a group of 30 conservation organizations. The coalition, which helped create Pima County's Sonoran Desert Conservation Plan, is opposed to ADOT's proposed I-11 route.
"It goes adjacent to Tucson Mountain Park, within 1,300 feet of boundary of Saguaro National Park, within 400 feet of boundary of Ironwood Forest National Monument, and within a half-mile of the Desert Museum," Campbell says. Constructing a new freeway would bring "incredible impacts" to those public lands, she says "whether it's impacts to the visual, the noise and certainly the wildlife out there, which are moving between these protected areas."
Campbell says the groups she represents haven't been convinced there's a need for a new interstate, and even if there is, they do not think ADOT has done sufficient analysis of the many environmental and cultural impacts that would result from building one. Campbell says the agency should re-examine an earlier option of using the same footprint as I-19 and I-10 and/or consider options like rail.
"Freeways don't answer problems, they invite growth. So basically we would be encouraging sprawl, facilitating sprawl out in the area and getting the growth away from infill Tucson which is another goal that the region has had for quite a while," Campbell says.
Laura Douglas says if I-11 moved ahead, the state would do further analysis to narrow the current 2,000-foot-wide draft corridor down to a final 400 feet. And she says they're looking at offsetting negative impacts.
"We're already looking at ways to mitigate if an interstate highway were to travel through that area. What we look at are things like wildlife studies, minimizing light impacts, developing a landscape plan to mitigate visual impacts," Douglas says.

But that's not enough for Avra Valley resident Diane Call. She says a new interstate would destroy the character of the place she and her neighbors call home.
"The people that live out there, my neighbors, they're not city people. Some are combat Vietnam vets who have PTSD and they need to be places where they cannot be disturbed. It's very quiet, the skies are clear," Call says, and all kinds of wildlife, from Gila monsters to coyotes to bobcats, are common.

Call says most of her neighbors are against the proposed interstate and what it would bring, including the loss of local businesses with the arrival of big box stores. She says Avra Valley residents feel powerless.
"Everyone I talk to, they don't feel that our views will be respected. That the way we're viewed is we that we're a stepping stone for some larger plan that will enrich other people and not us," Call says.
Douglas says the state understands the homeowners' concerns but says it's still early in the process. At this point, I-11 remains an idea under consideration.
"We don't have specific homes we know would be affected because we have a very wide corridor at this point. That will change based on further analysis and public input," Douglas says.
Campbell and Call say the state could be a leader by taking a more creative, environmentally-friendly approach to handling future growth and transportation needs in the Tucson area. "Yes [the city] it is growing, we can't stop that," says Call. "But how can we do it in the least-destructive way?"
This is the first stage of environmental review, and so far Douglas says there is no funding for the second stage, much less construction costs. The agency is also evaluating a no-build alternative, which means I-11 would not move forward, and ADOT would continue improvements to I-19 and I-10.
---
ADOT is holding two public meetings in Southern Arizona this week:
Wednesday, May 8, 3–8 p.m.
Tucson Convention Center Ballrooms/Lobby
260 S. Church Avenue, Tucson
Saturday May 11, 11 a.m.–4 p.m.
Marana High School Cafeteria
12000 W. Emigh Road, Marana
Comments can also be submitted online, via phone or mail.