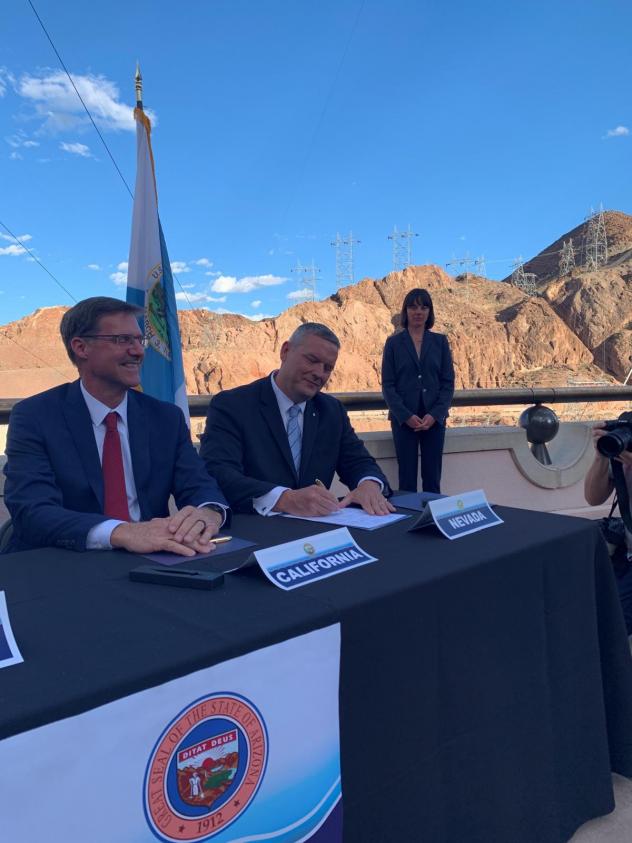 VIEW LARGER John Entsminger, general manager of the Southern Nevada Water Authority, signs the drought contingency plan on behalf of Nevada at the Hoover Dam Monday, May 20.

Rachel Christiansen/KNPR
Representatives from seven states along with federal water managers met at the Hoover Dam Monday to sign a historic agreement on how to deal with the ongoing drought in the West.
The drought contingency plan has been years in the making — and it's not been an easy road. Negotiations were difficult, especially for the states who will have to cut back their use of this most precious resource.
The plan addresses what will happen should Lake Mead fall to an elevation of 1,075 feet above sea level. The reservoir has been hovering just above that level for the last several years. If that happens, a federal shortage will be declared for the first time ever.
Federal water managers have estimated that could happen as soon as 2020. If it does, the DCP dictates how the states will cope. In a nutshell, states will have to use less water. Some will lose more than others. But the plan addresses how to keep Lake Mead and Lake Powell — the river's largest reservoirs — from falling even further.