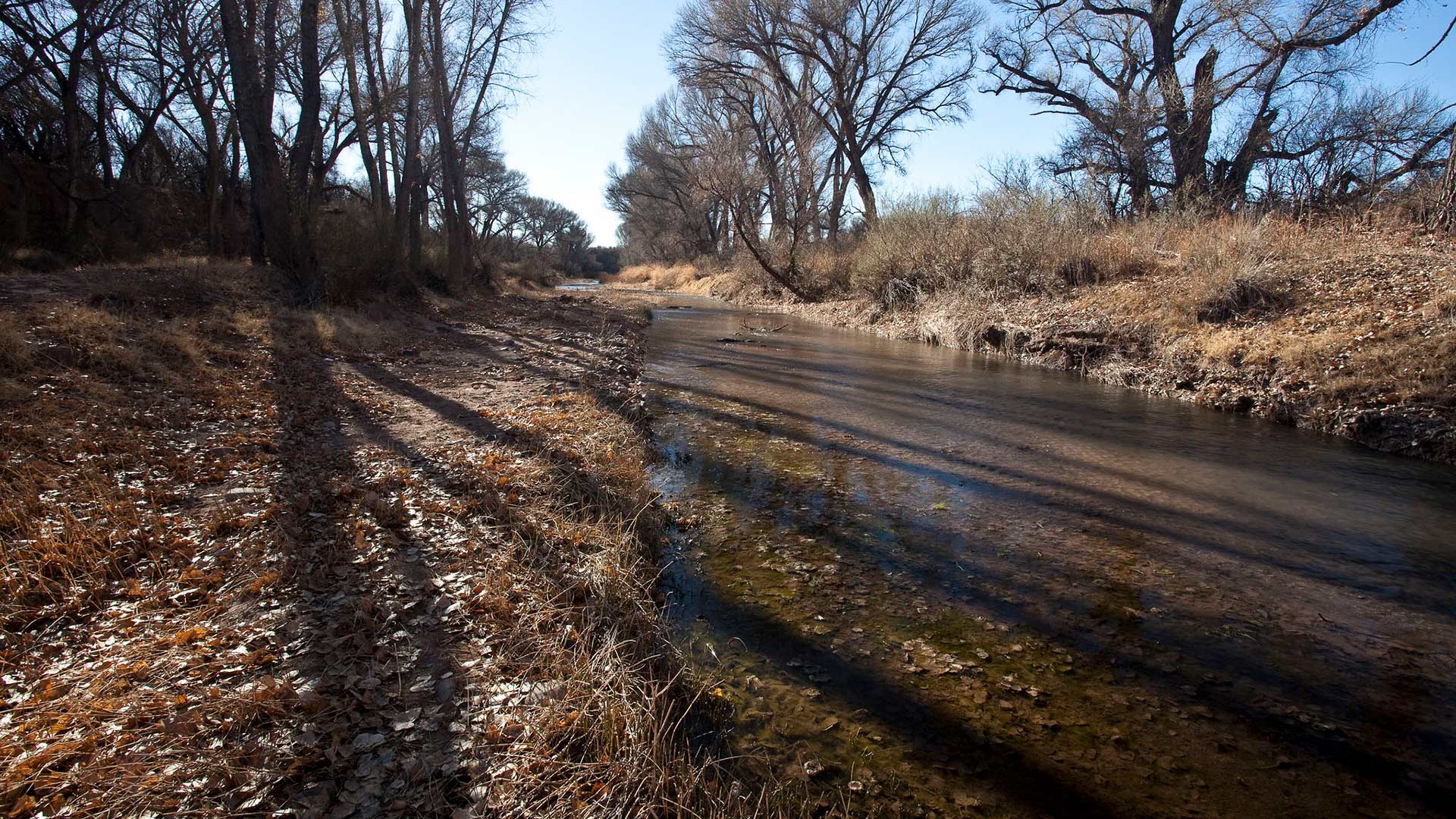 The San Pedro riparian area, containing about 40 miles of the upper San Pedro River, was designated by Congress as a National Conservation Area on November 18, 1988.
Bob Wick/BLM
Listen to an extended version of the panel below.
The San Pedro River flows north from Mexico into southeastern Arizona, creating a rich and valuable riparian corridor to support many animals, including migrating birds, jaguar and ring-tail cat. The river and its connected groundwater flows also support the nearby city of Sierra Vista and Fort Huachuca and other towns, including Bisbee, Tombstone and Huachuca City.
It's the last large, free-flowing river in Southern Arizona that has perennial flow. But as water demands increase and the climate becomes hotter and drier, the river is increasingly at risk of drying up.
Last week, The Buzz invited a panel of guests to be part of taped discussion about the present and future health of the San Pedro River at the Bisbee Royale theater in front of a live audience.
San Pedro Future Extended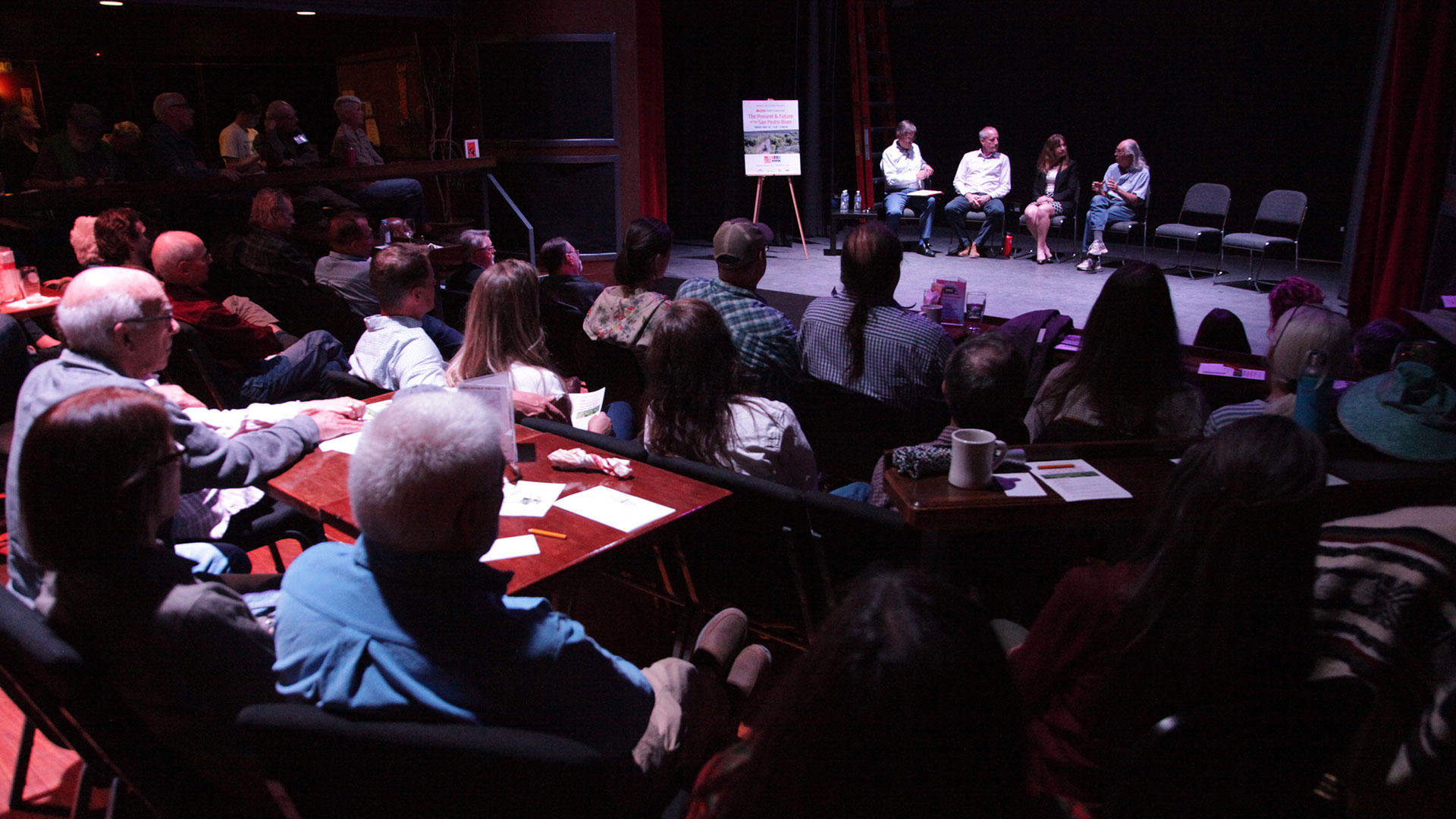 VIEW LARGER A live taping of The Buzz at the Bisbee Royale Theater focused on the San Pedro River on May 10, 2019.

Bob Lindberg/AZPM
Our first panel featured Holly Richter, Arizona Water Projects director for the Nature Conservancy, and Michael Bogan, an aquatic ecologist and assistant professor at the University of Arizona.
We discussed the scientific perspective on water needs of the river, the diversity of species that live there, and what a loss of water would mean for a river with such rich riparian habitat. We also touched on the Cochise Conservation and Recharge Network, a partnership between The Nature Conservancy, Cochise County, the city of Bisbee and others to capture stormwater runoff and recharge it into the aquifer.
Our second panel featured Scott Feldhausen, Gila District manager of the U.S. Bureau of Land Management; Sara Ransom, a Cochise County attorney who handles water issues; and Michael Gregory, a local grassroots San Pedro River advocate.
VIEW LARGER The view from backstage at a live taping of The Buzz in Bisbee in May 2019.

Bob Lindberg/AZPM
We talked about the San Pedro River National Conservation Area (SPRNCA), managed by the BLM. Last week, the BLM released its final resource management plan, a document which will guide land-use decisions on the property for the next 15 to 20 years.
We also discussed the SPRNCA water adjudication trial, an ongoing case to decide how much water the BLM will receive as a federal water right for the needs of the conservation area, and the impacts of population growth on groundwater supply.

The Buzz
airs Fridays at 8:30 a.m. and 6 p.m. and Saturdays at 3:30 p.m. on NPR 89.1. You can subscribe to our podcast on
iTunes
and NPR One. See more from
The Buzz
.