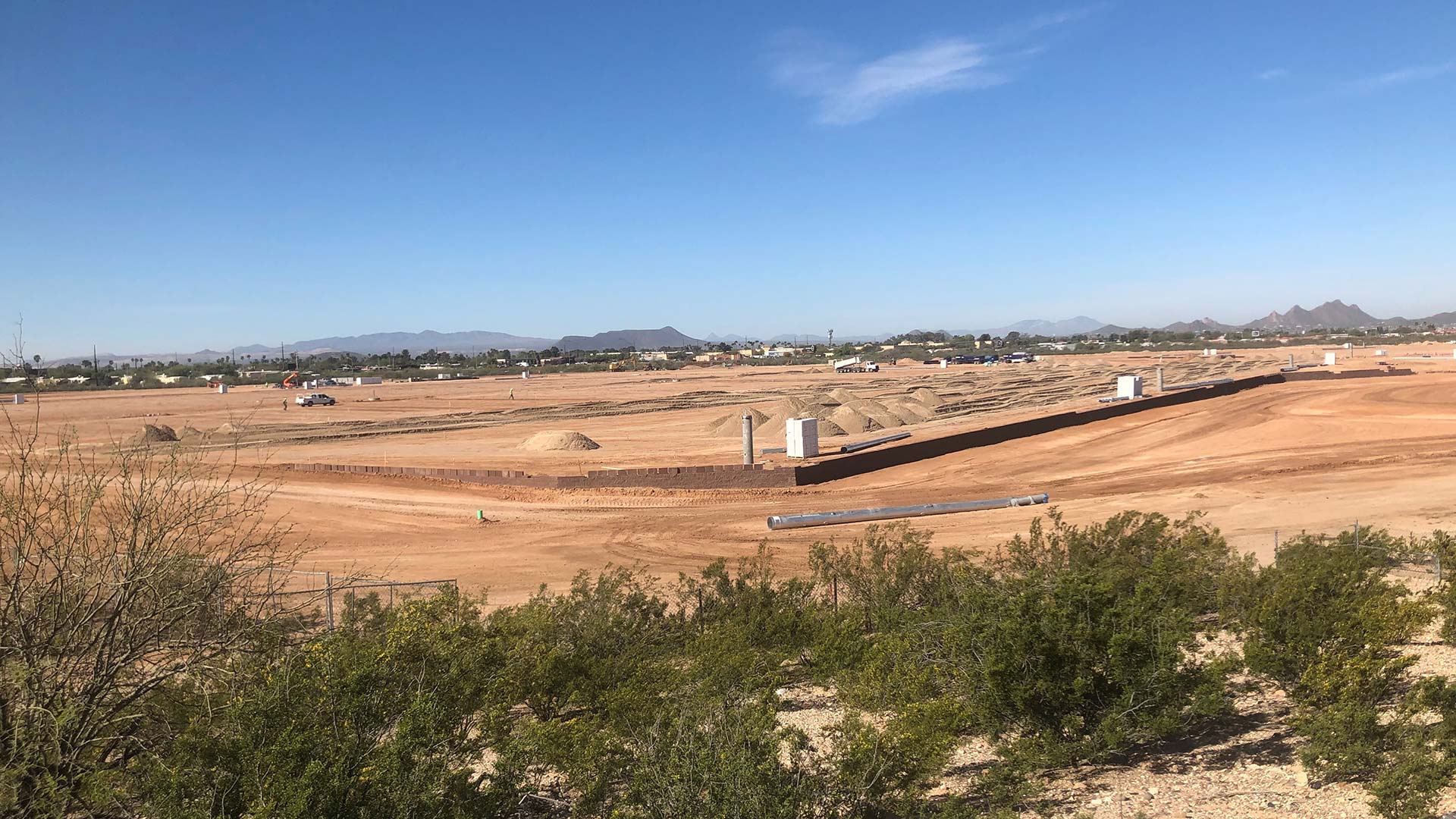 The 145-acre Kino Sports Complex expansion looking southwest from I-10, April 2, 2019
Duncan Moon/AZPM
Ten years ago, three Major League Baseball teams pulled their spring training facilities out of Tucson and the bottom fell out of the Kino Sports Complex. Now, the addition of soccer and other events have nearly tripled the revenue that was coming in during the baseball years, and county officials expect that number to jump even higher when a new 145-acre expansion opens in January.
When Major League Baseball left Kino in 2009, the Kino Sports Complex had no choice but to reinvent as more than just a baseball venue. Revenues fell from $1.2 million per year to just $100,000 . Complex director Reenie Ochoa says as part of that reinvention, they decided to make the event facility as diverse and versatile as possible.
"We pretty much say to people, 'Anything you can think of, bring it to us and we'll see if we have a space that fits and try to accommodate it,'" she says. "And we're here and open to everyone. The gem show can set up a tent. A car show can set up a tent. And they can have a perfectly successful event in a large parking lot."
That strategy turned the complex around financially but has begun to stretch their capacity to the limit. Soccer teams who run out of open fields now often play on fields built for baseball. Ochoa says the expansion will respond to the increasing demand, especially for soccer and pickleball, by building 12 natural grass soccer fields and 16 pickleball courts. That will be more than enough to accommodate tournaments. Ochoa says it's not a question of "if you build it, they will come." She says they are already coming.
"We have currently six to eight events already slated on our 2020 calendar to go over to the new expansion when it opens in January of 2020," she adds. "So yeah, we're taking business over there right now. "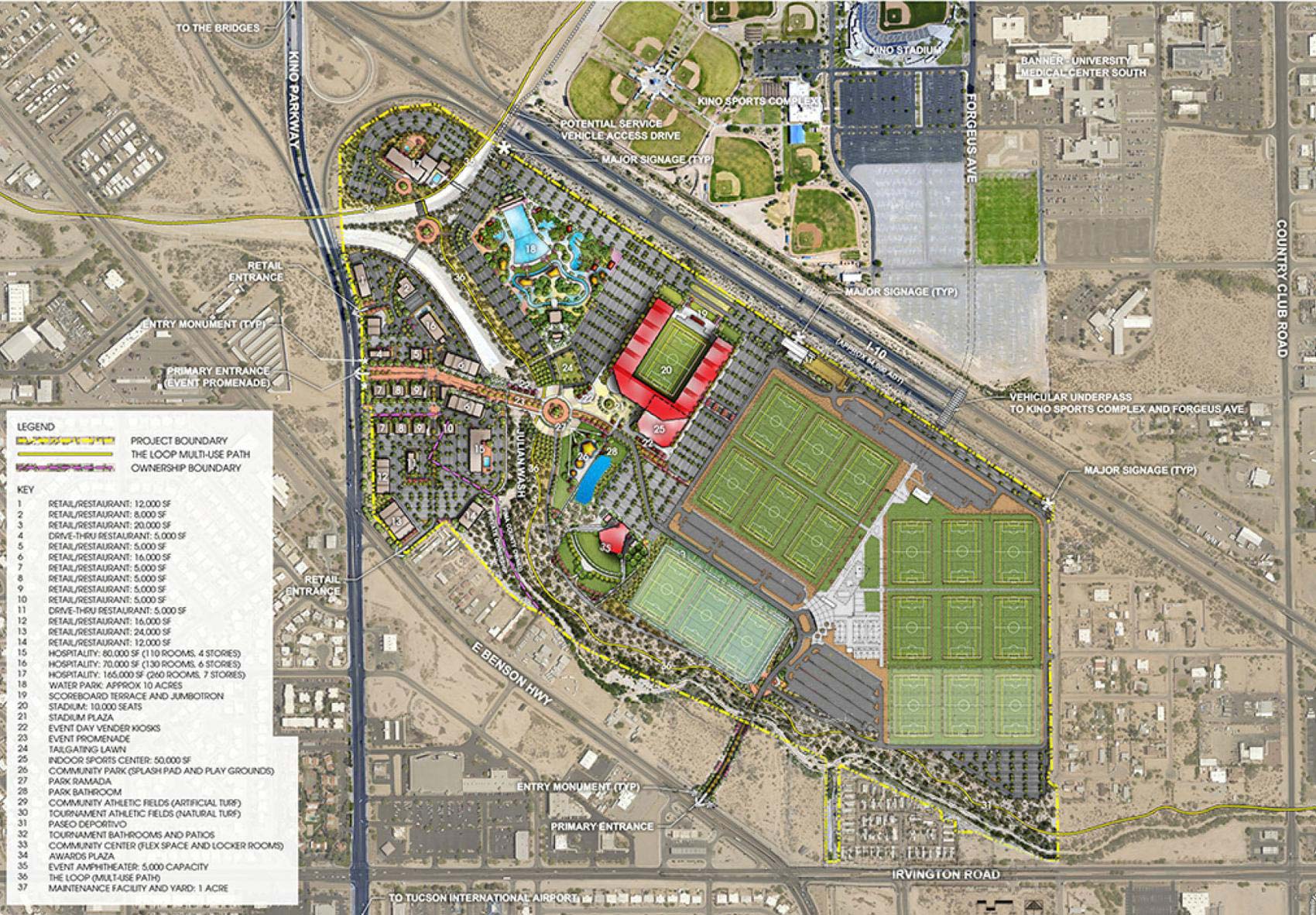 VIEW LARGER This image from a 2018 Pima County media release shows an illustration of the finished expansion of the Kino Sports Complex south of I-10, expected to open Jan. 1, 2020.
In addition, the Kino Sports Complex expansion positions the event center as a regional, national and international destination. Teams from Mexico and South Korea already use the facility for training.
Diane Frisch, Pima County's director of attractions and tourism, says it's not just a new state-of-the-art sports complex that is drawing teams from outside Tucson, it's the whole package. The Kino Sports Complex is close to the airport, right off Interstate-10, and Tucson is one of only two U.S. cities that carries UNESCO's designation as a City of Gastronomy. She says Tucson is itself a destination that makes the sports complex even more attractive
"We have hiking, biking. We are close to the border. People will go to Tubac. They may want to go to other areas, perhaps Colossal Cave, or Old Tucson," she says. "We have great weather! So, it's all a huge package that's wrapped up into one."
But not everyone thinks the expansion is a good idea. Pima County Supervisor Steve Christy says that the expansion is risky.
"I just think it's a bad idea," he says. "It's a bad location and given the history of the ball field and the complex. I'm just very concerned that a lot of money will be spent and will end up being a financial drain on the county. "
Construction is well underway and the new fields should open Jan. 1. Pima County is currently soliciting commercial proposals to build hotels, restaurants and retail shops on 20 acres next to the new sports fields. Those will serve expected visitors and sports fans and are intended to draw even more business to the complex. That phase is expected to begin construction next year.