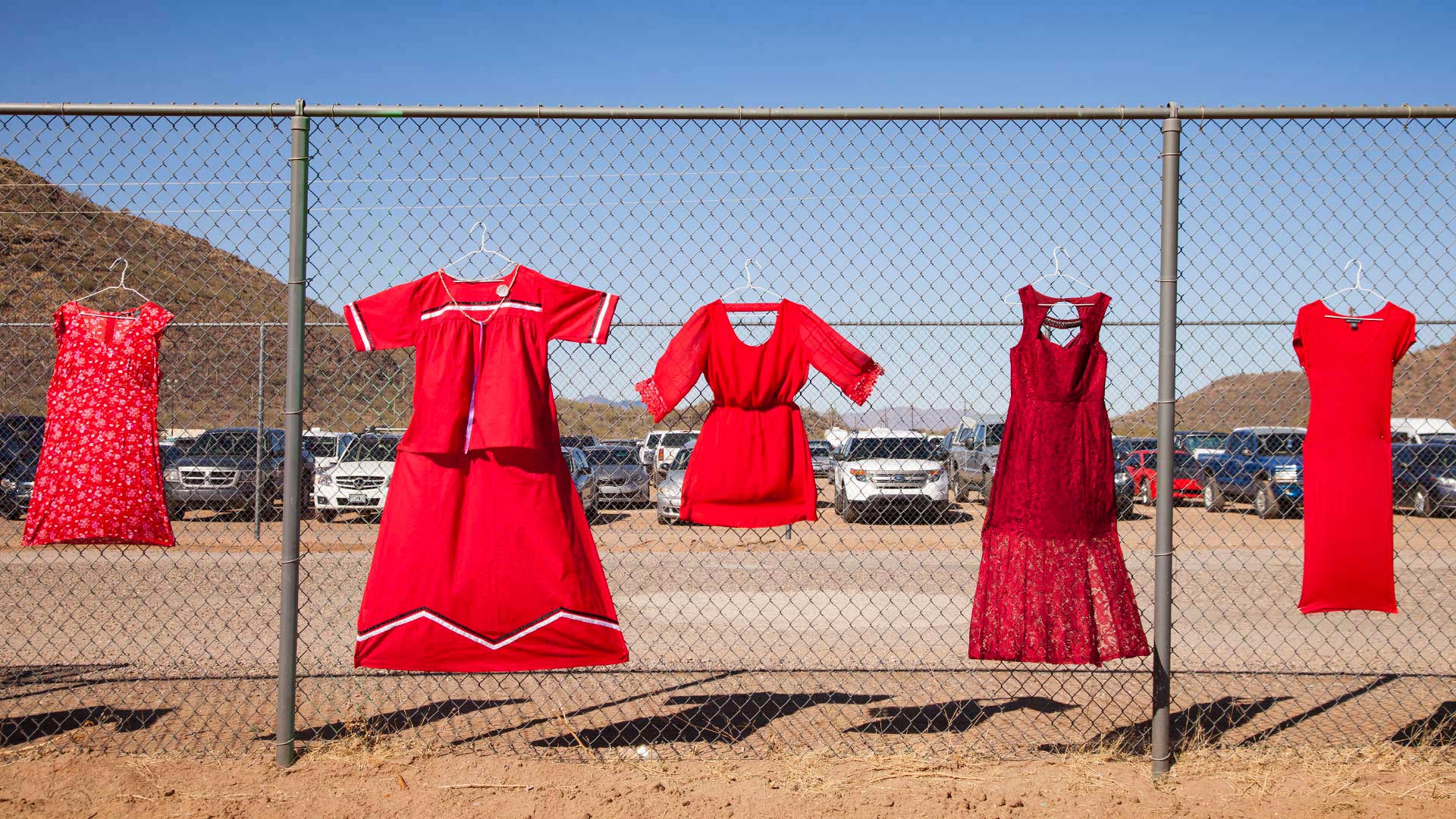 Red dresses representing missing and murdered Indigenous women, displayed at the Verna N. Enos Toka Field on the Tohono O'odham Nation, 2018.
AC Swedbergh/AZPM
The Arizona Senate passed a bill that would form a task force of state, county and tribal officials and advocates to investigate missing and murdered indigenous women and girls in Arizona.
Last week, the U.S. House of Representatives passed the Violence Against Women Reauthorization Act of 2019. It includes a national study committee addressing missing and murdered indigenous persons. Representative Jennifer Jermaine, the Arizona bill's sponsor, said she believes states and federal lawmakers are discussing these crimes because there's more diversity among elected officials.
"I think it's coming about this year in particular because women of indigenous descent have a seat at the table now. We're in the halls of power. We are in our state legislatures. We are in Congress. We have a voice. We're here, and we're forcing the issue," said Jermaine.
If HB 2570 becomes a law, it would mean that for the first time in Arizona's history, city, state and tribal law enforcement agencies will collect the same data on missing and murdered indigenous women.
"Right now, people have been ignoring this problem because the data doesn't exist. That doesn't mean that problem doesn't exist. But we can't create legislative solutions until we have the data," said Jermaine.
Jermaine said whether the data points to domestic violence, human trafficking or another trend, lawmakers would then be able to make appropriate policies in response to the data.
In a report by the Urban Indian Health Institute, Arizona had the third-highest number of missing and murdered indigenous women and girls in the country. It identified 54 individuals in Arizona who went missing or were murdered between 1943 and 2018. The report does state that 80 percent of the cases it identified across the country were from 2000 to 2018.
If Gov. Doug Ducey signs the bill into law, Jermaine said the task force would fix communication and jurisdictional issues between law enforcement agencies. It would also get all agencies in the state collecting the same information on missing persons and homicide cases.
"That is one of the big problems that the Urban Indian Health Institute had. They would fill out a Freedom of Information Act requests and agencies would turn around and say, "We don't have that data. We're not tracking it.' Now they're going to be tracking it," said Jermaine.
The Arizona Senate approved the bill with an amendment, but it will now need to go back to the House for a final vote. After the House amends the bill, it will head to Gov. Ducey for approval.