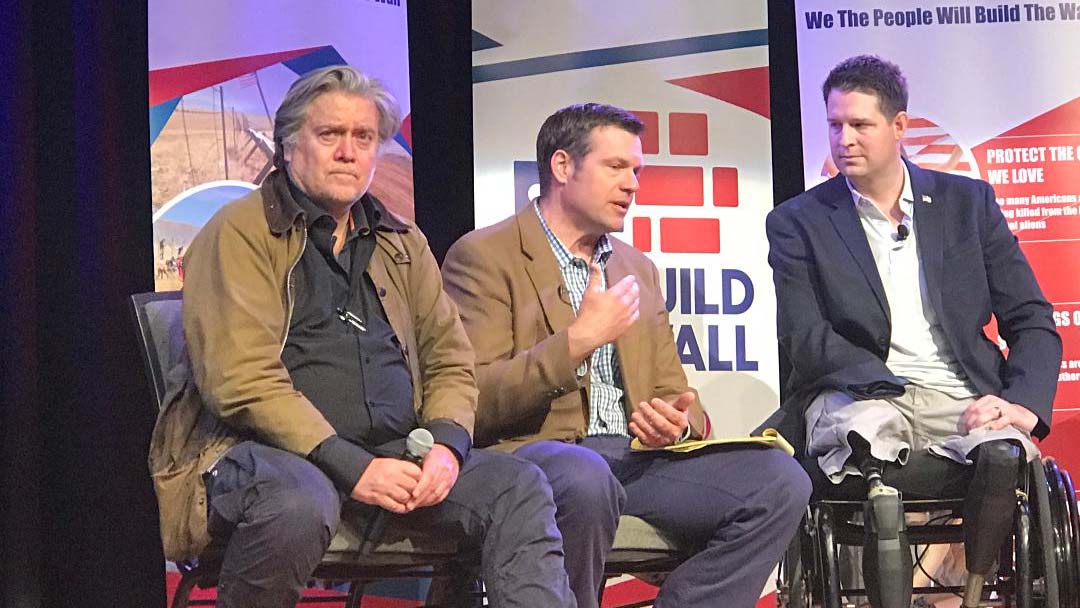 Steve Bannon, left, former adviser to President Trump, is joined by former Kansas Secretary of State Kris Koback, and Brian Kolfage, founder of "We Build The Wall," during a private event at Quail Creek Country Club, Feb. 8, 2019.

Nancy Montoya/AZPM
Steve Bannon, the former Trump aide, and a team of MAGA supporters blew into Green Valley last week at the invite of the Quail Creek Republican Club to promote their GoFundMe plan to privately raise money to build portions of Donald Trump's border wall.
On stage, the group touted raising more than $20 million and wanted Southern Arizona to donate.
The idea was the brainchild of Brian Kolfage, a Purple Heart veteran. He told the Green Valley crowd of 400 last week that plans were on track.
"We'll be building the wall, our wall, before the government even gets money to build their wall."
But what Kolfage, Steve Bannon and the other hardcore MAGA supporters on stage didn't reveal is that they had failed to raise the billion dollars promised, so GoFundMe is refunding the money raised back to donors, unless those donors repledge the amount to another campaign.
Now the MAGA group has renamed their new campaign "The People Will Build the Wall." The group's website says that they learned any money raised and given to the federal government to manage was not guaranteed to go toward building Trump's wall on the U.S. southern border. So they have applied to the IRS to form a nonprofit group that would privately spend the money to build the wall instead of the government.
The new campaign is the same mission but a different business plan. No word yet on how many donors have taken their money back — or how many have agreed to transfer their donation to the new GoFundMe campaign.