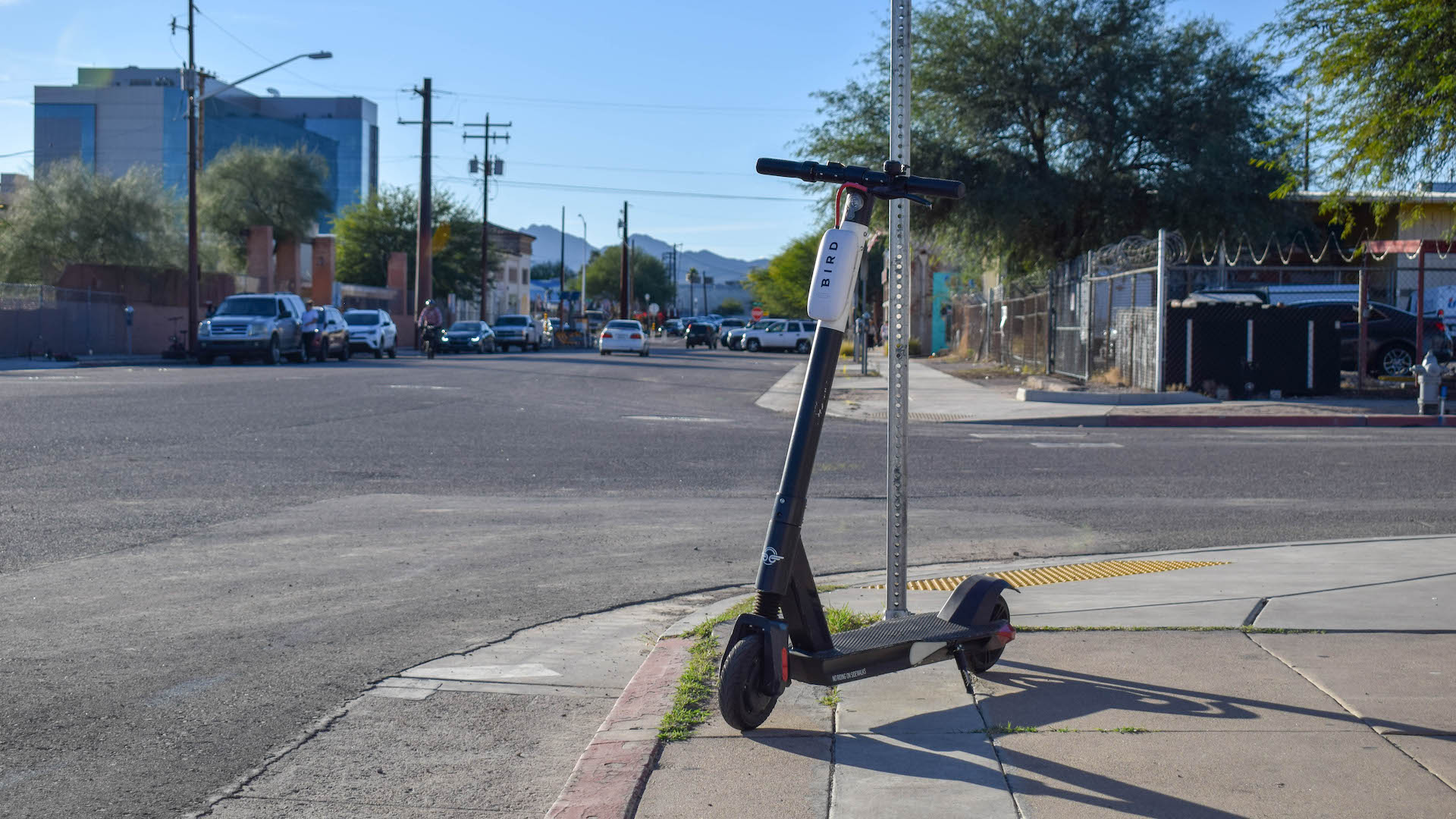 A Bird scooter on Dec. 5, 2019.
Jake Steinberg/AZPM
Dockless electric scooters from companies Bird and Razor have been on Tucson streets since September. For 30 cents per minute, anyone with a smartphone can activate one, take it for a ride and leave it when they get to their destination. But some say that's the problem.
"They're left everywhere," said Martin Fontes, owner of Martin's Comida Chingona on Fourth Avenue. He said he's seen scooters block the sidewalk and those riding them endanger pedestrians.
"I've seen people almost running over, like, baby carriages on the sidewalk and not caring. I see people two- and sometimes even three-at-a-time on a scooter, which is completely dangerous," he said.
He's not alone. Neighborhood groups and other business owners have been pushing the city to prematurely end its six-month e-scooter pilot program.
Erika Mitnik, president of the Iron Horse Neighborhood Association said the scooters are a hazard for drivers and are often left in yards. "We've seen a lot of reckless behavior," she said. "There are no limits on where scooters can be because there's no enforcement."
Scooters have been left in bushes, piled onto the curb like Lincoln logs and left in places that could block someone in a wheelchair. A letter from the Iron Horse Neighborhood Association to the city called them "corporate litter."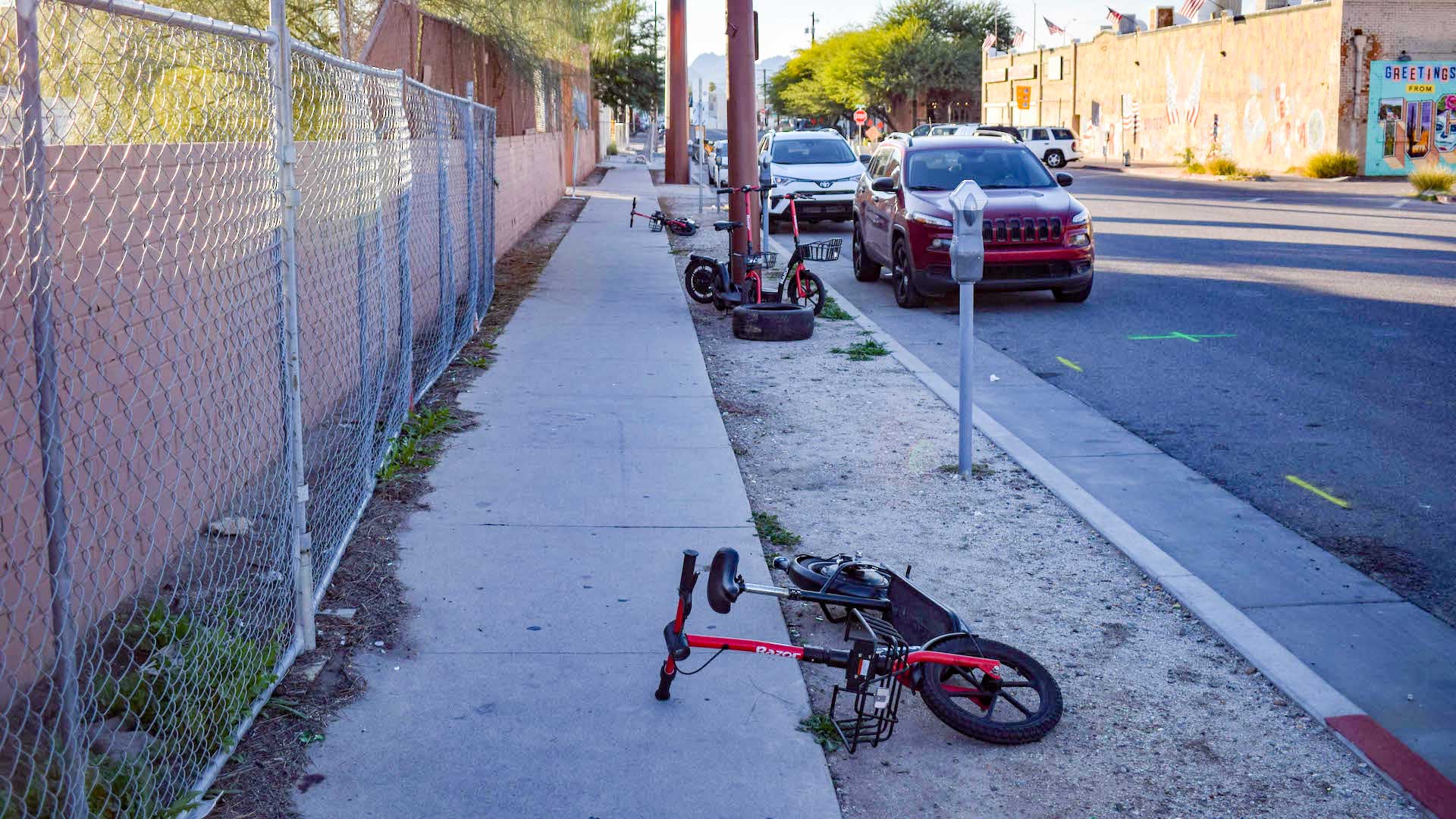 Razor scooters, Dec. 5, 2019.
Jake Steinberg/AZPM
Last week, the Tucson City Council gave its staff and the scooter companies 30 days to figure out a solution. Ward 6 councilman Steve Kozachik wanted to end the program.
Tucson isn't the first city to deal with scooters and the problems they bring. San Diego has installed scooter "corrals" to keep them from cluttering the sidewalk and instituted speed limits in busy parts of town. San Francisco temporarily banned scooters last year facing concerns about parking and congestion — only to lift the ban later. After resisting the scooters for years, New York Gov. Andrew Cuomo is weighing legislation that would legalize the scooters in the nation's largest city.
Nicole Iroz-Elardo, an assistant research professor at the University of Arizona who studies the e-scooters, said when properly deployed, dockless e-scooters can expand mobility and reduce greenhouse gas emissions.
"To dismiss scooters outright is probably unwise," she said. "The question is how do we deploy them in a way that does keep people safe?"
She said dockless e-scooters are new, so research on them is limited. But what research there is suggests that time may make a difference.
A study done by the city of Austin found there were two to three injuries for every 10,000 rides. But a key finding of that study was that injuries went down over time. Iroz-Elardo said that means the longer scooters are around, the more people get used to them and the fewer injuries occur.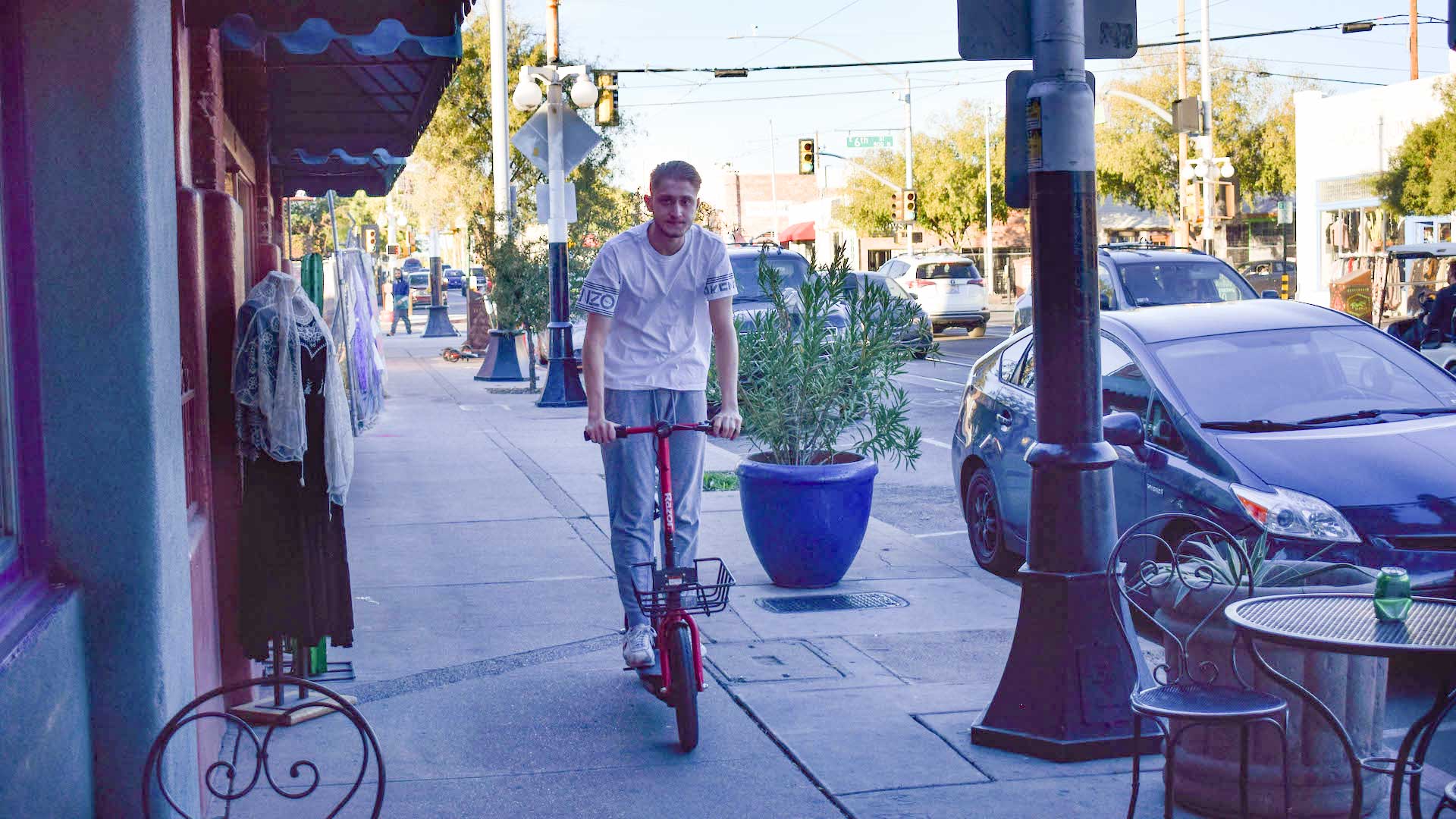 An e-scooter rider on Fourth Avenue, Dec. 5, 2019.
Jake Steinberg/AZPM
The Austen study also found most injuries could have been avoided if people were wearing helmets. As with bicycles, Arizona law doesn't require helmet use.
Iroz-Elardo said it's telling that people are riding on the sidewalk.
"It tells me, first of all, that we need an education and enforcement campaign to try and get that under control. But it also tells me that the infrastructure is inadequate. It's inadequate for the pedestrians, for the bicyclists and for the e-scooters. And so the long term goal is to figure out how to make it adequate," she said.
She said in cities all across the country, scooters are serving as a sort of stress test on their transportation systems. Cities that are built for cars are in for a difficult transition.
"We are still an auto-dependent community in many ways," said Colby Henley with the Living Streets Alliance. He's an avid scooter rider and has hope Tucson's transportation systems can evolve.
"We're kind of in this rough middle patch where we can't quite give up our cars but we're also taking advantage of a lot of these new technologies and new modes, and so I feel like we're kind of in an adolescent teenage place," he said.
There have been over 122,000 rides since the program began, according to the Tucson Department of Transportation. Henley said that shows there is a demand for other ways to get around. He said the scooters aren't perfect, but that doesn't mean they should go away.
And as for the parking problems?
Andy Bemis, head of the e-scooter program for TDOT, said the scooters might not be so dockless in the future, especially in places like Fourth Ave.
"So it would be rather than having it be a full dockless service there would be some parts of town where you return the scooters to a specific area," he said.
The city is looking for feedback from scooter riders, business owners and community members to help shape the future of the program. A survey is available on TDOT's website.