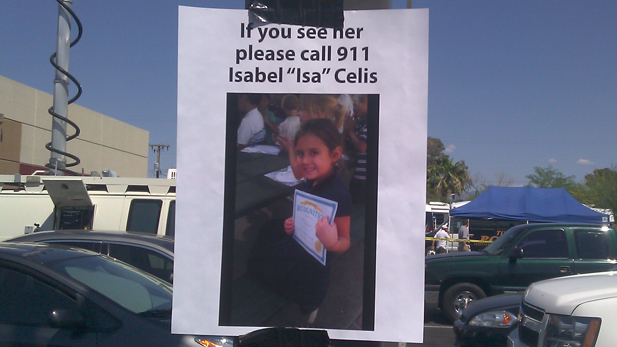 A poster taped to a light pole in a parking lot asks for the public's help in the case of missing Tucson 6-year-old Isabel Celis.
A Pima County grand jury indicted a man Friday with the murders of two Tucson girls who went missing years ago, and whose remains were found on separate occasions near North Trico Road and West Avra Valley Road.
Christopher Matthew Clements was charged with the murder and kidnapping of 6-year-old Isabel Celis, who went missing from her home in 2012, and the murder and kidnapping of 13-year-old Maribel Gonzales, who disappeared in 2014, said Pima County Attorney Barbara LaWall.
LaWall, Tucson Police Chief Chris Magnus and Pima County Sheriff Mark Napier held a news conference Saturday morning to announce Clements' arrest and indictment. Magnus and Napier lauded their officers' years of dedication and cooperation on the cases. LaWall said Clements was indicted Friday.
Clements was also charged with 14 counts of sexual exploitation of a minor for distributing and possessing child pornography, and two counts of burglary, one for entering the Celis' home, and one for a burglary and theft of gold from another home.
When he was indicted, Clements was already in jail on an unrelated case, Magnus said.
If he is convicted, the first-degree murder charges for each girl could result in sentences up to life in prison, LaWall said. The other charges would carry sentences of more than 100 years combined if Clements is convicted.
Tucson was rocked for weeks in 2012 when Celis went missing from her home overnight near East Broadway Blvd. and Craycroft Road. A city-wide search began, and posters with photos of the missing girl were displayed in storefronts for years. In 2017, Tucson Police announced her remains were found and identified.
In June 2014 Gonzales went missing from her home near East Broadway and Wilmot Road. Her remains were found the same month.
Magnus and Napier did not provide details during the news conference about how the investigation tied Clements to the girls' bodies, and declined to answer questions in order to allow the justice system to handle the cases.