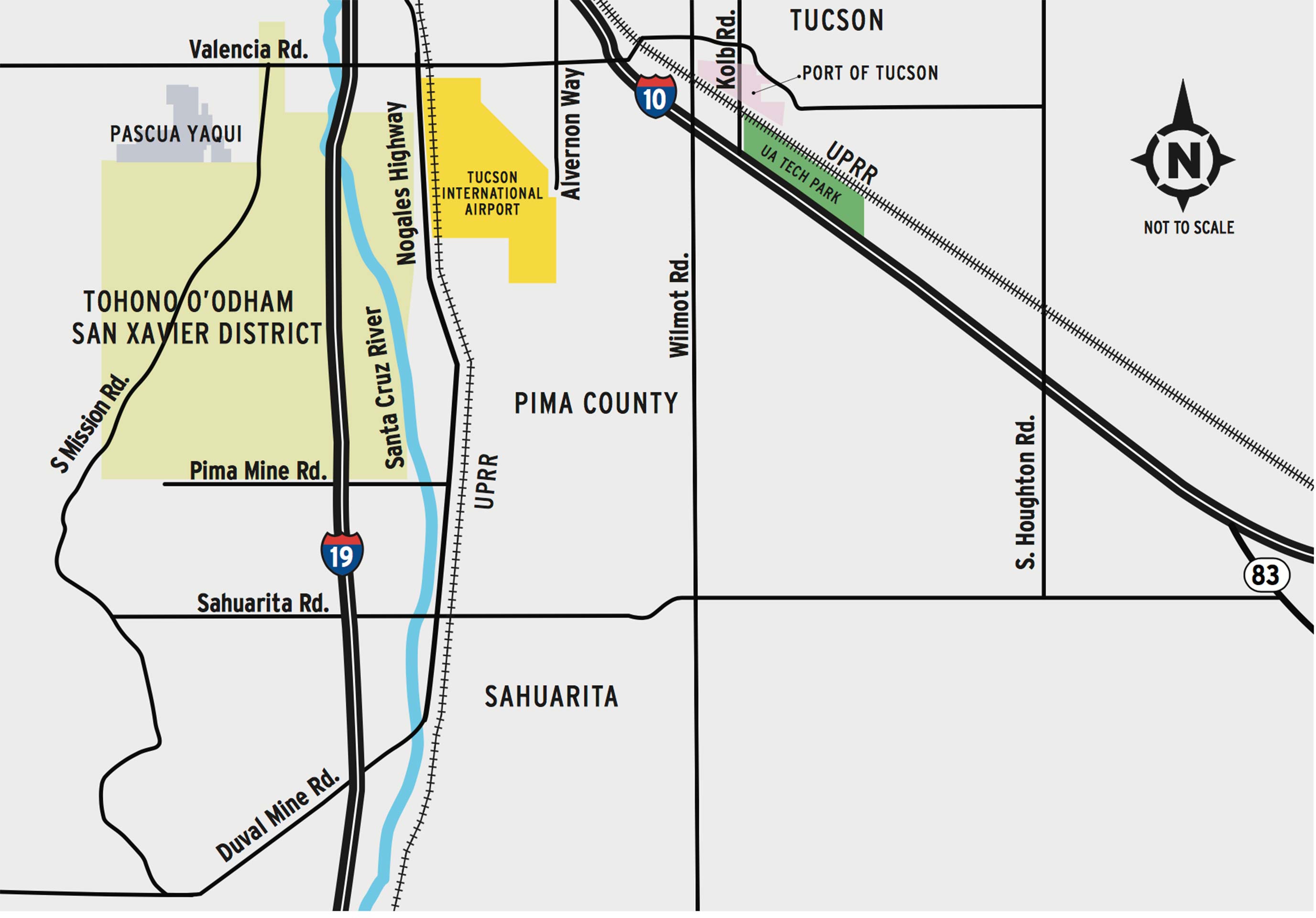 VIEW LARGER The area south of the Tucson International Airport is where Arizona's Department of Transportation and the Federal Highway Administration have considered building a Sonoran Corridor that would connect traffic on I-19 and I-10.

Arizona Department of Transportation
The state's transportation department wants the public's feedback on its proposed Sonoran Corridor, which would connect traffic flow between Interstate 19 and Interstate 10 just south of the Tucson International Airport (TIA).
The project is far from breaking ground any time soon, according to the Arizona Department of Transportation's Tom Herrmann. The project is only halfway through a three-year environmental study required by the National Environmental Policy Act.
"We don't have a timeline. We don't have funding. We have a notification from the federal government that says this is an important route that we need to look at," he said.
Herrmann expects 18-24 months before they will have those specifics.
ADOT and the Federal Highway Administration are looking at multiple corridors that are 2,000 feet wide that could connect both interstates south of the airport passed Aerospace Parkway.
"Part of the benefit of this would be to help development in that area," Herrmann said. "Another important reason for this is to reduce congestion on both I-19 and I-10."
Both departments have considered no-build alternatives as well.
"Are things better now than they would be if we built a Sonoran Corridor? It's really a wide-open look at what makes the most sense long term for this area," Herrmann said.
ADOT has previously reached out to the community in Tucson and Sahuarita in June 2017
On Sept. 26, ADOT and the Federal Highway Administration will host a public comment period and a presentation on the project from 5:30 to 7:30 p.m. at the Desert Diamond Casino. The presentation will begin at 6 p.m.
The public has till Oct. 26 to submit public comments in several ways, including by email: Sonorancorridor@azdot.gov.
Toll-free bilingual information is available at 855-712-8530 or by mail: Sonoran Corridor Tier 1 EIS Study Team, c/o Joanna Bradley, 1221 S. Second Ave., Mail Drop T100, Tucson, AZ 85713.
More information on the project can be found here.