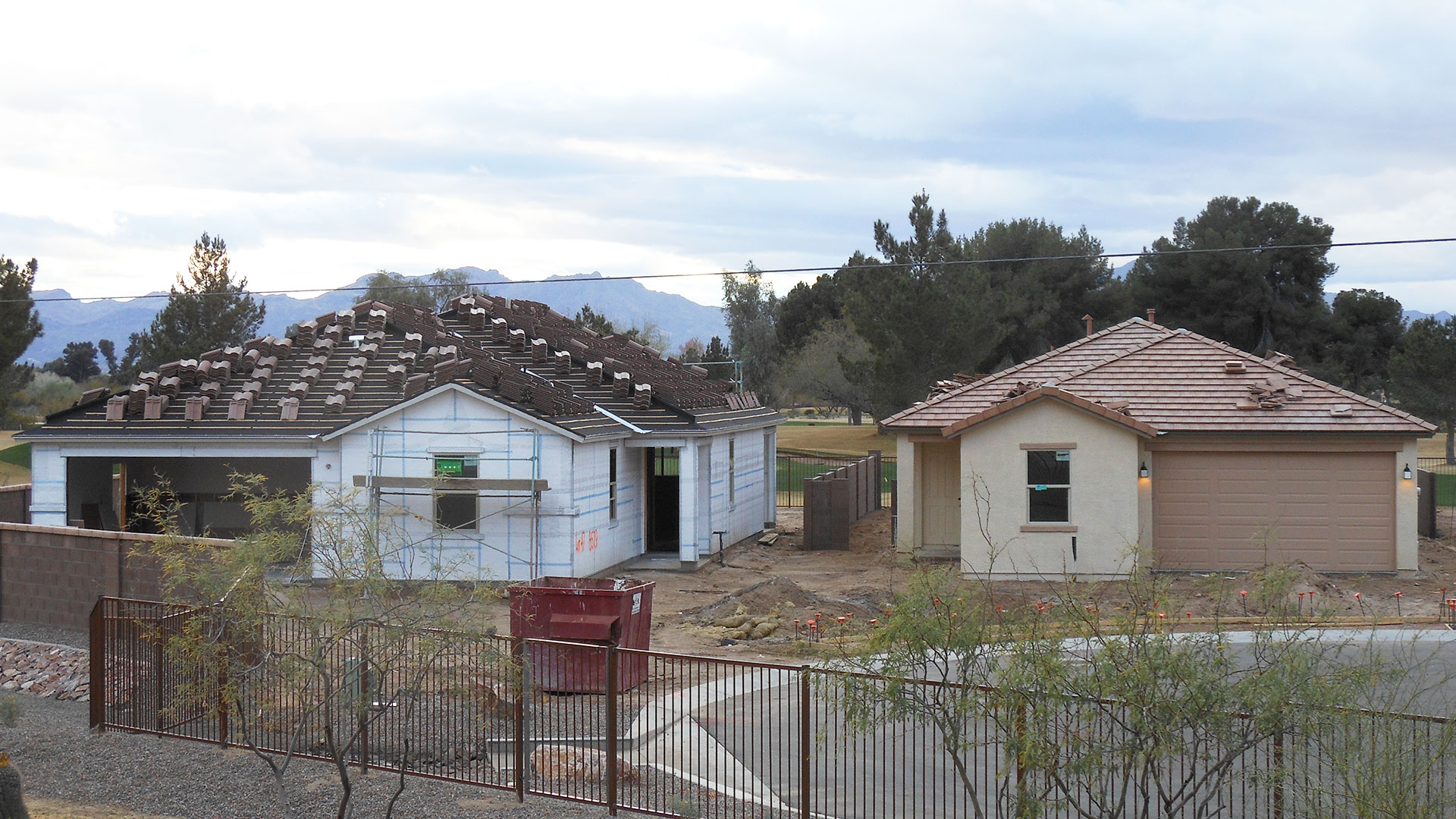 New home construction northwest Tucson. February 2018
C Greer, AZPM
Since the 2008 recession, the housing market in Tucson has rebounded. In fact, last year, according to the Census Bureau, housing permits in Tucson reached their highest level in a decade. But one concern many builders are faced with is a severe labor shortage that has yet to rebound since the '08 economic turmoil.
"I ran 700 guys between Phoenix and Tucson in 2004, now I am only at 70," Ken Stinnett, owner of Sundance Carpentry said.
Sundance is contractor for home construction throughout Tucson and Phoenix, and Stinnett says there is not enough labor to meet the demand.
Homebuyers increased by nearly 15 percent over the year, according to Ginny Huffman, president of the Tucson Association of Realtors.
"I think we are moving into a really positive time within the region because for the past 10 years it has been a struggle," Huffman said.
Stinnett and his company still face that struggle. He puts part of the blame on the recession and part on immigration policy.
"When times got bad, a lot of the framers left, did other work. I had a couple guys do roofing. I think the immigration policy has more to do with it than anything. A lot of them [workers] went back to Mexico," Stinnett said. "Well never get that boom again because I don't think we'll get the labor to do it."
Due to current labor conditions, employers have changed how they attract workers, according to Tom Dunn, president of the Arizona Builders Alliance, which advocates for workforce development.
"The benefit right now is that you don't need to have skills to get the work," Dunn said. " The employers are willing to train you as long as you are mechanically inclined and have good work ethic. You can start your career off and running right now."
Construction jobs in Arizona have grown by about 10 percent over the year, according to the Office of Economic Opportunity. In Tucson it has grown by more than 4 percent.
George Hammond, an economist with the University of Arizona's Eller College of Management, says gradual employment growth in the construction industry reflects population growth, which has driven an increase in housing-permit activity in Tucson.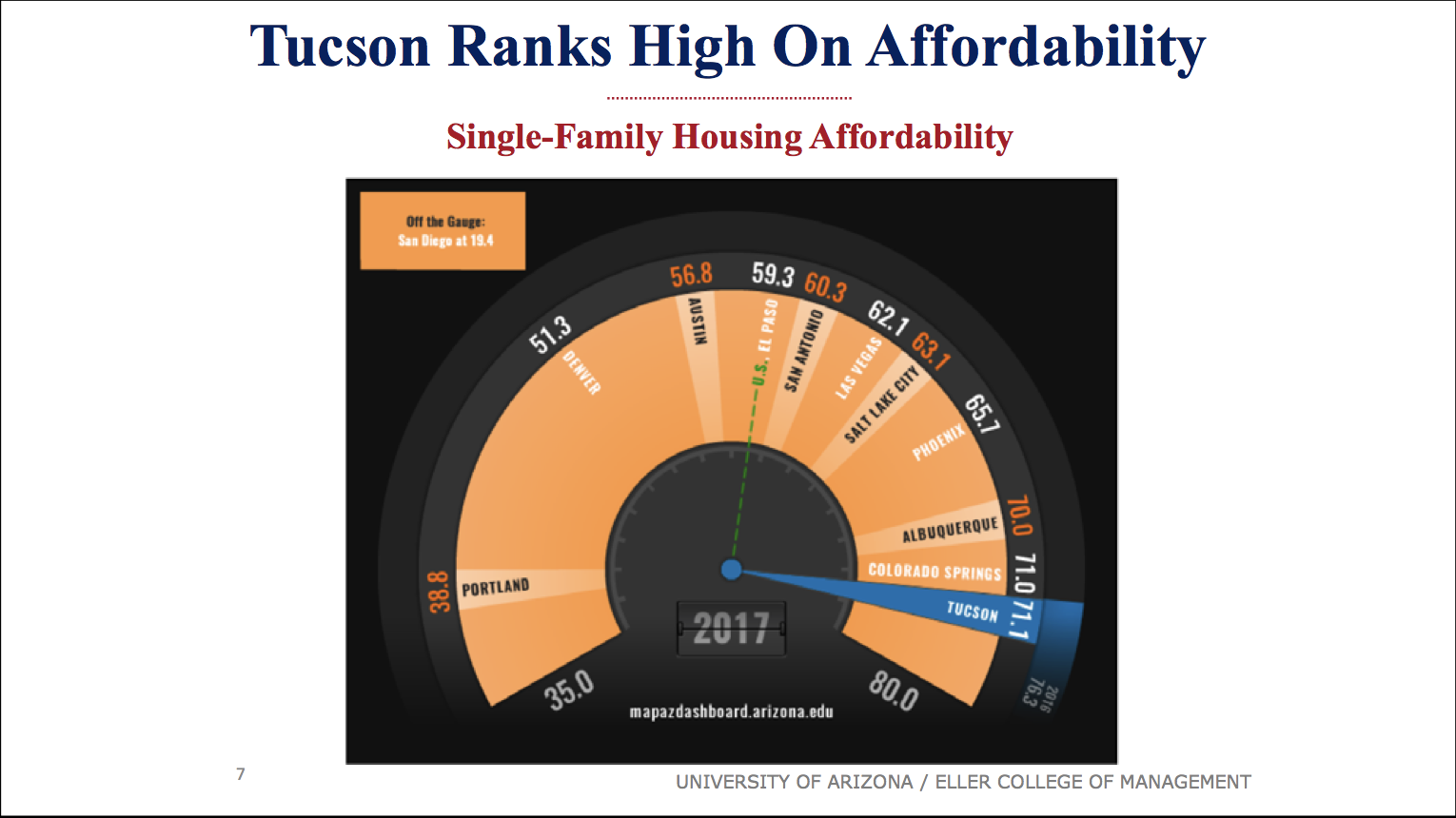 VIEW LARGER Single-Family housing Affordability among 11 western metropolitan areas.

University of Arizona Eller College of Management
"Tucson has the best housing affordability compared to the other 11 western metros we track," Hammond said.
He says that could change with the Trump administration's decision to put tariffs on goods like steel, aluminum and lumber from Canada and Mexico.
"Tariffs are generally a bad idea, but tariffs on these intermediate inputs like steel and aluminum are the worst of the bad ideas," Hammond said. "It makes our manufacturers less competitive globally and it drives up cost for everybody."

He says that could mean higher building costs resulting in higher housing prices, which in return means affordability in homes will decline.
Follow Brandon Mejia on Twitter or contact him via email at BMejia@azpm.org.