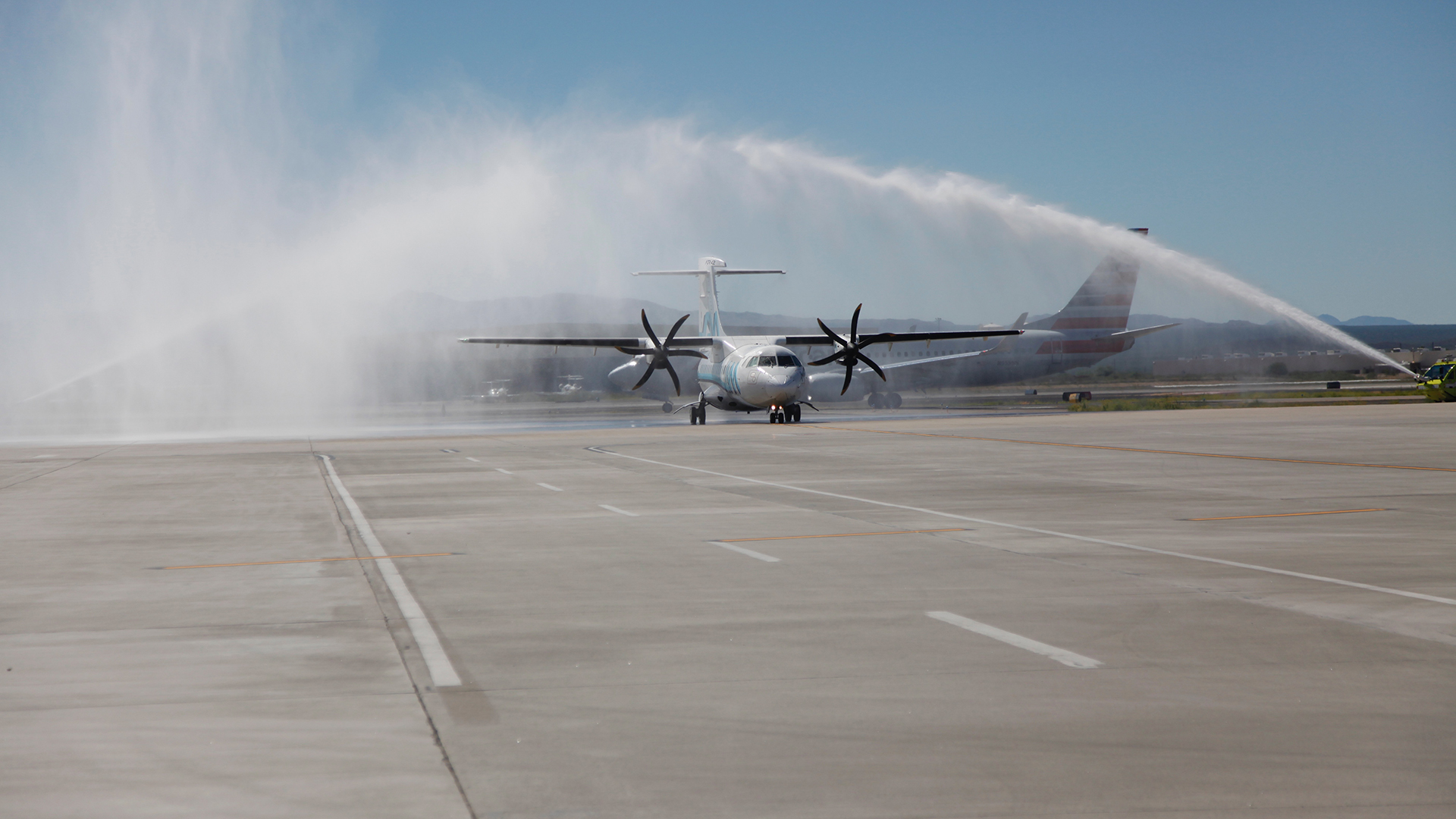 Fire crews at Tucson International Airport welcome the first arrival of a maiden flight at the airport.
Zac Ziegler
An economic impact study commissioned by the Tucson Airport Authority puts its annual economic impact at around $7.4 billion.
The estimate includes activity at Tucson International Airport, Ryan Airfield and property owned by the authority and thousands of acres owned by the authority in the vicinity of the two airports.
Most of the economic contribution comes from groups that lease property from the airport, including Raytheon Missile Systems, Bombardier and the Air National Guard 162nd Wing.
The Airport Authority's chief financial officer said that land has proven to be a major asset for the organization for decades, dating back to the arrival of the company that would become Raytheon's Tucson operation.
"That's what attracted Hughes [Aircraft Company] back in the 1950s, said Dick Gruentzel. "The access to the airport, number one, but just the large land parcels that were available for their development."
The airport authority has control over about 8,400 acres of developable land at Tucson International Airport. Gruentzel estimated that somewhere between 1,000 and 2,000 acres is still available for lease.
The report put the average salary of workers at facilities on authority land at $82,000 a year.
"Those are some of the best-paying jobs in the area. Just as a point of comparison, the Pima County household median income is $47,000," said Gruentzel.
The report estimates nearly $1 billion of economic impact comes from travelers who arrive and depart the area via Tucson International Airport.
"I think that's just reflective of how well the economy has been doing in Tucson over the last five years or so," said Gruentzel.
A similar study conducted in 2012 estimated airport authority related economic impact at $5 billion annually.
MORE:
Arizona
,
Business
,
Pima County
,
Economy
,
Government
,
Jobs
,
News
,
Raytheon
,
Transportation
,
Tucson
,
U.S.