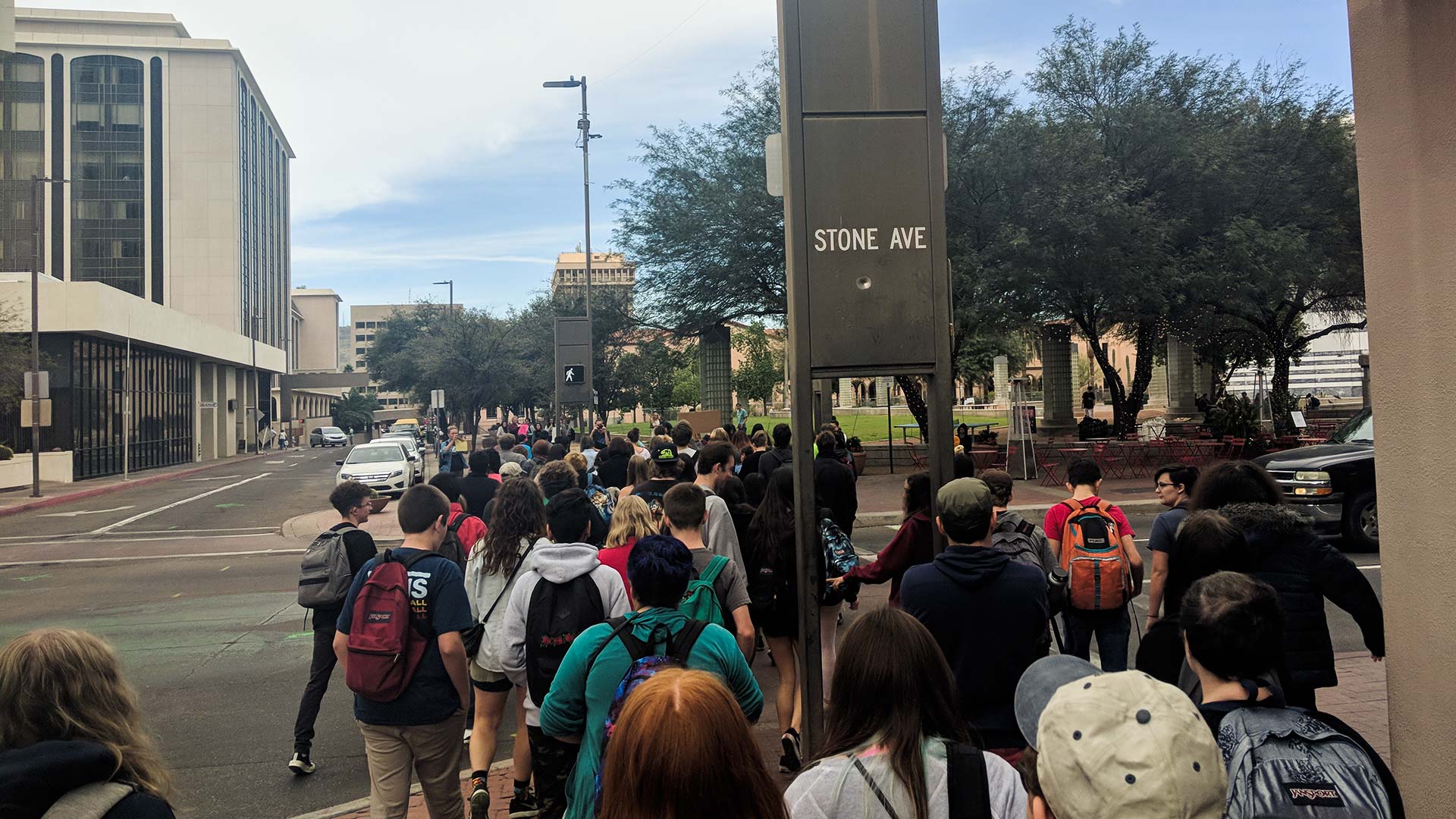 City High School students walk out of school as part of a national event protesting gun violence on March 14, one month after a school shooting in Florida killed 17.
Nick O'Gara, AZPM
Students in Tucson joined those throughout the nation in a walkout Wednesday morning during school hours to protest gun violence and remember the victims of last month's school shooting in Florida.
At the downtown Tucson City High School, students went to a nearby plaza to stand in solidarity with students in other cities for 17 minutes to remember the victims of the Parkland shooting
It's not the first time City High students have made a statement with action. They organized their own protest in the days following the Feb. 14 shooting.
Gala Lorenz and other students say the reasons remain, and they are asking for lawmakers to take note.
"My nieces and my siblings and my friends don't need to be afraid of going to school," Lorenz said. "They shouldn't fear their peers or their teachers or police officers coming at them with guns, and they should be able to get an education rather than being afraid."
Student Milo Lehrling said part of the idea is a call for action.
"I really want to push for better gun legislation, so that ... children in schools, and people, just across the country, should not have to be afraid for their lives." said Lehrling.
Donovan Moon, who also participated in the walkout, said the students are serious when they ask for change.
"In the future I expect change to happen, and if change doesn't happen then our voices will continue to be heard and we will push and fight and kick and scream until something is done to protect us in our schools," Moon said.
More national demonstrations are planned protesting gun violence and calling for safer schools, including the March for Our lives events in Washington, Tucson, and many other cities on March 24.
Lorenz pointed to a 2002 shooting at the University of Arizona College of Nursing
"It's happened here and it could very well happen again," they said.
"Until things are being done, we are going to continue walking out. We are going to continue speaking out, and making speeches, and talking to people like the radio, and talking to news outlets, and making sure our voices are heard."
City High School allowed its students to participate in the walkout and created opportunities for them to take part in "conscious participation," if they chose to demonstrate.
Some school districts said earlier this week they would mark students as unexcused if they left class during the walkouts. Many schools organized on-campus activities related to the students' desire to bring attention to school safety and reforming gun laws.