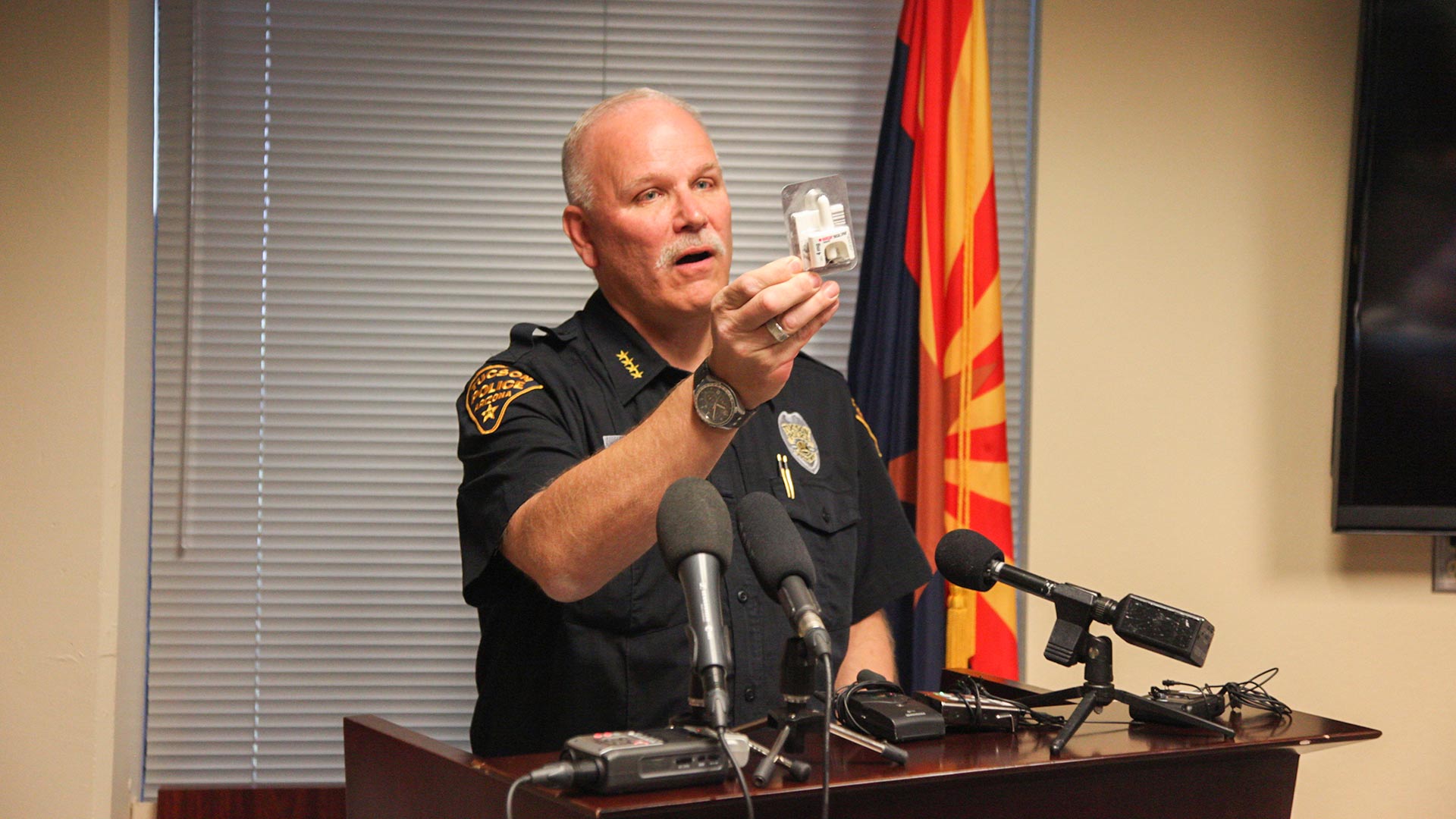 TPD Chief Chris Magnus holds up an anti-opioid nasal spray all officers in the department carry, Nov. 2, 2018
Christopher Conover, AZPM
Officers with the Tucson Police Department used Naloxone, an anti-opioid drug, to save four people in one home from overdosing on suspected opioids last week. One person died.
All TPD officers carry the easily administered nasal spray, and Chief Chris Magnus said his agency needs to be joined in that effort.
"Community members should be asking, 'Why is that the case?' And insisting that this change. If the overdose involved a member of your family or a friend, you would want the deputies or the officers who respond to have this critical resource," Magnus said at a news conference.
Deputies from the Pima County Sheriff's Office do not carry the drug. The office issued a statement citing concerns about what the heat in Southern Arizona could do to the drug. The statement also said paramedics often arrive at an overdose scene before deputies.
Police Chief Magnus not only wants law enforcement to carry the drug. He said the public should get it, too.
"It is available commercially. In other words, over the counter for any member of the public to purchase at a local drug store," said Magnus.
TPD officials worry that not all pharmacists know the law has changed to allow the public to by the drug over the counter. They said people can print out an order through the Arizona Department of Health Services website that will act as a prescription.
In June, TPD started what it calls a "deflection" program. It allows officers who encounter drug addicts to send them to treatment instead of jail.
"One of the things a lot of people don't understand is there is no treatment in jail, there is no medically assisted treatment in jail for opioid use. That puts the people at a greater danger once they are incarcerated, for the amount of time they are in jail, once they come out they are at a greater danger of a fatal overdose," said Kevin Hall, TPD assistant chief.
Pima County is running a similar program as is Cochise County.
The TPD program is not open to every drug user officers encounter.
"They have the discretion to use this with individuals who are genuinely cooperative and interested in receiving treatment. … This is not something that we are doing with people who are selling or dealing or distributing drugs. We take those cases very, very seriously as criminal acts," said Magnus.
Officials with the department said their philosophy is that people with opioid or other drug addictions can get treatment and continue on with their lives.
Since the program began this summer, TPD officers have helped 100 people get drug treatment.