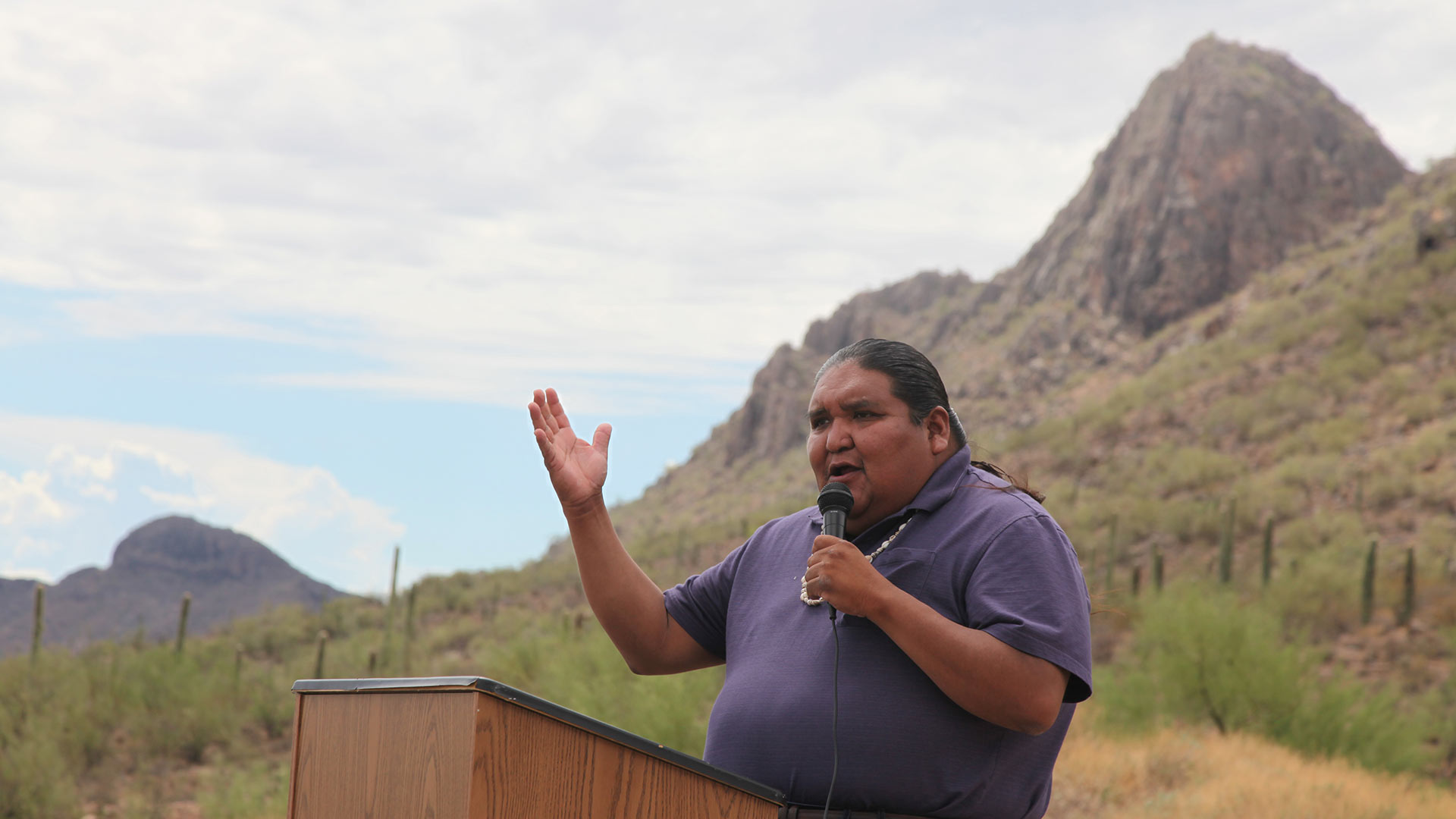 Tohono O'odham Nation Vice Chair Verlon Jose spoke Aug. 2 about the obligation to protect national monuments like Ironwood Forest, which he says provide education that can't be found "in a classroom."
Nick O'Gara, AZPM
Conservation and political interests in Arizona are joining together to oppose a review of monuments across the country, including Ironwood Forest northwest of Tucson.
The group is collectively opposing what it's calling an attack on the national monuments by President Donald Trump and his administration. Ironwood Forest National Monument is one of four Arizona sites on the list, and politicians and environmental advocates gathered Wednesday for an event hosted by U.S. Congressman Raúl Grijalva to voice opposition to the review.
Bill Thornton of the group Friends of Ironwood Forest said many in the Tucson community aren't aware of the nearby monument, home to rugged mountains and the long-lifed tree that lends the land its name. He reiterated a feeling of "cautious optimism" about their efforts to protect its status.
"We are ready to stand united on this. I don't think anybody right now has a real clear idea of where this is all going to go. I'll tell you this: We don't go down without a fight," Thornton said.
VIEW LARGER Politicians and advocates voiced opposition to a national review of monuments that has put Ironwood Forest at risk of losing its status.

Nick O'Gara, AZPM
Tohono O'odham Vice Chair Verlon Jose also spoke out against the review, and characterized the land as a different kind of resource.
"This is our natural libraries. This is our natural educations. … This is an education you cannot get in a classroom," he said.
"We are all about economic development. We are all about the mighty dollar. But there are just a few things that are non-negotiable, that we must preserve and we must protect."
Legal uncertainty surrounds the idea of a president abolishing a monument, an action that has no precedent, said the National Parks Conservation Association's Kevin Dahl.
So far, the Interior Department has recommended that four of the monuments on the list of sites under review be kept intact and one be downsized. No word yet about Ironwood Forest or the other sites in Arizona, which are the Sonoran Desert National Monument, the Vermillion Cliffs National Monument and Grand Canyon-Parashant National Monument.