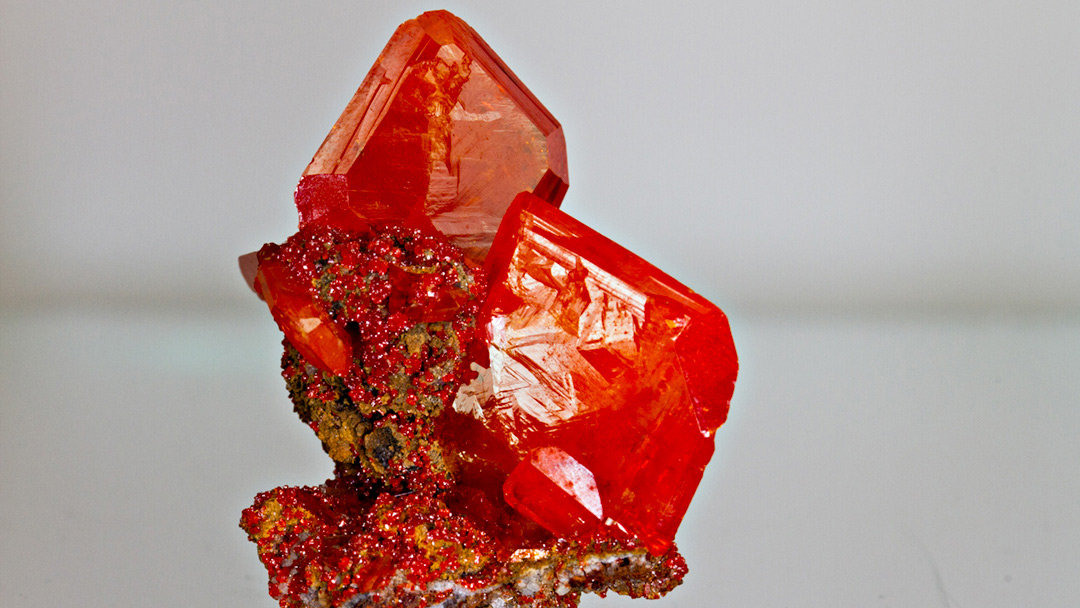 Wulfenite, Red Cloud Mine, La Paz County, Arizona.
Flandrau Science Center, University of Arizona
Amid political wrangling over a state budget, education funding and gun rights, one thing Arizona legislators readily agreed on this year was a hunk of rock.
University of Arizona geologist Alexander Schauss was stunned to learn last year that Arizona did not have a designated state mineral. What made it more surprising is that Tucson annually hosts the largest gem, mineral and fossil show in the world.
"I had a pretty good idea that wulfenite would be the mineral that most Arizonans and geologists and mineralogists would agree was the ideal designation for a state mineral," Schauss said.
There are very few places in the world where wulfenite is found, Schauss said. The best specimens have come from mines in Pima, La Paz, Maricopa and Gila counties.
Wulfenite, Rowley Mine, Maricopa County, near Theba, Arizona, 2.5 x 2.5 cm.

Joe Budd/Alex Schauss Collection
"And it just happens to be that Arizona produces the finest wulfenite in the world."
Schauss said he asked his state representative, Mark Finchem, D-Oro Valley, to sponsor a bill to designate the colorful mineral.
"Wulfenite is, as I've been given to understand, the base metal is molybdenum and we mine that. That's one of the many metals that we mine out of the Arizona lands, and they asked if I would consider sponsoring a state mineral since it's the one that's most prevalent. They thought it was a natural," Finchem said.
Wulfenite joins other state symbols – copper as the metal, turquoise as the gem and petrified wood as the fossil.
Students from Oro Valley's Copper Creek Elementary School spearheaded a movement to make copper Arizona's official state metal in 2005.