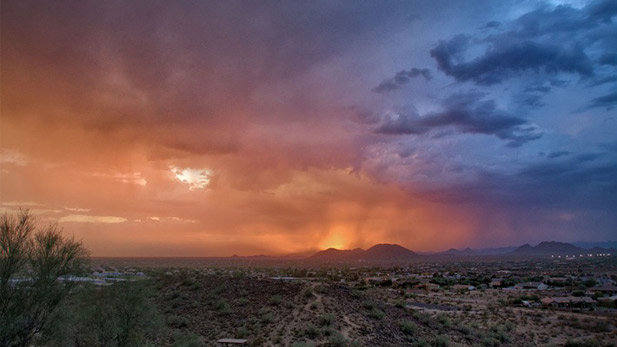 The sun sets through afternoon showers.
The Department of the Interior is reviewing the status of 27 national monuments, including four in Arizona.
President Donald Trump called for the review in April in an executive order.
"Monument designations that result from a lack of public outreach and proper coordination with State, tribal, and local officials and other relevant stakeholders may also create barriers to achieving energy independence, restrict public access to and use of Federal lands, burden State, tribal, and local governments, and otherwise curtail economic growth," the order reads.
The four monuments up for review in Arizona are the Ironwood Forest, the Sonoran Desert, Grand Canyon-Parashant and the Vermillion Cliffs.
University of Arizona Professor John Koprowski said the monument status is meant to protect areas that have relics and historical value.
"And setting aside these areas is really critical for society to really demonstrate what we value about our land, landscape, natural areas and historical value," he said.
Tom Hannagan of the Friends of the Ironwood Forest said he's confident that area won't lose its monument status, but he's concerned about what the review means.
"It's just disconcerting for Friends of the Ironwood and also for conservationists in general to see kind of a reversal of a trend towards conservation that's been in effect for over 100 years," Hannagan said.
The Department of the Interior is accepting public comment starting today about the national monuments and whether others should be reviewed.
Click here to submit input.