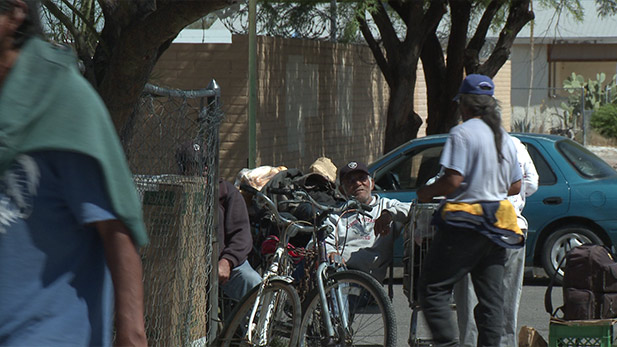 Soup kitchen workers hand out food to the homeless. (PHOTO: AZPM Staff)
The Tucson City Council will consider a program at its study session Wednesday that would establish more locations for homeless people to sleep.
The Overnight Sleeping Pilot Program would allow businesses, churches and nonprofit organizations to set up space in parking lots for people to spend the night. The proposal as written would allow no more than 10 sites, and each could have no more than four sleeping structures, which includes cars, campers and tiny houses.
Because the item is on the study session agenda, it would have to take a final vote in a future council meeting if the council is supportive.
Councilwoman Karin Uhlich proposed the program, which is modeled after several Eugene, Oregon, programs.
Those who use the sites would need a connection to a homeless case management organization with the goal of transitioning to permanent housing. They would not be able to use drugs, alcohol or weapons at the sites, and the hosting organizations would have to track those who sleep on their property.
Read the Overnight Sleeping Pilot proposal
View at Google Docs | Download File