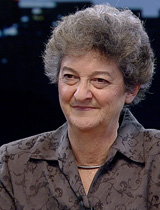 Paula Aboud, 2014. (PHOTO: AZPM Staff)
The Arizona Supreme Court has censured Pima County Justice of the Peace Paula Aboud.
The discipline comes from an incident that involved an answer key for a test for new judges.
"Judge Aboud allegedly took a copy of an assessment and an answer key that belonged to her mentor judge," said Arizona Judiciary Communications Director Heather Murphy. "The assessment and answer key were for a test that was going to be administered the next day."
Aboud claimed her actions were meant as a practical joke.
A censure is the lowest of three forms of formal discipline the court can take.
"Censure can have conditions attached to it, as it does here," said Murphy." Judge Aboud will have to attend a mandatory session on judicial ethics and pay the costs of conducting the disciplinary hearing."
The court's other formal disciplinary actions include suspension or removal.
The court also could have issued an informal public reprimand.
Murphy said such actions are final, and do not include a means of appeal.