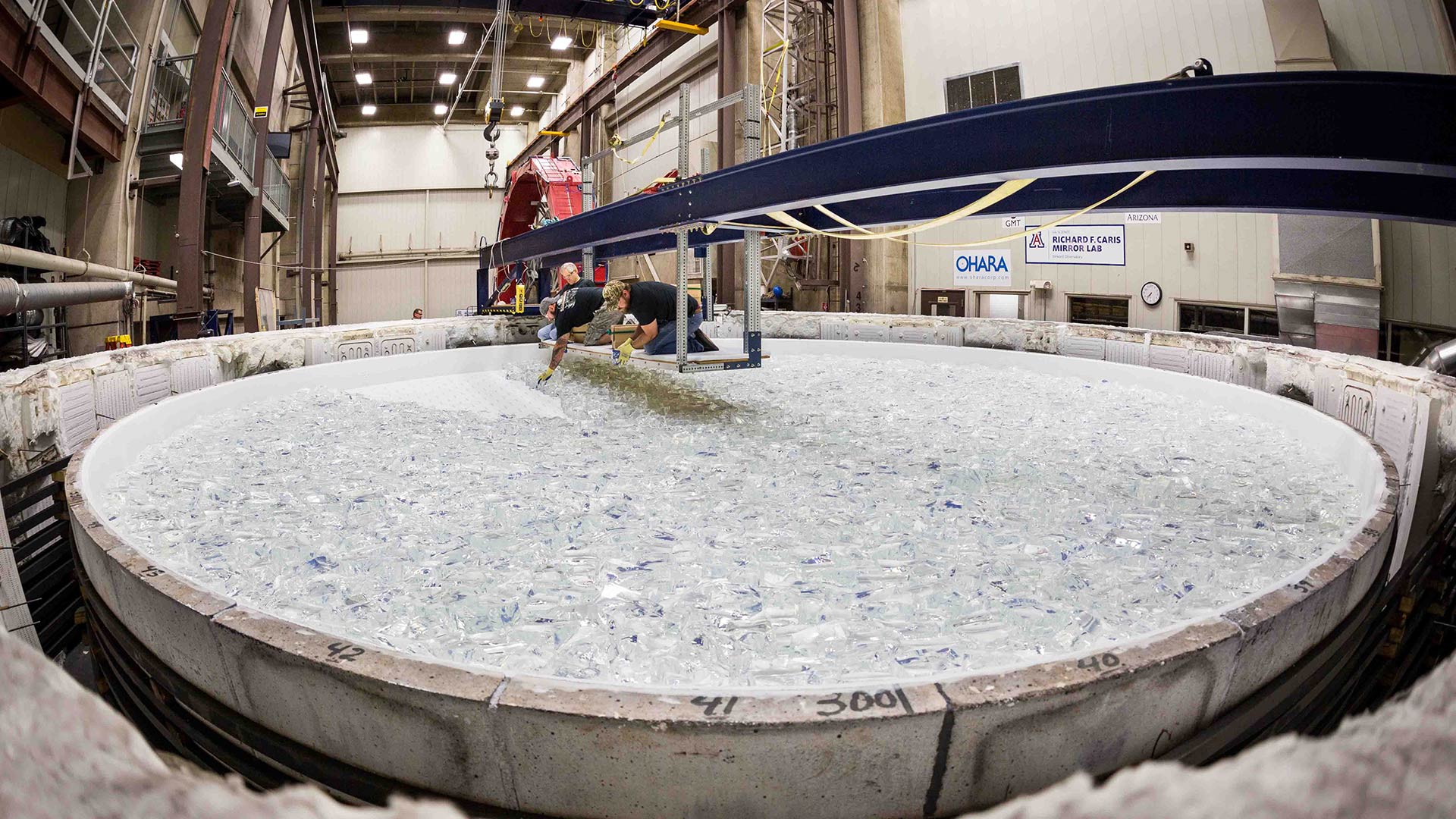 Workers at the University of Arizona's Richard F. Caris Mirror Lab place glass in the furnace for the 5th mirror for the Giant Magellan Telescope, October 2017.
University of Arizona
The University of Arizona Friday celebrated the casting of the fifth of seven mirrors for the Giant Magellan Telescope, what researchers say will be the world's largest telescope.
This is the 20th large mirror fabricated by Steward Observatory's mirror lab.
The GMT will have an array of mirrors in the shape of a flower, with six circular segments surrounding a seventh in the center. It will be constructed in the Andes Mountains of Chile and is expected to see "first light" in 2023 with some of the mirrors in place.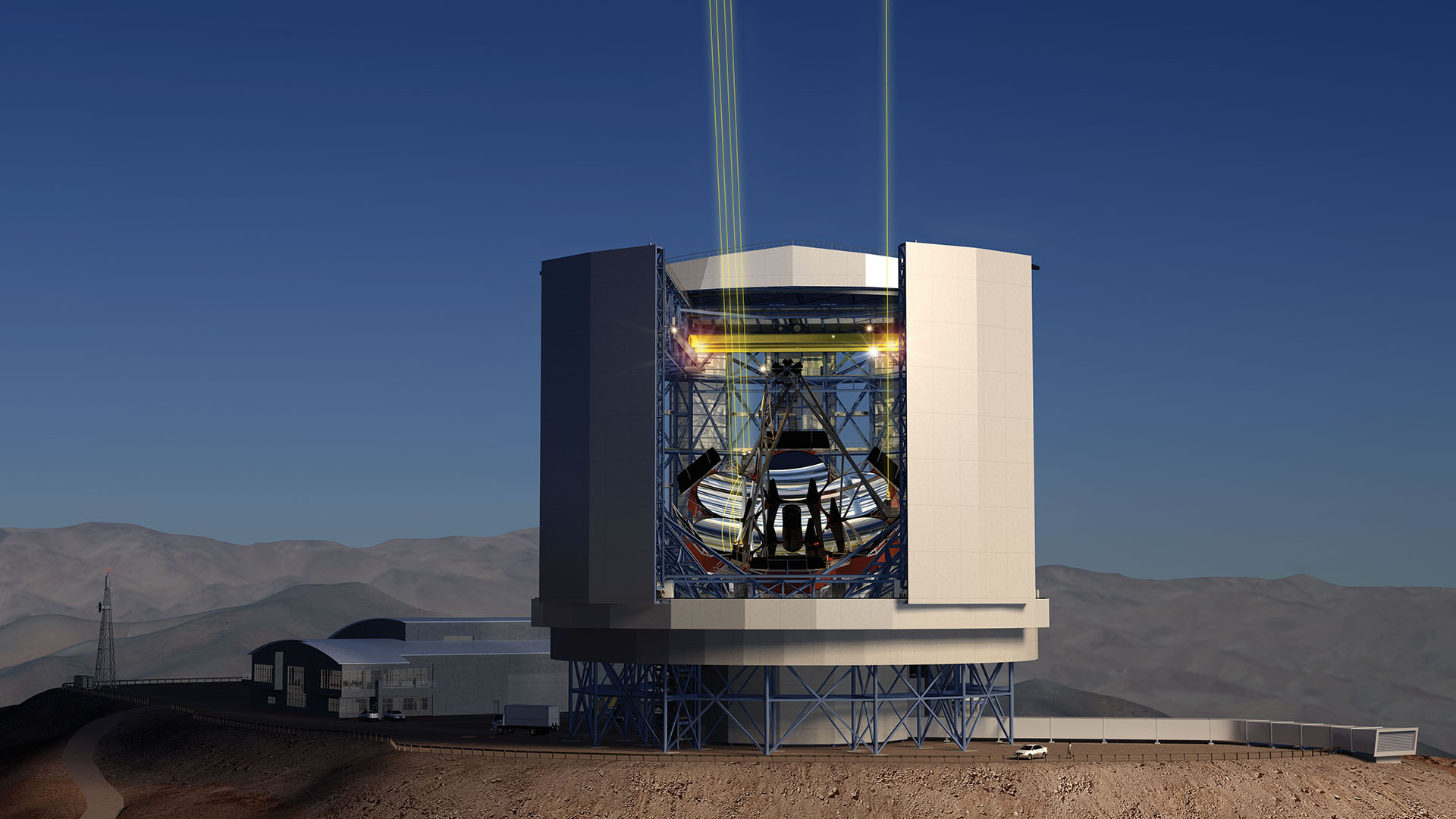 The Giant Magellan Telescope will be constructed in the Las Campanas Observatory in Chile and will be commissioned in 2022.
Giant Magellan Telescope – GMTO Corporation
"The hope is that it will enable new discoveries. Things we haven't anticipated, things that we're not even aware are on the horizon, that the next generation of young astronomers will discover new and exciting things. But we do have a list of science questions we're burning to answer today that the GMT is ideally suited to," said Patrick McCarthy, Ph.D., director of the Giant Magellan Telescope Organization.
The GMT will produce images that are 10 times sharper than those from the Hubble Space Telescope.
Tons of glass were placed in the furnace of the Richard F. Caris Mirror Lab under Arizona Stadium, and the spinning furnace started heating the glass. It reached a peak temperature of 2,129 degrees Fahrenheit Saturday. The cooling process will take several months.
Steward Observatory's director Buell Jannuzi said the mirror lab is one of a kind.
"There's no other place in the world that can make these mirrors. We're a unique facility. We make the world's largest optics for astronomical facilities," he said.
McCarthy said the GMT's scientific goals include looking back in time to the beginning of the universe, measuring the mass of the Milky Way's black hole, and examining solar systems close to our own to determine if there are planets similar to Earth.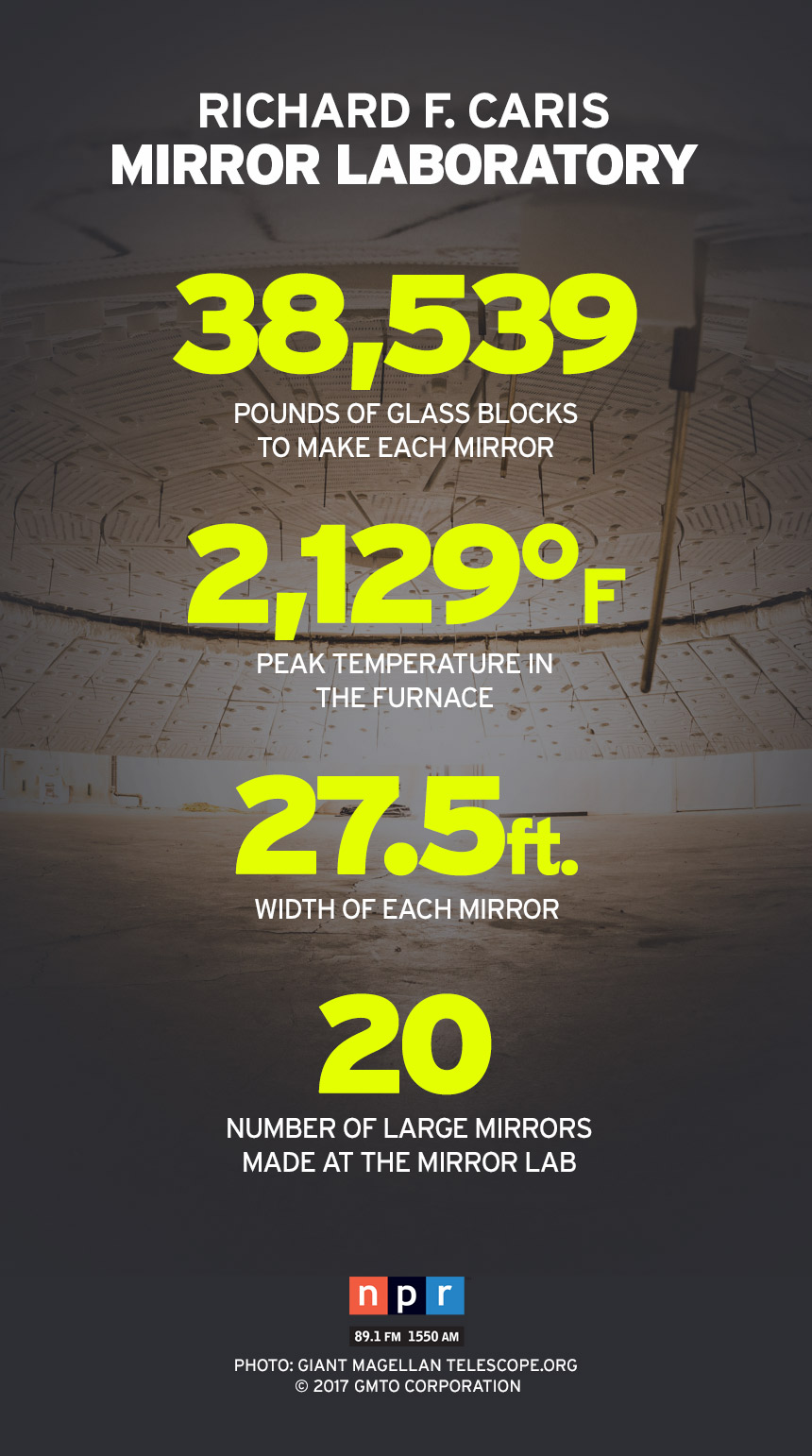 VIEW LARGER The Richard F. Caris Mirror Lab celebrates its 20th mirror made for instruments around the world.

AZPM