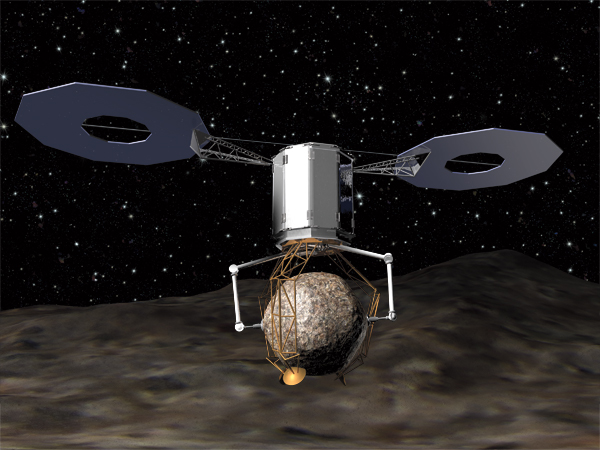 Illustration courtesty of NASA
Listen
NASA is introducing a new challenge for space scientists, at the University of Arizona and elsewhere.
The plan is to capture a piece of an asteroid and bring it closer to Earth for study.
The Asteroid Redirect Mission is expected to present a new set of firsts for the space program. NASA planners want to send an unmanned spacecraft to an asteroid, pick a boulder off its surface, and take it to lunar orbit. Once the boulder is parked in orbit, astronauts can travel there to take surface samples.
Tim Swindle, a researcher with the University of Arizona's Lunar and Planetary Laboratory, said he expects the mission to test a new level of orbital mechanics.
"We want to make sure we can do these things," Swindle said. "We want to make sure the Orion capsule can take humans out a little ways beyond the moon before we start sending humans to the asteroid belt or to Mars or someplace like that."
Mission planners hope to launch the redirect project in the mid-2020s. The asteroid that NASA is targeting for the mission was discovered by a UA sky survey program.
The mission would be similar to the OSIRIS-REx mission, which the UA is overseeing for NASA. It has an expected launch next year, with a return in five years.