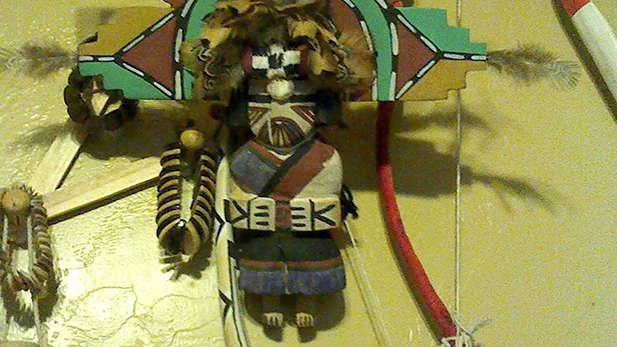 Courtesy of Andrew Coriz
Listen:
Andrew Coriz brought his art to the Southwest Indian Art Fair for the first time last year and was shocked by the reactions to his Hopi carvings.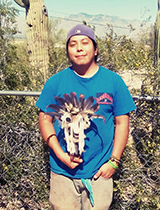 (PHOTO: Courtesy of Andrew Coriz)
"I was too scared to enter my stuff into art shows because I didn't think it was good enough," Coriz said. "I thought it was just 'Oh, it's okay, but it's not really good.' After I entered the art show and I got that award for Excellent Katsina Doll Carving, that's truly an honor. That just broadened my horizons, so now I'm like 'Wow, there's no limits to what could happen!'"
The fair is expected to draw 7,000 people over the weekend and will showcase about 200 artists. The event is meant to help attendees gain a greater understanding of the various cultures throughout the Southwest.
Coriz will show and sell his katsina dolls, which represent religious spiritual figures, and demonstrate painting and drawing techniques at the fair. The 23-year-old says he creates tribal art because of the kind of person he become as he grew up.
"I choose to be the way our ancestors were, that's why I'm doing this type of work," he said. "I feel a deep connection with their spirit because I may be a young man, but I'm an old spirit at heart."
As a little boy he watched other artists paint and started drawing his own katsinas based on what he had seen. Coriz was introduced to carving when he visited his godfather's brother and renowned carver, Stetson Honyumptewa.
"I remember that one day. I was at his house and he hired me to do some yard work for him, tilling his yard because he wanted to do some planning," Coriz said. "Then I was done and I went into his shop and he was working on this really big doll, just hacking away. And I was really interested as I was watching him. And he was like, 'Want to try?'"
Coriz said he carved on a piece of cottonwood root for hours that day while Honyumptewa told him stories about life.
"He told me, 'You can overcome anything in your life, but it's all up to you and what you want to do with yourself," Coriz said. "'I'm giving you this opportunity. You can either take it it or leave it.' So I took it upon myself to do that."
He has taken that advice and used carving to change his life.
"I have ADHD, and I've lived with it all my life," Coriz said. "To me, this is the only thing that really helped me to control it and be able to just be happy with myself, because growing up, I felt different from others having to take medication because of my disease, but now I'm comfortable with myself."
Not all Hopis his age share the same passion for tribal art and history, he said. Coriz has been able to help some friends and peers get into carving, but he thinks part of his mission is to keep the knowledge of Hopi spirits alive.
"Somebody has to carry on this tradition, so I think they chose me; the spirits,' Coriz said. "They come to me to be created, and wherever my work goes, that energy is going to be brought into their homes. All that good energy and that love being brought and transmitted through that piece."
Choosing art as a career goes beyond just selling katsinas. Coriz said he wants to share his knowledge and culture with anyone who will listen.
The fair takes place at the Arizona State Museum on the University of Arizona campus. It will open at 10 a.m. both Saturday and Sunday.