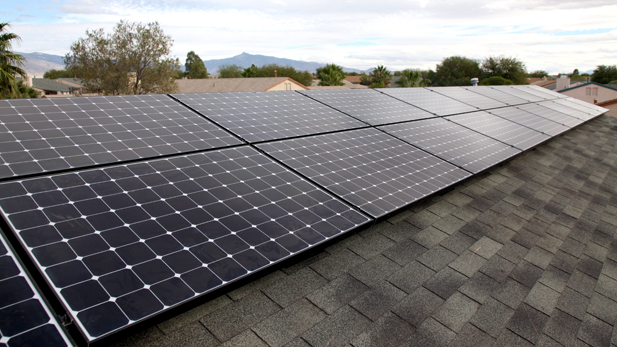 A 25-panel rooftop solar power array.

Yoohyun Jung
Listen:
A plan from Tucson Electric Power would cut the rate the utility pays customers whose rooftop solar panels produce excess power.
TEP filed an application with the Arizona Corporation Commission, asking that it be allowed to lower the rate to what it pays large-scale solar producers.
The company estimates a typical customer whose home has rooftop solar saves a little more than $100 a month. Under the change, the savings to new customers would be around $80.
A TEP spokesman said the reason for the rate change is to make rates fair for all residential users.
"The rules as they are now essentially provide a subsidy to customers with rooftop solar systems that are essentially paid by customers without rooftop solar systems," said TEP's Joseph Barrios.
Barrios said the current rate, which was set in 2008, was intended to foster a new technology.
Solar advocates claim the proposal is unfair to solar customers because it will allow the rate to fluctuate year-to-year. TEP reassesses the rate it pays solar electricity providers on an annual basis.
If approved by the Corporation Commission, the new rate would go into effect for any solar panels hooked up to the grid after June 1.