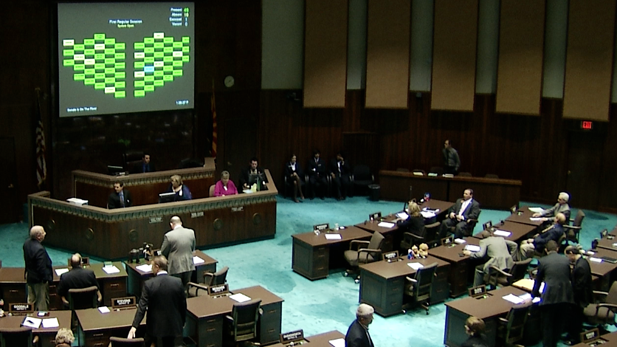 The Arizona House of Representatives, in a 2013 floor session.

azpm
Listen:
A bill making it a felony for anyone except family members, care givers, politicians and their spouses to collect more than two early ballots from voters passed the Arizona House Appropriations Committee on Wednesday.
Sen. Don Shooter, R-Yuma, is the sponsor of SB 1339. He said it is a measure to keep ballot integrity strong.
"It is really a chain of custody matter, if you give your ballot to someone else, something else could happen," said Shooter.
Democrats oppose the bill. Rep. Eric Meyer, D-Phoenix, said it is a way of disenfranchising voters and there is no evidence that the voter fraud is happening. Opponents call the bill an answer in search of a problem.
Pima County Recorder, F. Ann Rodriguez does not support the bill.
The bill is a revival of part of an election reform package passed by the Legislature two years ago, but was repealed last year after opponents gathered enough signatures to put it on the November 2014 ballot.
The bill still faces votes in front of the full House and Senate
Other Wednesday action
Another election-related bill, restricting investigative activity of the Arizona Clean Elections Commission, faced a committee hearing.
The legislation would prevent the commission from investigating possible campaign contribution violations by candidates who don't participate in the Clean Elections program. The commission now claims it has that right under the voter-approved measure that created it more than a decade ago.
The bill would restrict investigations of non-participating candidates to the secretary of state, who is Arizona's top elections officer, and the state attorney general, who is the top law-enforcement officer.
A House committee approved legislation allotting more than $1 million for a pilot program to predict where and when crime will happen.
The bill, sponsored by Sen. Steve Smith, R-Maricopa, approves the predictive policing software known as Predpol for a pilot program in Phoenix, Mesa, Maricopa and Sierra Vista. Money for the program would come from the concealed-weapons permit fund.
Several Arizona police departments already use similar technologies.
The Associated Press Contributed to this report.