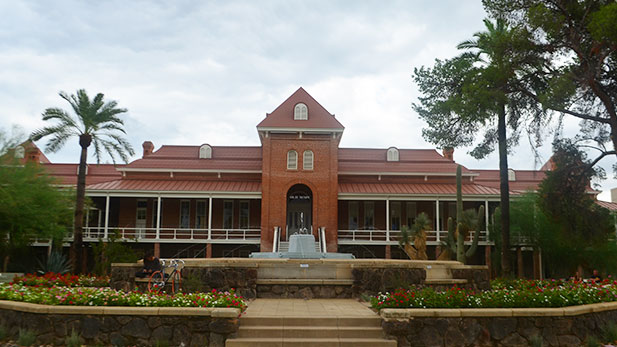 University of Arizona's Old Main.

Maria Inés Taracena, AZPM
Listen:
The University of Arizona has been offering online masters and graduate certificates for several years, but for the first time this fall, undergraduate students will be able to enroll in bachelor's programs that are taught fully on the web.
"As the needs change, of the students and population of Arizona, we have to think about new ways to deliver on what we are doing," said Vincent Del Casino, vice provost of digital learning. "And online is becoming a natural place for some people to complete their degrees."
There are currently 21 degree programs in the UA's online offering. Among them: a Bachelor of Arts in Africana studies, philosophy or communication and a Bachelor of Applied Science in meteorology.
More programs will be added in the coming months, said Del Casino. He also noted the programs are structured to give students flexibility in the number of classes they take and the time needed to complete a degree.
"We think that we have a really unique product that we can offer to the state of Arizona and beyond," Del Casino said.
For more information visit their website.