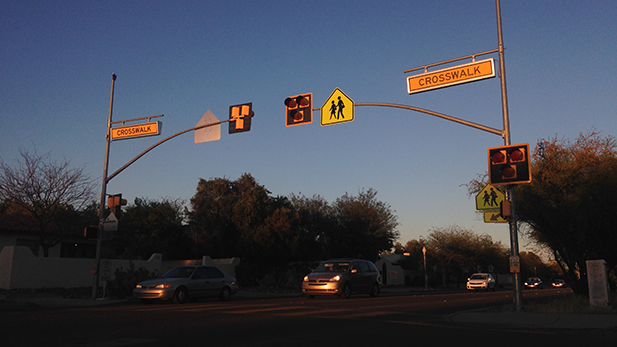 A HAWK pedestrian crossing similar to this will go along 22nd Street near Santa Rita Park.

Mariana Dale, AZPM
Listen
Tucson police officers will be carefully watching pedestrian crosswalks later this month to catch drivers who run traffic signals.
Officers will pose as civilian pedestrians later this month in a city-wide operation to ticket drivers who ignore the flashing red or yellow lights HAWK beacons, short for High Intensity Activated crossWalK. Drivers must slow when the lights turn yellow and stop when the lights turn red. Once the lights begin to flash and pedestrians clear the crosswalk, drivers may proceed through the intersection after coming to a complete stop.
The Tucson area has consistently ranked high nationally in the number of people killed by vehicles while walking. In Pima County, 25 pedestrians died in vehicle crashes in 2013.
Tucson Police are not specifying exact dates or locations of when the crosswalk enforcement operation will happen.