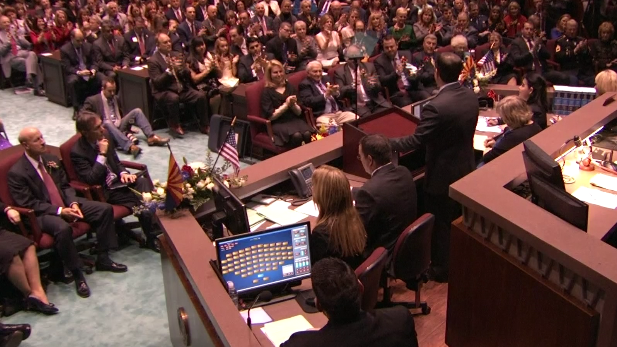 Gov. Doug Ducey addresses a joint session of the Arizona Legislature, Jan. 12, 2015.
Listen:
The abortion related bill was repeatedly passed over for votes last week, but on Monday, the Arizona House approved it on a 33-24 vote.
If signed by Gov. Doug Ducey, the proposal would bar women from buying a health insurance plan through the federal marketplace that includes abortion coverage.
The most debate came over an amendment requiring doctors to tell a woman that a medically induced abortion could be reversed. Democrats and some Republicans lined up against that language.
Rep. Regina Cobb, R-Kingman, said the reversal is still experimental.
"Putting it in statute that this is available makes it sound like it has already had all the evidence and all the background available," Cobb said.
Rep. Eddie Farnsworth, R-Gilbert, disagreed.
"If they choose to ignore the information, they ignore it," said Farnsworth. "But what happens if it hasn't been disclosed and they go in and take this RU 486 and they have second thoughts and they want to reverse it?"
The amendment was adopted on a voice vote. The Senate will need to approve the amendments before it can advance to the Governor's desk.