Listen:
Tucson's water supply is assured in the short term, but shortages to the crisis level are possible, water management officials say. One says that could occur in as little as five to eight years.
In interviews for Friday's Metro Week broadcast, Tucson Water Director Alan Forrest and Central Arizona Project Director David Modeer gave similar assessments of supply and how the city and the state are preparing.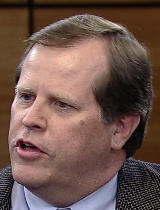 Alan Forrest, director of Tucson Water. (PHOTO: AZPM)
Forrest was more optimistic, saying a water storage agreement between Tucson and Phoenix will help both metro areas.
"We're really looking at shortages more having an impact on either us or Phoenix many years out into the future," Forrest said.
Modeer said the next few years are his focal point, because of reduced supply from the Colorado River.
"If we don't do something to stem the continuing decline of Lake Mead, we could get into a crisis level within the next five to eight years," he said.
Is there enough water for Arizona?
"I guess it depends on the time frame that you're looking," Modeer said. "I think certainly we have plenty of water in the near term. What we're trying to deal with is to head off a shortage or a continuing decline of availability of water out of the Colorado River system. So is it an issue to be concerned about? It certainly is."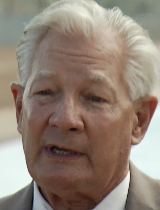 David Modeer, director of the Central Arizona Project. (PHOTO: AZPM)
Forrest said Tucson is doing well with its water supply, saving more than one-third of its 145,000 acre-feet allocation annually from the CAP, "saving that water for when we might experience a shortage, and we can rely on that water."
He said 90 percent of Tucson municipal water use comes from the CAP, but, "We'll never eliminate groundwater use."
Modeer said his focus is on the Colorado River's long-term flow, which is substantially lower than it was last century. It's important to consider, he said, because Arizona is by agreement at the end of the river's pipeline.
"Arizona takes the brunt of any shortage," Modeer said. "In the first stage (of a declared shortage), we lose over 300,000 acre-feet of our ability to divert off the river. Second stage goes up to about 400,000 acre-feet, and eventually in the third stage, you'll get slightly into municipal and industrial supplies."
Thus, he said, it is important to put off declaration of a shortage by keeping as much water as possible in Lake Powell and Lake Mead and working with the federal government and all seven states dependent on the Colorado River for a long-term water solution.
Tucson-Phoenix water storage agreement
One aspect of preparations for Colorado River shortages is a Tucson-Phoenix agreement reached last year under which Tucson will store part of Phoenix's unused allocation from the Central Arizona Project, and Phoenix will call for it when needed.
"The way the agreement works is that we'll take some of Phoenix's CAP water, and they will deliver that to some of our recharge facilities out in the Avra Valley," Forrest said. "That water will go underground and be stored for future use.
"And that's where the agreement comes in, is if and when there's a shortage on the Colorado River and water is shorted to the city of Phoenix, they'll make a call on the water they stored here with the city of Tucson."
At that point, he explained, Tucson will be free to use water from Phoenix's allocation, but must transfer its rights to that same amount of CAP water to Phoenix.
Modeer said he supports the arrangement.
"We think it helps both entities deal with water crises in times of shortage," he said, adding that after legalities are worked out, the arrangement will benefit all, including reducing costs of water delivery.
Forrest said Tucson will benefit because it will have the water stored and it will be paid fees from Phoenix for storing and reallocating the water. Those fees will be used to expand underground storage, he said.
The agreement calls for Tucson to store as many as 40,000 acre-feet of Phoenix's CAP allocation. It will begin with a "proof of concept" test this year, with Tucson taking 750 acre-feet of Phoenix's allocation and storing it. Next year, Tucson will reallocate 750 acre-feet of its CAP supply to Phoenix, which will draw it from the CAP canal as part of its regular allocation.
One acre-foot is about 325,000 gallons, which will supply four to five households for one year, Forrest said.