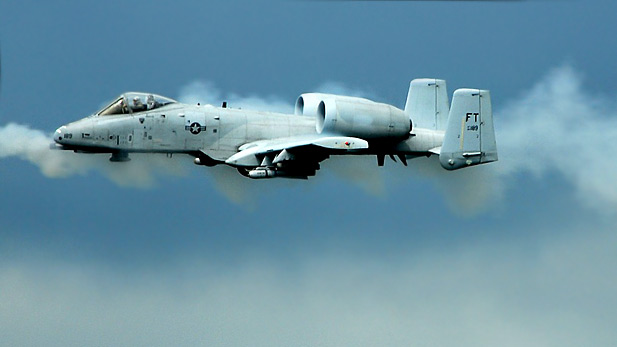 Fairchild Republic A-10 Thunderbolt II
Listen:
The House Armed Services Committee is working on a defense budget for next year and on Tuesday heard arguments for and against keeping the A-10 airplane.
The A-10 is the main plane flown at Tucson's Davis-Monthan Air Force Base.
Nobody denies the plane is old. The last ones rolled off the assembly line in the mid-1980s.

"I have learned that our aircraft are the oldest with an average age of 27 years," Air Force Secretary Deborah Lee James told the House Armed Service Committee.
She said she knows that mothballing the A-10 is not popular. However, she said if the plane is not grounded, budgetary decisions will only get worse.
Rep. Martha McSally, R-Tucson, asked James how much it would take to keep the A-10 flying. The Secretary said somewhere in the neighborhood of $400 million next year. James said she would be willing to keep it in the air if the money could be found.
McSally, a former A-10 pilot, also questioned the Air Force push to ground the A-10 when bombers in the arsenal are nearing 50 years old.

In February, the Secretary of the Air Force told Davis-Monthan to take nine planes out of the air and put them in backup status. That means no pilots or maintenance crews are assigned to the planes unless then are need to replace another aircraft.