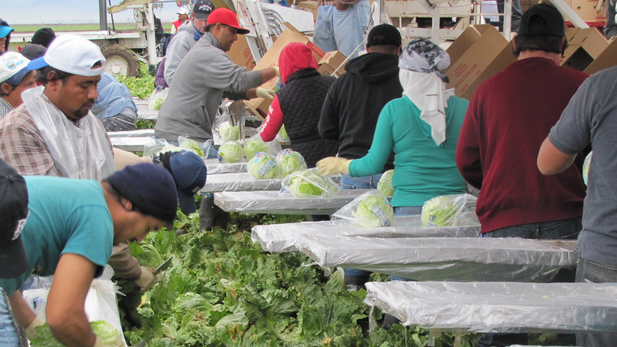 Field workers harvest lettuce in Yuma, February 2015.

Kate Sheehy, Fronteras Desk
Listen:
By Kate Sheehy, Fronteras Desk
The numbers of migrant farmworkers in Arizona's winter produce fields has dwindled in recent years, leading farmers to turn to high-technology solutions for tending their crops.
Arizona grows much of the nation's winter supply of fruits and vegetables, traditionally drawing migrant workers from along the West Coast migration path and from Mexico. But the numbers of field workers are down and for several seasons, farmers have been left with too few hands harvesting crops.
"We don't have nearly as many young people coming into the system," said Yuma-area farm manager Matt McGuire, giving one reason for the decline. He said many young people are going to college, eschewing hard labor for higher-paying work.
Additionally, he and others said, the residual effects of the U.S. recession still slow the flow of migrants from south of the border, and the existing work force is aging.
An example is 70-year-old Jose Ponce, who said he has worked the fields in Yuma for more than three decades.
"Me siento fuerte todavia (I still feel strong)," Ponce said, adding that he and his son both plan to keep working the harvest. But his grandson is another story, expressing a preference for college.
"This is logical, that a young person, as long as they don't take a worse path, and they go to college, that's very good," he said in Spanish. "If not, they have to work."
What that means for McGuire and many other growers has been an increasing reliance on technology. In his case, for the 15,000 acres of leafy greens, broccoli and herbs that he oversees, a robotic lettuce thinner is the latest machine.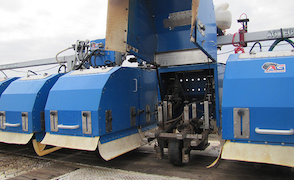 Robotic lettuce thinner developed in Silicon Valley does work of 60-person field crew in a day.

Kate Sheehy, Fronteras Desk
McGuire explained that farmers generally overplant because some seedlings won't survive bugs, wind and hot weather. The balance - eliminating the plants that won't make it and leaving the ones that will with enough space - has been done by hand, taking a deft touch.
"You got to leave those plants that you want to keep at the right spacing," he said. "That's what this machine does."
It thins the beds of lettuce by spraying plants that are too big, too small or too close to another one with sulfuric acid. As it is pulled behind a tractor, cameras along the bottom of the machine tell it which plants need to go.
McGuire said this $250,000 machine replaces a 60-person crew for a day.
The machine was developed at Blue River Technology in Silicon Valley, Calif., where senior mechanical engineer Bryon Majusiak said his company is one of several developing lettuce thinners or lettuce "bots" as they are called at Blue River.
Building a computer to survive in the field takes a lot of trial and error, Majusiak said.
"Early systems that we designed had air conditioners on them to try and keep the computers cool," he said. "We now do little radiators, like in your car."
There's also waterproofing and protecting the computers from rattling around on a tractor. He said Blue River is on its fourth edition of the robot.
The investment is a big one, and has the help of venture capital companies in some places. Silicon Valley Global Partners has helped pave the way with its investments in development of technology for agriculture.
"This is the beginning of, I think, a huge wave in ag tech innovation," said John Stanton of Silicon Valley Global. "Sensors, robotics, drones, all these technologies are becoming cheaper and cheaper and more effective to use."
He said his group's role is to come up with the money so companies such as Blue River can develop technology and to foster collaboration between agriculture and Silicon Valley innovation.
In Yuma, farm manager McGuire said he expects to need that innovation more and more because the labor shortage will only worsen as the economy continues to improve and other industries take away farmworkers.
"Hopefully we're forward thinking enough, and spending enough money on research and development, that we're developing new items, new techniques, better ways of doing things for the product, for the consumer, for the worker," McGuire said.
He said something a robot still doesn't have is the precise hand-eye coordination of human hands, but he is confident that smart people are working on it.
Fronteras Desk is a collaboration of public broadcasting entities in Arizona, California, Nevada, New Mexico and Texas, including Arizona Public Media.