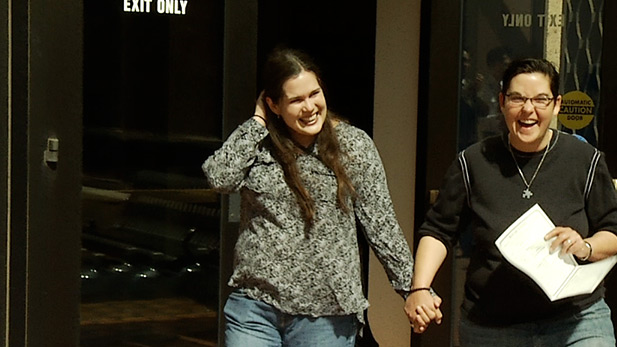 Jennifer Shelton, left, and Katherine Harrison got their wedding license at the Pima County Courthouse in Tucson in October 2014, hours after gay marriage was legalized in Arizona.

AZPM Staff
Listen:
The Arizona Judicial Ethics Advisory Committee issued an opinion telling judges they may not refuse to marry same-sex couples if they perform opposite-sex marriages.
The committee wrote a three-page opinion in a question and answer format and a more detailed explanation of the ruling.
The opinion says turning away only same sex couples is a violation of the judicial conduct rule forbidding "bias" or "prejudice" based on sexual orientation.
Religious objections from the judge do not matter if he or she performs opposite-sex marriages.
Read the Advisory Opinion on Performing Same Sex Marriages

View at Google Docs
|

Download File