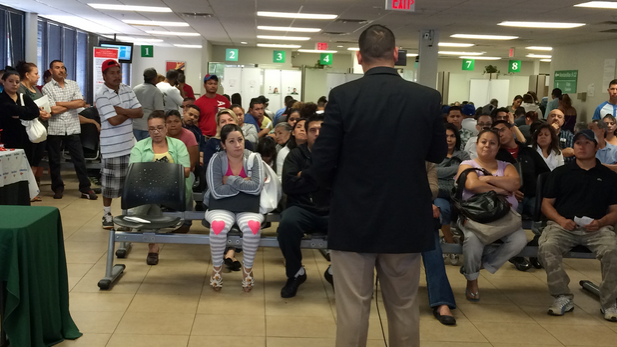 Border Patrol Agent George Trevińo speaks to Mexican immigrants at the Mexican consulate in Phoenix.

Jude Joffe-Block, Fronteras Desk
Listen:
By Jude Joffe-Block, Fronteras Desk
U.S. Border Patrol agents have begun meeting with Mexican immigrants to enlist their help in warning those yet to come about the hazards of crossing the border.
The meetings are part of a campaign by Border Patrol officers in the Tucson Sector to take a more humanitarian approach, officers say.
For example, agent George Trevińo, wearing a coat and tie and not his uniform, spoke recently at a gathering of about 200 Mexican citizens in the waiting room of the Mexican consulate in Phoenix, where they were waiting to get passports or consular identification paperwork.
"Normally, we would probably be wearing rough duty green pants, rough duty long-sleeve shirt and then of course the full gun belt with the gun and cuffs and collapsible baton," Trevińo said.
He introduced himself to the audience and said, in Spanish: "I'm not trying to detain anyone or take anyone away with me."
Trevińo asked for a show of hands from those who have been in the country, legally or illegally, for 15 to 20 years. Several hands went up.
"The border of the past isn't the border we have now," he told them, again in Spanish, adding that it is much more difficult to cross now.
He asked them to discourage their relatives from Mexico from trying to cross, because there are more cameras, sensors and Border Patrol agents now, plus smugglers lie to migrants about the hazards of the journey. The result is many die in the Arizona desert, although the number of deaths last year was the lowest in 15 years.
In the crowd was Laura Izela, a Mexican citizen who said she liked what she heard. Yet, she said, she remained skeptical.
"They say they are coming to do good, to tell people not to let their relatives cross," Izela said in Spanish. "But the Border Patrol itself has committed abuses against people who try to cross."
Illegal border crossings in Arizona started falling during the recession several years ago and have been on the decline ever since. While there has been an increase in the numbers of Central Americans crossing, Mexicans still made up 78 percent of thos coming into Arizona illegally last fiscal year, federal figures showed.
Mexican Consul Felix Herrera said the Border Patrol presentations probably won't end illegal immigration.
"I don't know if we are going to face a change in statistics, (but) I don't think so," Herrera said. "For us, it is very important if just one person can be saved in the desert."
Herrera said he wants the word to get out to would-be migrants that they should use the Border Patrol-provided rescue beacons or dial 911 if they are in trouble.
Fronteras Desk is a collaboration of public broadcasting entities in Arizona, California, Nevada, New Mexico and Texas, including Arizona Public Media.*