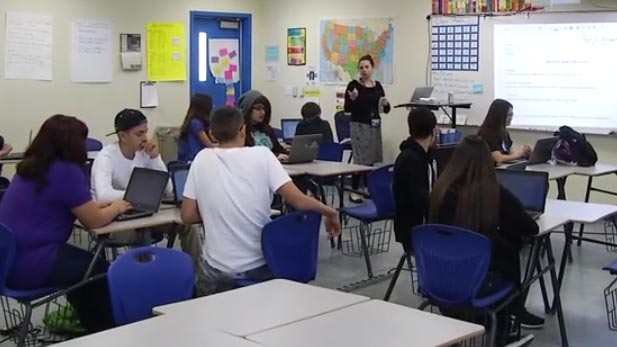 Freshman literature teacher Michelle Callahan-DuMont at Sunnyside High School.
Listen
When kindergarten teacher Brittany Betterton first saw the Common Core standards in 2011, "I looked at them and I was shocked to see what kindergarteners were going to be expected to do," she said.
Previously the students "just had to know two plus two is four and now we want them to solve word problems and explain how they solved the word problem, that shocked me like it shocked everyone else," said Betterton who teaches in the Sunnyside School District and was named the 2015 Rodel Teacher of the Year.
Fast-forward to now.
"It's amazing to see what they can do and how they explain their thinking," she said.
Betterton was a panelist at the "Are Arizona's College & Career Ready Standards the Answer?" event Friday. The League of Women Voters of Greater Tucson hosted the panel at the Doubletree by Hilton Hotel at Reid Park.
The panelists discussed the facts and myths of Common Core, known as the Arizona College and Career Ready Standards in the state.
Meanwhile state lawmakers continue debating whether to eliminate the standards. Last week, a bill that would eliminate Common Core passed the house and is expected to go to the state senate next week.
William McCallum, a professor of mathematics at the University of Arizona, helped craft the math standards and said it's important to note the difference between standards and curriculum.
Common Core standards encourage critical thinking and set goals for what students should know at the end of each grade. For example McCallum said the standards say students must know how to add and subtract fractions by the end of fourth grade. The curriculum developed to get there is set by each school district.
McCallum also said Common Core is more closely aligned with standards of other countries, and that puts students in a better place when competing for jobs internationally.
Also in the panel was Michael Varney, CEO of the Tucson Metropolitan Camber of Commerce. He said these rigorous standards help grow a workforce that can meet the demand in jobs that are going unfilled now.
Event organizers said they invited State Superintendent of Public Instruction Diane Douglas to participate in the panel, but she was unavailable.

Douglas has been an opponent of Common Core.