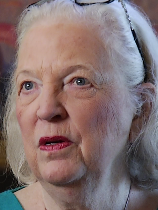 Author J.A. Jance.
The Tucson Festival of Books celebrates its seventh year this weekend, and the event continues to grow. Arizona Week sits down with a Southern Arizona author who shares what inspired her to write and explores the story of a man who didn't learn to read until adulthood.
The program also follows up on the latest Arizona political news, including the recently passed state budget and the tenure of U.S. Rep. Martha McSally, R-Ariz.
In this episode:
- An interview with Tucson Festival of Books Executive Director Marcy Euler. Last year more than 100,000 people attended the festival, and she says that many or more are expected this weekend.
The story of Uwe Keilitz, a 58-year-old man who spent decades hiding that he couldn't read or write. Arizona Public Media's Sandra Westdahl shares his journey to literacy.

An interview with J.A. Jance, a Bisbee native who became a New York Times bestselling author. "The moment I realized that there was a person hiding behind the words, I wanted to be the person putting the words on the pages," Jance said. In college, Jance had to overcome the idea that women couldn't be writers.

"The Buzz," a conversation with Arizona Public Media's Christopher Conover about his recent encounters with Gov. Doug Ducey and McSally.