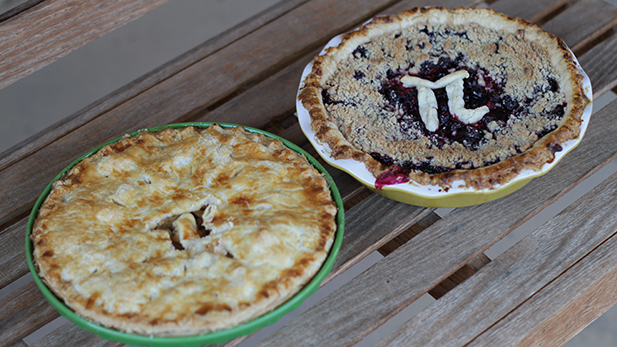 Pi is a greek letter and a mathematical constant that represents the ratio of a circle's circumference to its diameter.

Mariana Dale, AZPM
Listen:
Story by Emily Huddleston, for AZPM
Every year on March 14 millions of math lovers celebrate Pi Day by stuffing their faces with pie.

Pi is a mathematical constant and is approximately 3.14. That is why the date or 3-14 is National Pi Day.

Pi is a Greek letter and, if it has been a while since you were in a math class, pi is the ratio of a circle's circumference to its diameter.

"It's not a straight line, it's like if you have a circle and you want to tell how long it takes to walk around the outside of the circle." said Bruce Bayly, a math professor at The University of Arizona.
Pi cannot be written as a single fraction and continues as decimals into infinity without repeating or having a pattern. It has been calculated to more than 1 trillion digits.

This year's Pi Day is the celebration of the century. It is pi perfection!

On March 14, 2015 at 9:26 a.m. and 53 seconds, the first 10 numbers of pi will be in perfect order.
The number pi conveniently sounds like the pie you can eat. And since pies are round, math enthusiasts everywhere celebrate by eating a piece of pie or pizza, playing math games and learning about the number.
Bayly said he has always celebrated pi day.
"When I was a kid and when I was growing up, we would sometimes have a party with some other math people," he said. "We would make pies and maybe measure them across the middle and around the sides to check that we were still pretty close to 3.14."
Pi Day is also the first day of the Tucson Festival of Books. There will be a tent called the Science of Pi zone to celebrate this once in a lifetime event.

If all of this isn't enough, Pi Day is also Albert Einstein's birthday.