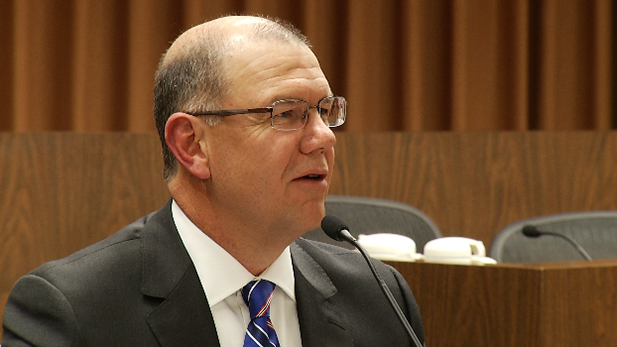 Michael Ortega, named as Tucson city manager Friday, March 13, 2015.

AZPM
Listen:
Michael Ortega was named Friday as Tucson's new city manager, beginning in June.
Mayor Jonathan Rothschild made the announcement at a City Hall press conference at which Ortega was introduced. His family and several city officials were in attendance.
Ortega is now the Cochise County administrator and a former city manager of Douglas. He said he will finish the Cochise County budget in June and move to Tucson later that month.
Ortega said the most prominent issues identified for the city in his interview this week were economic development, including the city's high poverty rate, and Tucson's budget.
He did not reveal specifics about how he plans to work in either area, saying he will follow policy set by the City Council. He said he recognized that economic development success comes from a "regional effort ... in which city government plays a role."
Ortega said he and his family were won over to the idea of moving to Tucson after he heard Rothschild speak at a meeting last year.
"I was very impressed with what the mayor said about economic development and infrastructure needs in Tucson," Ortega said. " ... After having the mayor express his vision, but also the council's vision as a whole in terms of the issues that the community faces, that was pretty much ... the day the decision was made" to apply for the job.
A citizens advisory committee that met for the first time and interviewed the candidates Wednesday recommended on a 6-5 vote that the city should hire the other finalist, Mary Jacobs, assistant city manager of Sierra Vista.
Rothschild said in response to a question at Friday's press conference that citizens committee members who met with the council said they were confident that either Ortega or Jacobs was a good fit for the job.
In a public meeting earlier this week, Ortega said one of his priorities would be funding Plan Tucson, a voter-approved sustainability plan.
"It's a great document," Ortega said. "It addresses a variety of issues: social, economic, natural built. But ultimately, without the funding for that, without a plan for identifying sources of revenue to address the issues and really put that as a priority, is a challenge."
Ortega graduated from the University of Arizona with a bachelor's degree in civil engineering and a master's degree in business administration.
Ortega and Jacobs were selected as finalists after City Council members interviewed them and two other candidates. The city received 48 total applications for the job in what was a national search.
Richard Miranda announced his retirement as Tucson city manager last May and departed at the end of July after three years in the job. Martha Durkin, an assistant city manager under Miranda, has served as interim city manager since his departure and will continue until Ortega takes over.
Read Michael Ortega's resume here.