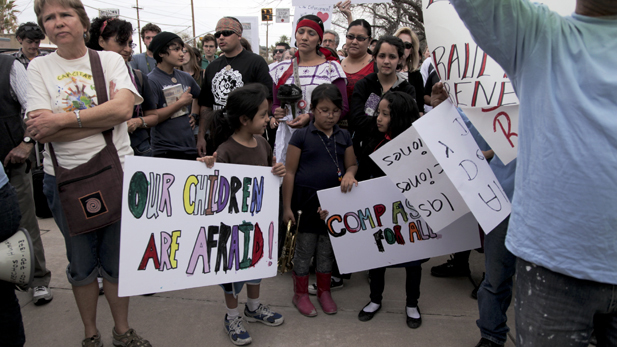 A group of about 100 people protest enforcement of SB 1070 outside of Tucson Police Department in downtown Tucson.

Mariana Dale
Protests are continuing in the wake of the Tucson Police Department's enforcement Sunday of Arizona's immigration law.
Two men were arrested Sunday, one in connection with enforcement of SB 1070 and the other in protest of the first arrest.
The incident marks the first time Tucson police are publicly discussing details about enforcement of the law, known as SB 1070.
"Our officers followed all of our established general orders, and they enforced the law like they are supposed to do," said Lt. Fabian Pacheco, with the Tucson Police Department.
By law, officers are required to question a person's immigration status if there is reason to believe the person is in the U.S. illegally.
On Sunday afternoon, two police officers arrested Rene Meza after a traffic stop. They gave this account:
At about 1 p.m. someone called 911 saying a man had put many children in a car without car seats and two of them were in the trunk. TPD officers found the car and pull Meza over. The vehicle was a hatchback and the children were not in a trunk, but rather in the back of the vehicle, Pacheco. said.
Family members of a man arrested by Border Patrol and an immigrant rights activist protesting.

Mariana Dale
Meza, the driver, could not provide a valid Arizona driver's license and showed a Mexican voter identification card as proof of ID. TPD officials also said Meza spoke Spanish to the officers.

Once Meza was arrested for having children in a vehicle without proper car seats, TPD officers called the Border Patrol to check Meza's immigration status.
"We are mandated to conduct an immigration check on Mr. Meza," Pacheco said.
At that point, Pacheco said, Tucson police ended the investigation and the department's role in the arrest was over.

Alcaraz Ochoa was on his way to a community meeting when he saw the arrest and stopped his car, although he did not know Meza. After finding out it was a case of SB1070 enforcement, Alcaraz Ochoa said, he placed himself under the Border Patrol car. Border Patrol agents arrested him and took him to an immigration detention center with Meza.
"The suspicion that I may also be undocumented I think definitely played a factor, where racial profiling was involved that I was not taken to (Pima) County Jail and I was taken to the Border Patrol station because they didn't know my immigration status, but they assumed I was undocumented," said Alcaraz Ochoa.

After proving he was in the country legally, Alcaraz Ochoa was released from Border Patrol custody, he said.
Hours later, Alcaraz Ochoa showed up at TPD headquarters with about 100 others to protest the arrest of Meza, a father of six who was still in federal custody.
"We want justice, we want freedom, we want to stop the separation of families," said Alcaraz Ochoa, an immigrant rights activist in Tucson. "Enough is enough. His children were crying and his wife was so upset, I just had do something."
Tucson police did not comment on Alcaraz Ochoa's arrest, saying the department was not involved with him and it is a Border Patrol issue. Border Patrol officials could not be reached for comment.
Meza, the undocumented man stopped by police, was still in federal custody Monday and members of his family pleaded for his release outside of TPD headquarters in downtown Tucson.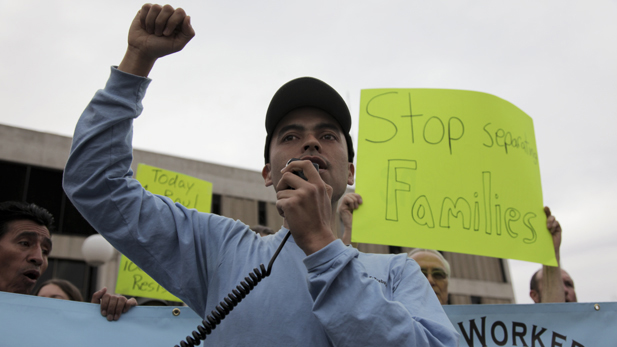 Raul Alcaraz Ochoa, an immigrant rights activist protesting outside of TPD headquaters hours after his release from Border Patrol custody.

Mariana Dale