(VIDEO: AZPM)
A federal judge recently ordered the Tucson Unified School District to teach "culturally relevant courses" in order to increase engagement of minority students.
The ruling is part of a decades-long desegregation case filed against TUSD by parents of Mexican-American and African-American students alleging discrimination.
TUSD Board President Adelita Grijalva has been a supporter of the legally banned Mexican American Studies classes and said the judge's ruling is what the district needed. Supporters of the Mexican American Studies classes reacted positively to the judge's order, seeing it as an avenue to bring back those classes, she said.
"We have a tendency in our society to sort of erase some areas of history that aren't really favorable or that give us any kind of displeasure," Grijalva said. "I don't think that's something that we should be doing in these courses. There should be a conversation about what the experience has been for Latinos, African-Americans and Native Americans in our society."
In the 40-page ruling U.S. District Judge David Bury ordered TUSD to offer courses "designed to reflect the history, experiences, and culture of African American and Mexican American communities," and to make those classes available in August.
In 2010, Gov. Jan Brewer signed a law that prohibits school districts from teaching classes that "promote the overthrow of the United States government, promote resentment toward a race, are designed primarily for a particular ethnic group, and advocate ethnic solidarity," according to court documents. This law was used to shut down the district's MAS classes in early 2011.
"The judge said explicitly that we should be following state law," said Mark Stegeman, a TUSD board member who voted to shut down the classes. "So that makes it impossible to recreate what we had before because that was already found in violation of state law."
To avoid the scrutiny from the state, the new curriculum should keep some of the political content out, Stegeman said.
"I've always said the previous curriculum is too narrow," he said. "I'm not completely happy with creating separate sets of courses--I think that recreates segregation in some sense--but a court order is a court order ad we will follow it conscientiously."
The judge's order to add a multicultural curriculum is not going to end the controversy surrounding the classes, Grijalva said.
"In all likelihood there could be a lawsuit soon from the state saying that we're in violation" of the law used to shut down the MAS classes.
The judge laid out clear guidelines for what the new classes should include and asked TUSD to form a group of community members, educators and district staff to work on the new curriculum. The classes will be optional and count as graduation credits.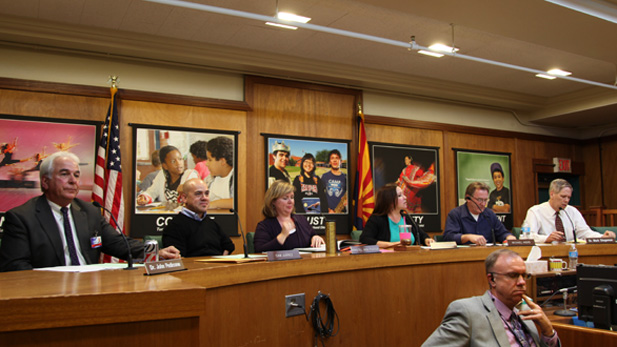 Tucson Unified School District's governing board. (2013)

Fernanda Echavarri