Arizona state government officials discuss the budget in terms of revenue, tax credits, and the governors sales tax reform plan. (VIDEO: AZPM)
State tax revenues are growing modestly, but the current surplus won't be sustained, say Arizona legislators preparing to build the state budget for next fiscal year.
The legislators gave their assessments in interviews for Friday's Arizona Week broadcast.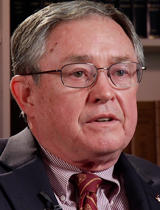 State Sen. John McComish, R-Ahwatukee. (PHOTO: AZPM)
"The revenue picture looks good, not great," said Senate Majority Leader John McComish, R-Ahwatukee. "I think that we're seeing for the next several years in the 4 to 5 percent range in revenue growth for the state, not as good as our 7 to 8 percent that we had back in some of the better days, but certainly better than we had in the recessionary era."
The Joint Legislative Budget Committee, which analyzes revenue and spending for the Legislature, has projected a modest surplus this fiscal year, smaller surplus next fiscal year and potential return to deficits by 2015-16.
Democratic Rep. Debbie McCune Davis of Phoenix was even less optimistic than the budget committee.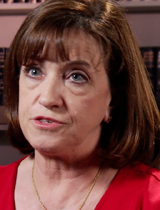 State Rep. Debbie McCune Davis, D-Phoenix. (PHOTO: AZPM)
"I think we have to be very cautious," McCune Davis said. "I think even though the numbers suggest there's a surplus, I think that's not really so. We learned a hard lesson during the downturn."
Sen. Steve Farley, D-Tucson, agreed with that assessment, although he said a transaction-privilege tax reform working its way through the Legislature could help.
"I'm very concerned ... about the revenue structure being a 20th century model, and now we're in the 21st century, and it's not quite working," Farley said. "Once we bring in the online sales taxes - because that's the way many of us shop today - it will increase the revenues we get there by $700 million a year."
One Republican leader said the economic climate is improving because of steps the Legislature has taken to bolster business, largely tax cuts and credits, and that should continue.
"These tax cuts are already generating these jobs," said House Speaker Andy Tobin, R-Paulden. "When I spoke of the 300,000 (jobs lost in the recession), we've got 100,000 now back. We're forecasting it will be another 100,000 by this time next year. So, we're making it two-thirds of the way back by this time next year. That is our replacement income."
Tobin said that for every job generated, the state realizes $1,000 in revenue. Thus, 100,000 jobs means $100 million, plus the savings from those newly hired people getting off of state assistance programs such as AHCCCS, the state's health-care system for low-income residents.
Reporter Michael Chihak further explored state revenues and taxation with legislators, including a look at business tax credit proposals and revamping the sales tax. Watch tonight at 8:30 MST on PBS 6, or online later.