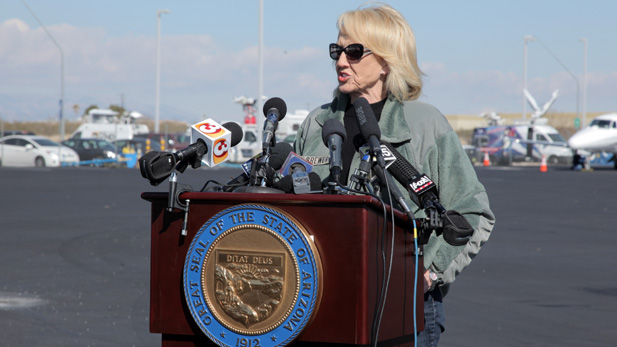 Ariz. Gov. Jan Brewer speaking to reporters in Tucson after a February 2013 tour of the border.

Heather Wodrich
Gov. Jan Brewer Tuesday renewed her invitation to President Barack Obama to tour the Arizona-Mexican border with her so he can see for himself what the security issues are.
In a press briefing following several hours of aerial touring and talking with Border Patrol Agents, National Guardsmen and ranchers, the governor said it remains obvious that the Arizona border is a security concern.
"It's pretty obvious that Arizona is the gateway of the drug cartels coming into the United States and that of illegal immigration," Brewer said.
She compared the border to what she saw when she went to the Middle East last year.
"I just got back from Afghanistan," Brewer said. "They can secure the borders over there. Why can't we secure our borders here?"
A reporter pointed out that the Afghan border is porous, with terrorists passing back and forth.
"You are right in that regard, but I'll tell you, they got boots on the ground," Brewer responded. "But it would probably be a heck of a lot worse if it wasn't."
The governor said she wants to be part of a border commission as proposed under the U.S. Senate "Gang of Eight" immigration reform legislation. Such a commission would consist of border governors, law-enforcement authorities and residents to help the federal government determine if the border is secure.
At one point on the tour, Brewer said, she saw people on the other side of the fence "staging" in preparation for coming across after dark.
A leader of the ranchers who met with Brewer said she shares their worries about drug smuggling along the border.
Patrick Bray, executive vice president of the Arizona Cattlemen's Association, says Brewer met with a half-dozen ranchers from along the border for 45 minutes and discussed their concerns about drug smugglers crossing their property.
The meeting was part of Brewer's latest effort to draw attention to border security concerns in Southern Arizona.
The tour came hours before Obama was expected to promote his immigration reform plan in his State of the Union. Obama unveiled his immigration proposal last month. Arizona Republican Sens. John McCain and Jeff Flake are also calling for comprehensive immigration reform.
Brewer said if Obama raises the security question, she would invite him to tour the border with her, which she has offered previously. She said if he thinks the border is secure, he should see for himself.
"You need to come down and talk to the ranchers and talk to to some of the people that are working down here that are on the ground. They will tell you differently," she said.
Brewer has said she won't support immigration reform until the border is secure. In the past, she has defined a secure border as one that has an impenetrable wall or barrier to stop illegal immigration, saying it is "cavalier" to suggest that no barrier would do it.
U.S. Customs and Border Protection says the number of people apprehended in Arizona for illegally crossing the border last year dropped to the lowest level in nearly 20 years. It said 125,000 arrests were made, while the number and value of drug seizures went up significantly.