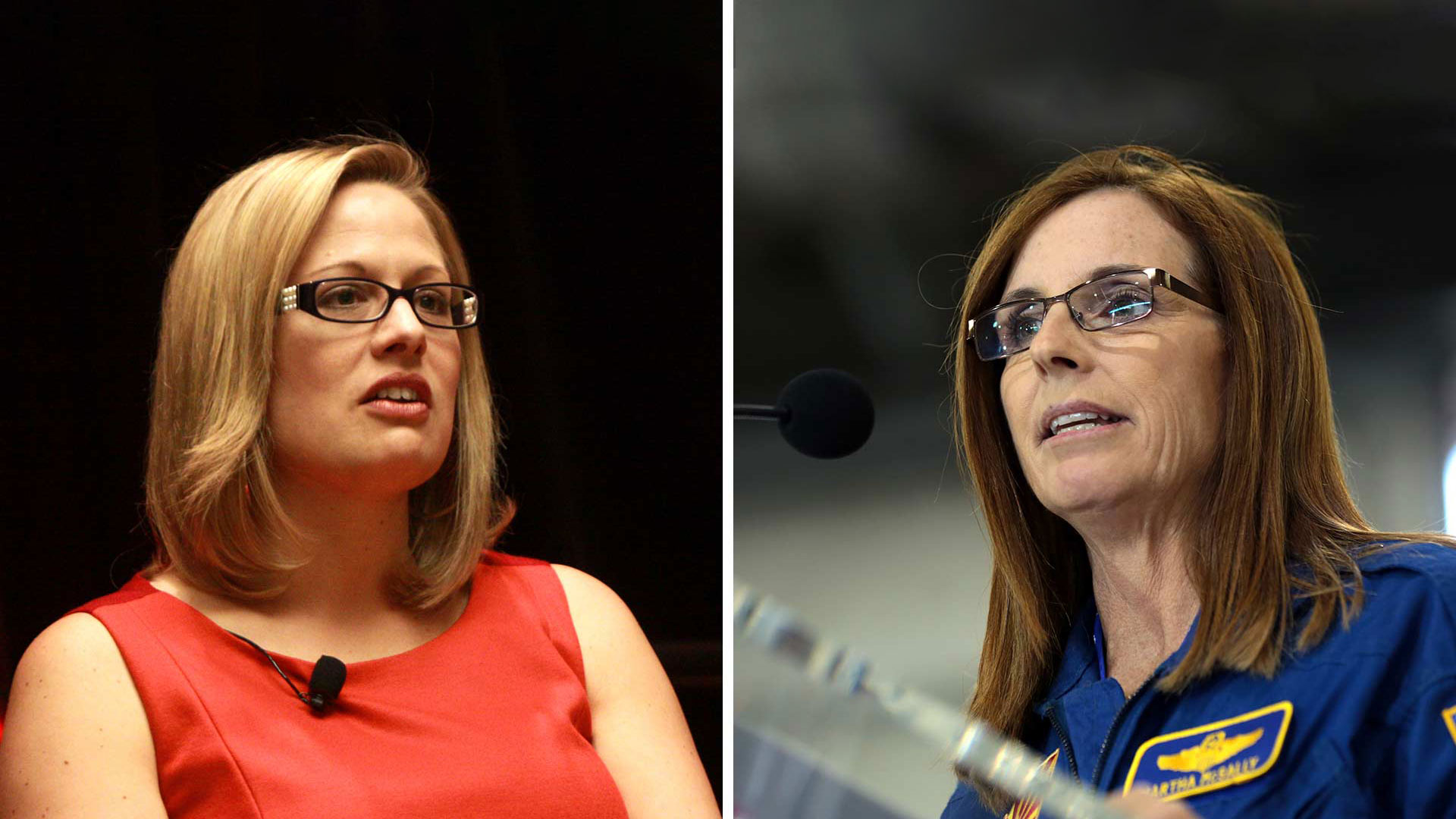 Kyrsten Sinema, left, and Martha McSally.
Gage Skidmore via Flickr
Visit our primary election results page for updated numbers on this race.
In the first results released Tuesday night, Republican Martha McSally and Democrat Kyrsten Sinema held clear leads for their party's nominations.
Sinema declared victory via email just minutes after the first early ballots were counted, and McSally followed less than an hour later.
In her statement, McSally contrasted her November challenge: "My opponent is someone who is left of the Pelosi Democrats, who was a Green Party activist. She protested our troops in a pink tutu and called to shut down Luke Air Force Base. She calls herself a Prada Socialist," McSally said in a statement via email. "The contrast couldn't be more clear: I have always been true to who I am and have spent my life in service to our great country."
In her statement, Sinema said "As I hear from Arizonans across our state, they tell me they want independent leaders who fight every day to make sure Arizona families can succeed," Sinema wrote. "Tonight, we look ahead and continue fighting to uphold the values we all share: a fair shot at the American Dream and an unwavering commitment to the Arizona we love."
Both party nominees acknowledged Sen. John McCain's death this week in their election night victory statements.
The race for U.S. Senate drew three Republicans vying for a chance at the open seat. They all had previous political experience: McSally has served two terms in the U.S. House; Kelli Ward was elected to two terms in the Arizona Senate; Joe Arpaio served six terms as Maricopa County sheriff.
On the Democratic primary, Sinema has served three terms in the U.S. House, and before that was a state lawmaker. Deedra Abboud is a political newcomer.
McSally and Sinema will join Libertarian Adam Kokesh and Green Party candidate Angela Green on the November ballot.
Results are preliminary, votes continue to be counted statewide.
U.S. Senate Primary (REP)
| % | Candidate | Votes | |
| --- | --- | --- | --- |
| 17.80% | Arpaio, Joe | 116,056 | |
| 54.57% | McSally, Martha | 355,776 | |
| 27.63% | Ward, Kelli | 180,104 | |
U.S. Senate Primary (DEM)
| % | Candidate | Votes | |
| --- | --- | --- | --- |
| 20.66% | Abboud, Deedra | 104,522 | |
| 79.34% | Sinema, Kyrsten | 401,380 | |