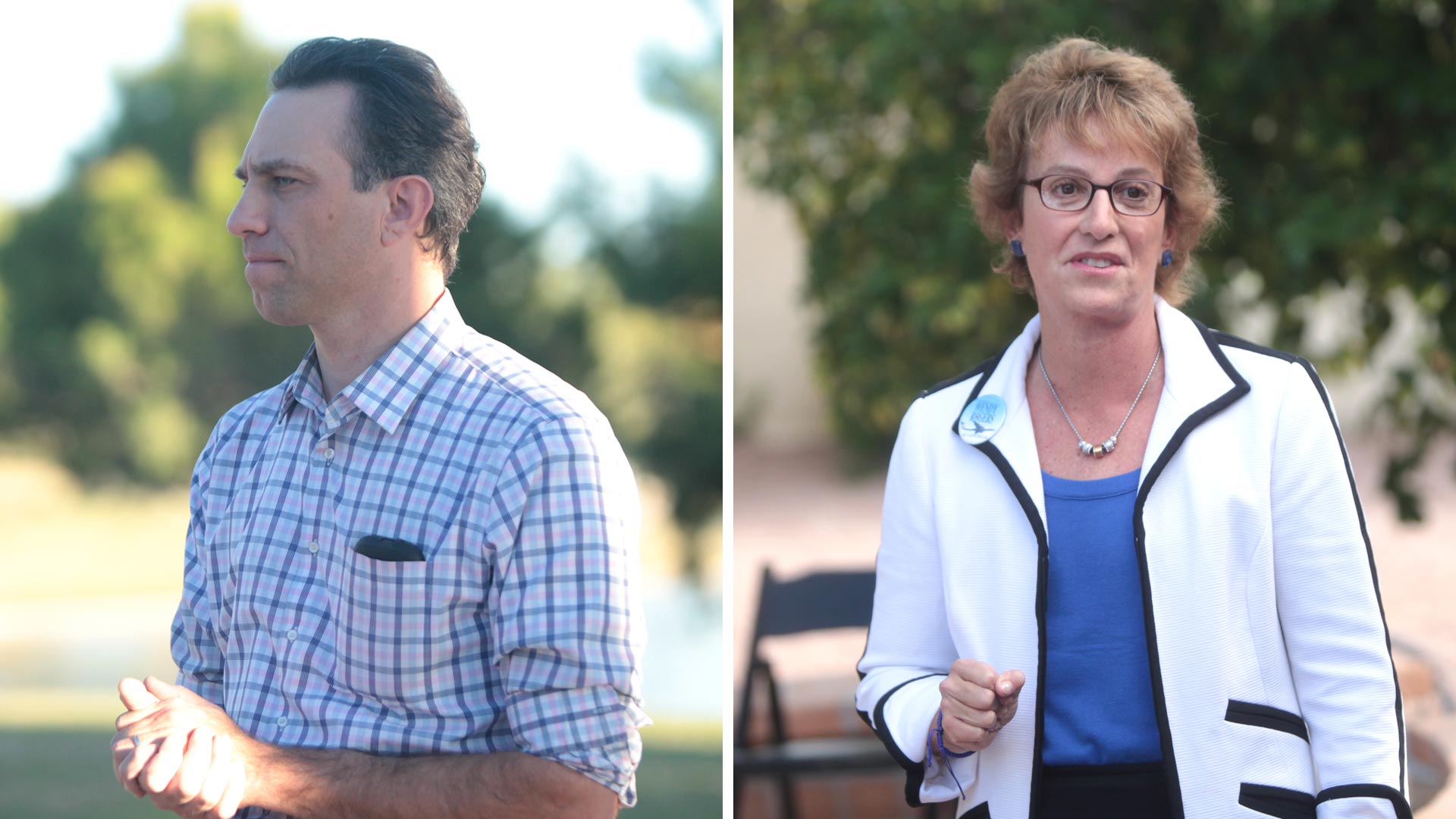 Steve Smith, left, and Wendy Rogers
Gage Skidmore via Flickr
PHOENIX — An Arizona congressional candidate on Thursday asked one of his opponents to quit the Republican primary after she aired attack ads deriding the modeling agency he works for.
State Sen. Steve Smith called on Wendy Rogers to apologize and leave the race in Arizona's 1st Congressional District.
Rogers put out ads saying Smith works for a modeling company that "specializes in underage girls and advertises on websites linked to sex trafficking."
Flanked by law enforcement officers and other supporters at a Phoenix news conference, Smith blasted the claim as untrue.
"She has unequivocally crossed a line of decency that cannot exist today in this political climate," he said.
Justin Harris, president of the Arizona Police Association, spoke on Smith's behalf and condemned the ads. He said he and other law enforcement officials who back Smith haven't been presented with any evidence to support Rogers' allegations.
"If she had any substantial proof at all, then that needs to be reported to law enforcement, not put on a political flier," he said. Smith's campaign said he has the endorsement of the association.
Smith said he's worked at The Young Agency for more than 10 years. As a state legislator, he's been vocal about his Christian beliefs and says his company is Christian as well.
While some models at the agency have portfolios that include bikini or lingerie wear, Smith said the company doesn't work with any adult agencies or pornographic outlets. He says the company represents "babies to seniors."
Rogers has said Smith has a profile on Model Mayhem, a modeling promotion site that some media reports have linked to sex trafficking. Smith said it's an unfair comparison because the site is a platform. He gave the analogy of linking someone who has a Facebook profile to alleged Russian election meddling.
"She's going after a well-respected business and their employees just to try to score political points," he said. "That is just, just so shockingly reprehensible."
Rogers, who served in the Air Force, made the claims about Smith's work in radio ads and in an online campaign dubbed "Slimy Steve." She didn't immediately respond to requests for comment but addressed Smith's news conference in a statement and on Twitter.
"Steve Smith is in panic mode because, despite what he says, he knows he is losing - he hasn't been up in a single poll all year," Rogers tweeted. "We stand by our radio ad. It is 100 percent true."
Smith and Rogers are in a three-way primary with farmer Tiffany Shedd to represent the massive congressional district that spans the northern and eastern portion of the state.
The winner will face incumbent Democratic Rep. Tom O'Halleran, who is unopposed in the primary.
Shedd released a statement that said she was disappointed in her opponents.
"Rural voters don't care about a disreputable modeling agency," she said. "What they do care about is having someone represent them in Congress who will work to protect rural values, promote family values and protect Social Security."