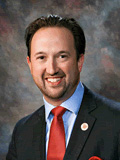 State Rep. Adam Kwasman, R-Oro Valley.
State Rep. Adam Kwasman of Oro Valley will announce his candidacy for the Republican nomination for the 1st Congressional District seat now held by Democrat Ann Kirkpatrick.
Kwasman is a first-term legislator who previously said he was exploring a run for the congressional seat.
The 2014 primary race for the Republican nomination already includes state House Speaker Andy Tobin and Springerville businessman and rancher Gary Kiehne.
The mostly rural district is the state's largest district by area.
It extends from Flagstaff and the Navajo Nation in northern Arizona southward through eastern Arizona to parts of Pinal County and the northern outskirts of Tucson.