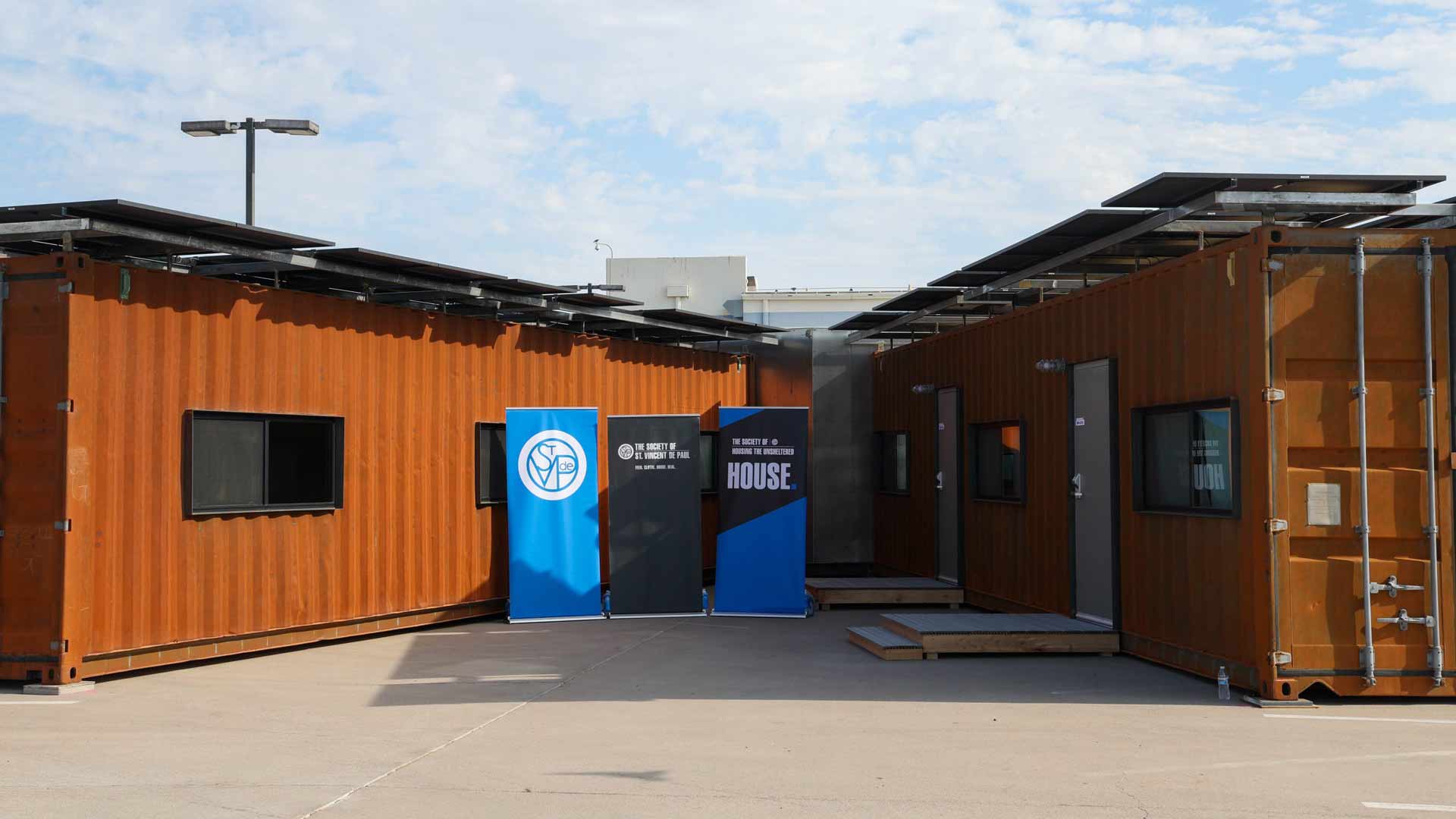 The city of Phoenix has teamed up with the nonprofit St. Vincent de Paul and metal fabrication company Steel + Spark to provide another shelter option using shipping containers.
Evelin Ruelas, Cronkite News
Phoenix officials on Thursday displayed the city's first "XWing" structure – a dwelling made from converted shipping containers – intended as another solution to shelter people experiencing homelessness.
The city of Phoenix, St. Vincent de Paul, and Steel + Spark unveiled the project at the Washington Relief Shelter near downtown.
The dwelling is not intended for just anybody seeking a temporary home, however. Individual case managers at St. Vincent de Paul will refer people to the new shelter, said Marisol Saldivar, spokeswoman for the nonprofit.
"This is a next step for residents who are more independent and who have maybe expressed they would like more independent space or would feel safer behind a door," Saldivar said.
"So these are usually residents who have a job already and are one step closer to their actual permanent housing. We have this going list and we'll start to move residents in one by one and rotate them through as residents move out."
There is no lease or time limit for how long each resident can stay.
"In a perfect world, when you have as much housing as you need, and everything is running well, you might put some time limits on things," said Scott Hall, deputy director for the Phoenix Office of Homeless Solutions.
"But in the climate, we're in right now, where we have a housing crisis on top of inflation and all that – as long as people are taking steps forward, there's going to be no time constraint on it. We don't want to put that fake barrier, per se, on there as long as we're moving people forward and incentivizing people to move forward."
There were about 3,333 people experiencing homelessness this year in Phoenix, the highest number in Maricopa County, according to the Point-In-Time Homelessness Count from the Maricopa Association of Governments. That's a 7% increase from 2022 when the number was 3,096. Tempe has the second highest, a distant 406.
The XWing, which is literally X shaped, is composed of four 40-foot converted shipping containers that are solar-powered and have central air conditioning, according to a Phoenix news release.
The structure can sleep 20 people but has only 16 private units: Four are two-person spaces, and the rest are single 5-foot by 8-foot spaces, said Jessica Berg, chief program officer at St. Vincent de Paul.
The XWing is in the lot adjacent to the Washington Relief Center operated by St. Vincent de Paul. Residents of the XWing will have access to all the center's resources, including restrooms, showers, three daily meals, companion animal support, laundry services, security, workforce development, life skills programming, and case management, according to the news release.
Phoenix was allocated nearly $396 million in funding from the federally funded American Rescue Plan Act.
In a report the city published on Dec. 8, staff determined the city could reallocate $21.2 million of unused or underspent funds. On Dec. 14, Phoenix approved a $3 million, one-year contract with Steel + Spark to build the XWing.
"For us, it's a very personal project," said Zach Burns, lead designer at Steel + Spark. "We all have been doing traditional architecture and construction for a long time, and for us to be able to be involved firsthand and actually helping people get off the street and into air-conditioned beds is a complete passion project for us, and something that we are 100% humbled and honored to be a part of."
Phoenix-based Steel + Spark, a metal fabrication company, specializes in making off-grid sustainable housing from repurposed shipping containers. The company has worked with Phoenix for years on conventional housing projects, Burns said.
While this is the first XWing Steel + Spark has made for the city, Burns said the company plans to make more.
"There's a lot of cost savings and environmental impacts of using something that's already in there instead of building a traditional building," Burns said.
"We have used solar power to power all the units. We have lithium batteries that are charged during the day and then they power the units through the night. So, it's 100% off the grid. These things can be placed anywhere."
Burns said because there's no tie to the power grid, that gives the structures more versatility in where they can be located.