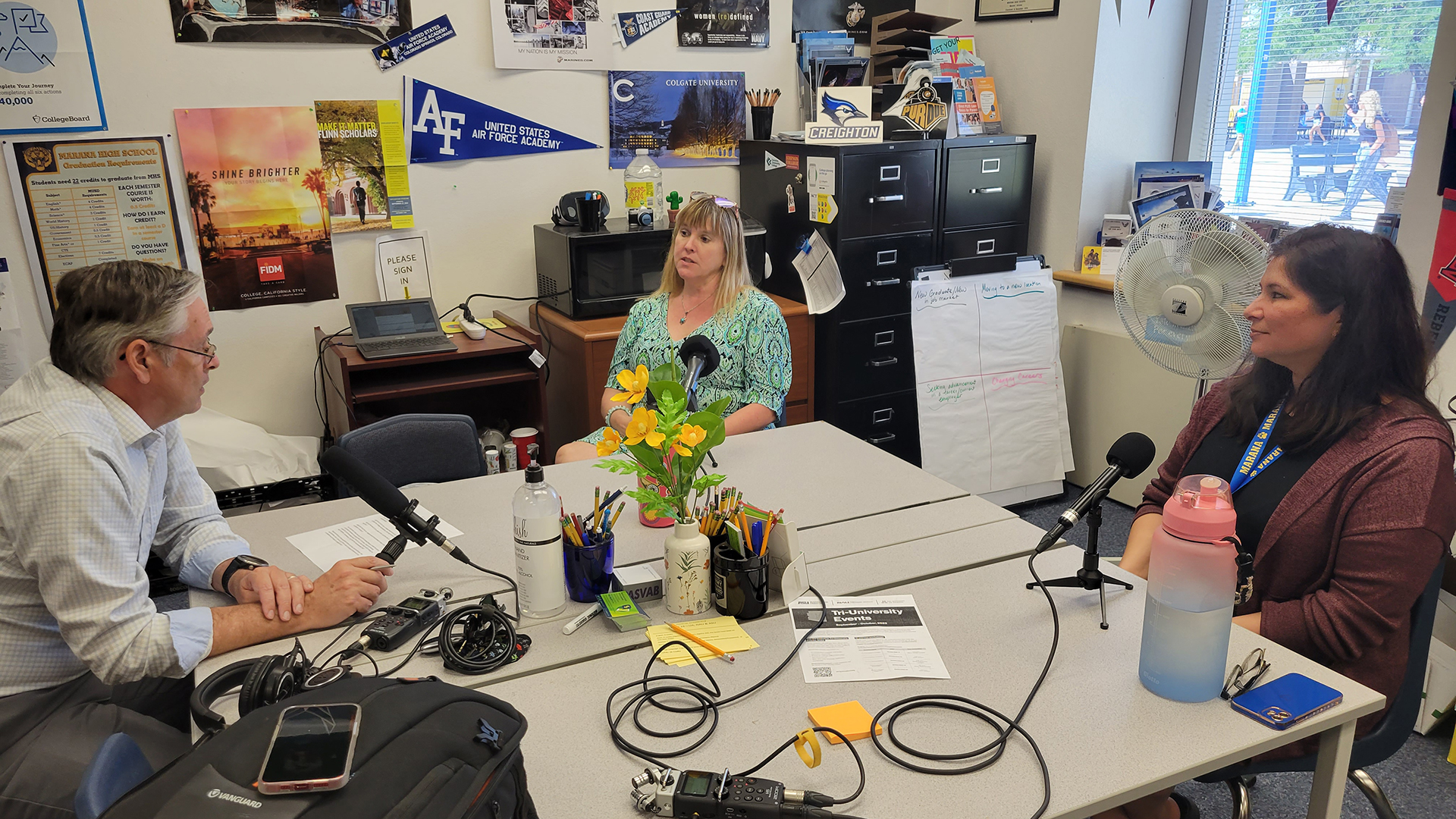 (from left) The Buzz host Christopher Conover and Marana High School counselors Merri Kae Vanderploeg and Melissa Gollihar during our interview in the college and career counseling office.
Zac Ziegler
When it comes to student-to-school counselor ratios, Arizona is among the worst states.
The most recent data from the American School Counselor Association show that, as of the 20-21 school year, there were more than 700 students for every counselor in Arizona.
While that number is down from more than 900 students per counselor in the 15-16 school year, it is still nearly triple the ratio that the group recommends.
The Arizona Center for Investigative Reporting recently examined the issue in an article by Maria Polletta and Shaena Montanari. The article highlighted the struggles of Zoe Edelstein, a middle-schooler who has tried a number of schools before deciding to do exclusively online learning.
"She most recently was at a Phoenix charter school, and she said that teachers tried to be very supportive," said Polletta. "It wasn't for a lack of trying. But they had no dedicated counselor, social worker, or anything like that. They made a so-called quiet space where students could go if they were having trouble, but even that wasn't that quiet and there was no support for her when she was in there."
Polletta said Edelstein's struggle to find schools with adequate mental health professional staffing is not uncommon in Arizona.
"Arizona's student to mental health professional ratios are among the worst in the country. They're, in some cases, up to 13 times higher than experts recommend."
And while a definitive link to student well-being has not been established, Arizona does also rank near the bottom in child mental health statistics also.
"Much like the ratios for mental health professionals on campus to students, Arizona students themselves are among the worst off in the nation when it comes to unaddressed mental health problems. We, as a state, rank at or near the bottom of several key indicators of youth wellbeing such as a percentage of kids with untreated depression."
"The number of school counselors and social workers in Arizona has increased dramatically in the last few years, especially [due] to the inclusion of school social workers and counselors in the School Safety Program grant," said Michelle Cabanillas, Director of the Social Wellness Program at the Arizona Department of Education.
The state grants were funded in part through COVID emergency relief dollars, and has funded nearly 500 positions in schools around the state.
The positions have not filled all the gaps across the state, and some districts are still woefully understaffed when it comes to mental health workers, and some districts continue to have no such employees on staff.
Cabanillas said she does not know how schools and districts get by without such staff.
"I would say there's probably a lot of needs that are not being met," she said.
Many of the programs main efforts such Project AWARE, a initiative to develop school-based mental health programs and services, are funded by the federal government. When asked what she can do once such funds run out, Cabanillas said her office has already applied for another round of Project AWARE and it is pushing Arizona Department of Education administrators.
For a perspective on how mental health professionals affect the lives of people in schools, The Buzz went to a district that has one of the better counselor-per-student ratios.
According to ASCA stats, Marana Unified School District has one of the lowest ratios in Southern Arizona.
Marana High School has a number of full-time counselors on staff, including Melissa Gollihar, a counselor, and Merri Kae Vanderploeg, a career and college counselor and the department chair.
On the day that The Buzz visited, Gollihar said she walked into work with list of projects in mind, including a presentation for seniors.
"Inevitably, there's a different plan for me," she said. "I had a couple of criers this morning, and then some students that were recommended to come down for some academic things, some career questions, and then a parent came in with some concerns. So I'm hoping to get to that presentation at some point today."
Vanderploeg is one of two college and career counselors at Marana High.
"Not many schools have positions devoted for just college and career," she said.
Her day included counseling a student who was worried about his grade point average, including a bad grade in math dating back remote learning in 2020, would affect his college admissions.
"So [I was] reassuring him, talking about some ways of advocating for himself because he is meeting with a college admissions rep, he wanted guidance 'should I take the SAT again.'"
Along with a handful of other tasks, she also taught a class on how students can enter the workforce that is now up to 58 students. That day's lesson was on how to write resume objectives.
"We played a match game, and there was candy on the line so they were very engaged!"
Gollihar said more of her time is spent working with students who are struggling to reacclimate to being back in school after remote learning, and that has led to a higher number of students coming to her.
"Students now are having a much more difficult time coping," she said."A lot of them don't have coping skills because they were home for so long, and having social interactions is challenging. Plus, this is a large campus. The class sizes are 30-plus."
Vanderploeg said counselors and teachers are also having a hard time getting students to put down devices such as smartphones, going so far as to call it an addiction.
"It became apparent that that was the go to two-and-a-half years ago. I mean, they had to be on a screen to learn, right? And so it just became a natural thing, but it's a double-edged sword."
She said the pandemic also brought a lot of other issues to light.
"Mental health problems, [slowed development of] executive skills, and addiction," she said. "There have been problems with self-medicating. Or maybe they experimenting a little bit but when they're left to your own devices for long periods of time, it can become an addiction."
When asked how work would change if her school had the recommended student-to-counselor ratio of 250-1, Gollihar said she could not even imagine it.
"I came from Chandler [Unified School District], which had 900-1," she said. "If we had what was recommended, we could spend more one-on-one time with students, really get to know them on an individual basis. Put together more prescribed types of groups or interventions for students specifically."
Gollihar added that not having to deal with the high ratios she saw at her previous job has let her discuss more with her colleagues how to best help students and tailor plans for those in the most need.
Vanderploeg said a shortage of mental health professionals is a nationwide problem and goes beyond k-12 schools into society in general, so they do what they can to help those on their campus.
"In our role, it's a blend of the social/emotional mental health piece, but it's also the academic piece. We're not therapists, but we try to assess what a student needs in order for them to thrive, so when they're in the classroom, they can be successful."