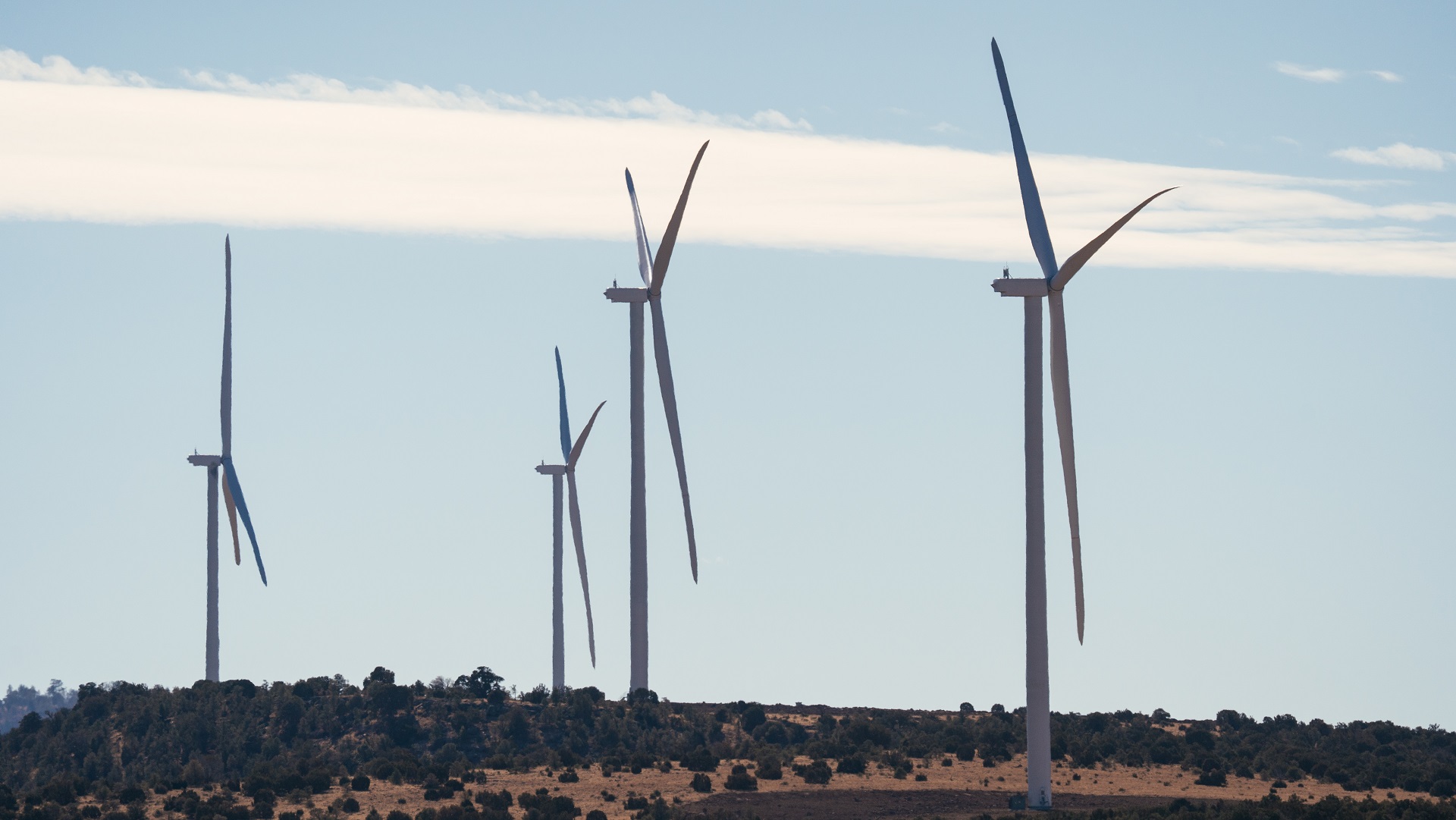 This photo distributed by NextEra Energy Resources shows the 100-megwatt Borderlands Wind Project, which entered service in late 2021. Its 34 turbines will provide enough energy for Tucson Electric Power to supply 26,000 average homes.
NextEra Energy Resources.
The Bureau of Land Management (BLM) has ordered an "immediate temporary suspension" of the SunZia Transmission Project, affecting an approximate 50-mile segment in Arizona, "located entirely on non-federal land."
The suspension in Arizona, occurred following the letter the BLM received from the Tohono O'Odham Tribal Chairman Verlon Jose, representing the Tohono O'Odham Nation, San Carlos Apache Tribe and Archaeology Southwest on Tuesday, Oct. 31.
The letter raised concerns about the potential interference with Traditional Cultural Properties (TCP) in the San Pedro Valley area.
The letter addressed to Secretary of the Interior, Deb Haaland called for a withdrawal or suspension of the limited notice to proceed ("LNTP"), which was issued on Tuesday, Sept. 26, by the New Mexico State Office of the BLM.
On Wednesday, Nov. 8, BLM Director, Tracy Stone-Manning wrote a letter to Jose stating that BLM has temporarily suspended operations and requested a meeting at Jose's "earliest convenience within the next five days".
Read BLM Director's letter to Tohono O'Odham Chairman.

View at Google Docs
|

Download File
In a statement from the BLM, the agency clarified that the temporary suspension does not impact other segments in progress, associated with the SunZia transmission line right of way.
The agency also announced its intention to conduct government-to-government consultations on the matter.
The SunZia Transmission Project is a 3,500 MW wind energy project developed by San Francisco-based renewable energy company, Pattern Energy, was initially approved in May 2023. It comprises two planned transmission lines that span across over 500 miles of state, federal and private lands between central New Mexico and central Arizona.
The project's purpose is to deliver 4,500 MW of primarily renewable energy from New Mexico, to markets in Arizona and California.
In response to the temporary suspension, Matt Dallas with Pattern Energy said the company fully respects the heritage, history, and rights of Indigenous Peoples.
"Throughout this BLM-led process, the SunZia Transmission team has actively worked to address any Tribal concerns. This temporary pause, limited to the 50-mile stretch of the San Pedro Valley in Arizona, is to allow for these discussions and not based on any adverse findings about SunZia Transmission. We believe this is a good faith step as part of the BLM consultation process, which we will continue to work to support," Dallas said.
Between 2009 and 2015, the project was evaluated through the National Environmental Policy Act (NEPA). During this period, a Record of Decision was issued, approving the final Environmental Statement (EIS) and granting a right-of-way (ROW) for the project on federal lands managed by the BLM.