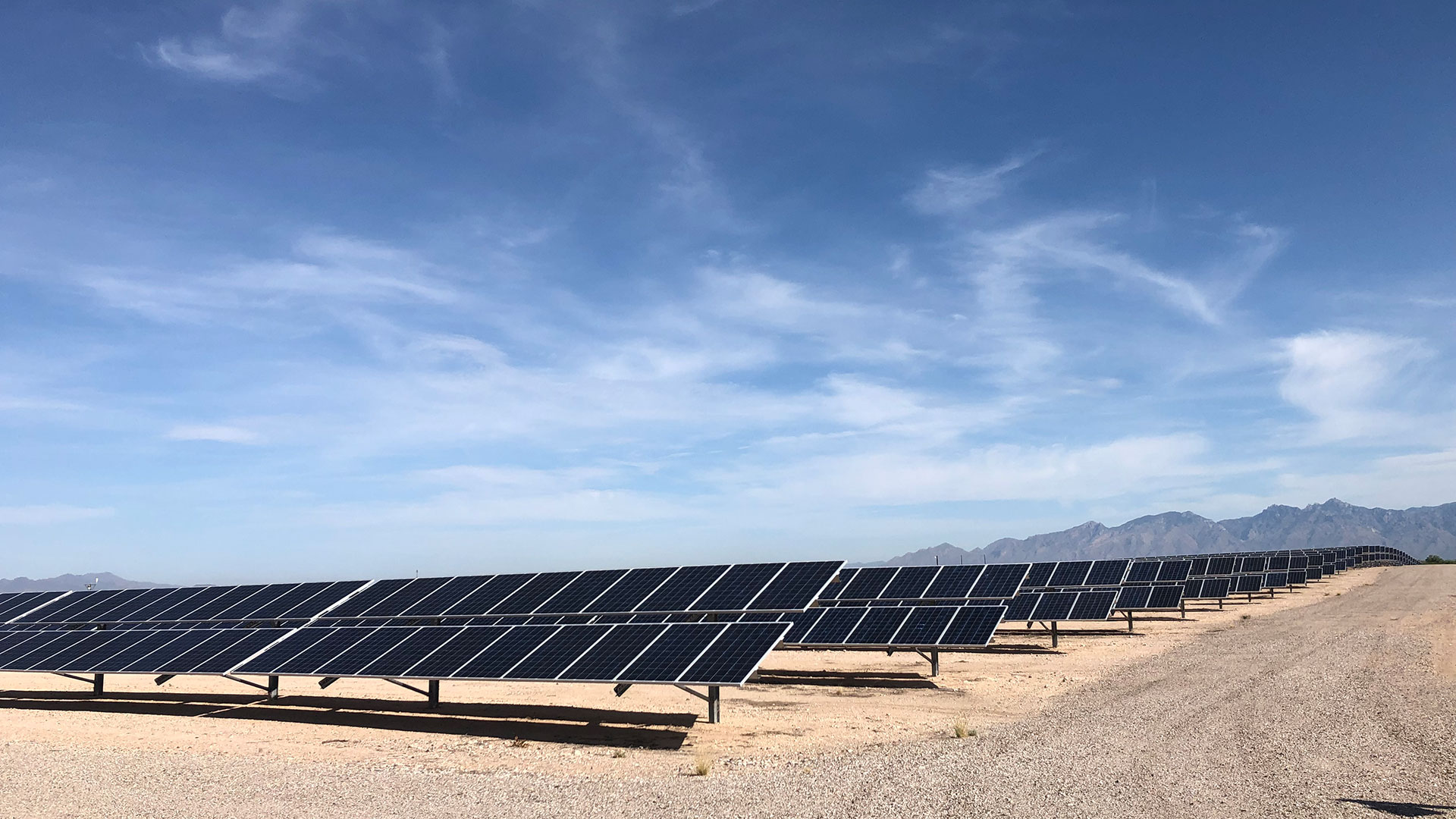 A solar array used by Tucson Electric Power to add renewable energy to the grid, August 2019
Christopher Conover/AZPM
This story has been updated to better reflect TEP's Integrated Resource Plan.
Tucson Electric Power (TEP) recently published its Integrated Resource Plan (IRP), a 15-year roadmap that outlines the company's strategy towards achieving more cost-effective and clean energy solutions.
Joe Barrios with TEP said the utility looks to add about 2,240 MW of wind and solar generation and 1,330 MW of energy storage for its customers in the greater Tucson area by 2038.
"The idea is we can store the energy when the wind is blowing or when the sun is shining and then deploy that energy when customers need it," Barrios said.
The plan, which calls for the expansion of renewable resources, also aims to reduce TEP's greenhouse gas emissions of 80% by 2035. 400 MW of natural gas turbines are also proposed, to help offset coal plant retirements to support higher use of renewable energy in order to support the utility company's goal of reaching net-zero emissions by 2050.
Barrios said the plan is a look into the future of how to meet fluctuating peak energy demands and that a component of natural gas resources could be necessary in order to maintain reliable services.
"When we look at making these resource decisions, we have to consider, 'What is the cost impact? What is the impact to the customers, bills and the mix of resources that we think we'll pursue over the next 15 years?'," Barrios said. The IRP was constructed in collaboration with an advisory group made up of residential and business customers, environmental and low-income advocates, local governments and educational institutions, he said.
The plan delves into how the company will meet the changing demand for electricity, and is submitted to the Arizona Corporation Commission (ACC) about once every three years.
Barrios said that TEP anticipates customers' peak energy demands to increase by more than 1% over the next 15 years.
The utility service provider serves over 440,000 residential, commercial and industrial customers.
In the report, TEP models a variety of portfolios, with different cost assumptions of resources going forward.
Barrios said that TEP looked at over 32 different portfolios and analyzed how they would fit in with resources already set in place.
"There are serious resource constraints throughout the West right now, and so we also looked at altering the timelines of when we retire our resources at the SPringerville Generating Station," Barrios said.
TEP identified the need for a gas-fired generation plant by 2028, to replace the retiring Springerville Unit 1, set to be phased out in 2027.
"Our preferred portfolio, it was found to support reliability and continue to allow us to achieve those CO2 reductions at the lowest cost to customers," Barrios said.
TEP's 2020 IRP set a goal of achieving an 80% reduction in CO2 emissions by 2035 and it was discovered that maintaining reliability through this balance was the most cost-effective approach.
However, Alex Routhier, Arizona clean energy manager and senior policy advisor for the Western Resource Advocates (WRA), an environmental advocacy group, has raised concerns about TEP's plan.
Routhier said that while there's a common belief that natural gas is a cleaner alternative to coal, it still leads to carbon emissions and exacerbates climate change.
To stay in line with climate science and the guidelines by the Intergovernmental Panel on Climate Change (IPCC), utility companies should ideally hit 80% decarbonisation by 2030.
"TEP saying they'll get there by 2035, which is a little bit delayed, we'd like to see them do that a little sooner," Routhier said. He noted that TEP is far ahead of the other two big utilities in Arizona, including the Arizona Public Service (APS) and Salt River Project (SRP).
In addition to environmental concerns, Routhier said the proposed plan also poses a risk to ratepayers, due to the approximate 40-year lifespan of a natural gas unit. Routhier said that the utility company runs the risk of creating stranded assets in their system.
"They are going to build a plant and before they can collect the money owed to them for building the plant, the plant will be obsolete," Routhier said. To TEP's credit, the company has demonstrated a commitment to increase investments in solar and wind energy, he said.
Routhier also credits the company for its efforts in decommissioning the coal-fired San Juan Generating Station, in which they held partial ownership.
"Closing coal is the easiest way to decarbonize the system," Routhier said.
Arizona has experienced spikes in electricity prices in recent years, primarily due to natural gas prices largely influenced by both the pandemic and the conflict in Ukraine.
Routhier explained that when constructing a solar power system, there is a clean understanding of the lifetime costs since there's no need to buy fuel for a solar plant. Whereas with natural gas or any fossil fuel plant, the company not only incurs the initial plant cost but also remains vulnerable to market fluctuations for the respective fuels.
The WRA is urging companies to consider the public health implications of natural gas plants, emphasizing the various pollutants that are harmful to human health.

"You want to make sure that the air that we're breathing in Arizona is clean, and that we're keeping families healthy, and that we're controlling bills, that we're keeping power prices low so that families can afford to run their air conditioning in the summer and keep their lights on," Routhier said.
Customers and stakeholders, including the WRP, have until January 2024 to respond to the IRP.
Barrios said TEP encourages customers to explore IRP and participate in their recently launched "Net Zero Hero" campaign.
"Part of our planning involves working directly with customers to make the best use of the clean energy resources that we have," Barrios said. "We have resources on our website available for those customers who might be interested in maybe switching to a different pricing plan that encourages them to use energy during off-peak hours."
The advocacy group is also collaborating with the company to independently model additional decarbonisation scenarios.
"We made available to (WRA), the modeling software that we use to develop different resource portfolios…something we use to look at things like the cost of fuel, that cost of capital investments in different types of technologies, wind, solar storage, natural gas, combinations of those different resources and it can be used to generate the costs of investment in those different systems," Barrios said.
The ACC is scheduled to make an assessment of TEP's plan by August 2024.
A previous version of this article shared the WRA's disappointment with the utility company for not following through on a previous commitment. However the group walked that back later, saying that statement was "inaccurate".